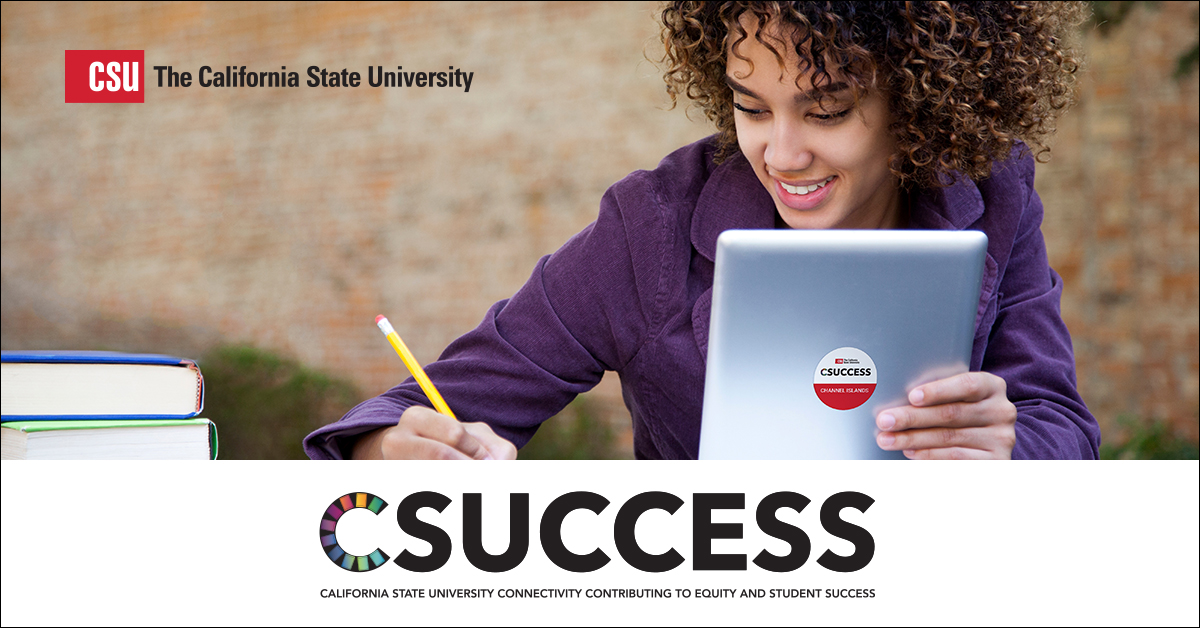 CSUCCESS Program at CSUSB
California State University San Bernardino will join Phase II of the CSU Chancellor's Office CSUCCESS (California State University Connectivity Contributing to Equity and Student Success), a bold initiative to enhance student achievement and create more equitable opportunities for the CSU community by providing industry-leading technology. 
More Information on CSUCCESSiPad Bundle Request FormMobile Hotspot Request Form
CSUSB will use its existing Library systems used to distribute the iPad bundles for the CSUCCESS program.
The program will distribute iPad bundles (iPad, Keyboard and Stylus) to all incoming transfer students and first-time freshman students.
Frequently Asked Questions
Why is Cal State offering this program?
Throughout the course of the COVID-19 pandemic, students indicated a lack of access to a computer or mobile device as an obstacle in the way of their achievement. CSUCCESS (California State University Connectivity Contributing to Equity and Student Success) represents the CSU's commitment to closing equity gaps and providing high-quality and reliable personal computing devices to support academic achievement. ​
During the pandemic, the CSU worked to address part of this challenge by investing more than $18 million to purchase more than 21,000 laptops and tablets and 10,000 mobile Wi-Fi hotspots for students, in addition to loaning out several millions of dollars' worth of existing equipment.​
Ongoing challenges of the pandemic require campuses to continue to deliver some courses virtually, posing persistent barriers to student success. These tools will help eliminate barriers and improve student success and equitable graduation outcomes, which are among the CSU's highest priorities.
Who is eligible to receive a new iPad?
All new first-year and transfer students entering CSUSB are eligible to request one iPad bundle per student.
How do students request a device?
What do students receive?
Students will receive:
64 GB iPad Air
Apple Smart Keyboard Folio
Apple Pencil
Student technology support from their campus
Note: With a keyboard attachment and pencil, this technology bundle is comparable to a laptop.
When do students receive their devices?
Students may stop by either the Pfau Library Circulation Desk at the San Bernardino Campus or the Library at the Palm Desert Campus to pickup the iPad bundle. Students will need to fill out the iPad Request form in advance before picking up the iPad bundle.​​
Who owns the device? Do students keep it after graduation?
The CSU loans the items to you at no cost and it will not impact your financial aid. The iPad bundle (iPad, keyboard and pencil) is due back to CSUSB upon completion of your program or 4 years for first-time freshman and 2 years for transfer students, whichever comes first.
Who helps students with set-up and IT questions?
Students will receive technology support from CSUSB's Pfau Library IT department. 
Will students need to have Wi-Fi access to use the device?
Students will need to connect to Wi-Fi to get on the internet, make calls and send/receive emails on their iPads. The iPads are Wi-Fi only models and are not equipped with cellular data service.
CSU campuses continue to expand outdoor and parking lot access, and the CSU is exploring new partnership opportunities for student access in public spaces. The CSU continues to work with both public and private partners to support expansion of broadband access across the State of California.
What happens if the device is damaged or lost?
Students are advised to contact the Pfau Library IT department for support if equipment is damaged. If equipment is stolen, it is the student's responsibility to report it to the police and communicate with campus. In some cases, TSC staff may be able to disable the device remotely, making it unusable until returned. Students are advised to contact Pfau Library IT department for information about replacing a damaged or lost device.
Does the university track students' usage on the device? What data will be collected?
The CSU will not be monitoring students' day-to-day activities on the iPads. However, each app has a privacy statement that explains how it collects and uses information.
That said, CSU campuses do monitor network traffic, and the mobile device management system will have the ability to alert TSC staff if the student does something illegal or downloads an app not found in the official Apple App Store.
Students should refer to their campus' Student Technology Agreement and Privacy Statement.
What if students need to use assistive technology?
Why aren't all CSU campuses participating?
Many campuses have existing device loan programs in place (library laptop loaners, for example) to serve as an alternative, or in concert with CSUCCESS, to ensure that students have the tools they need to succeed. The CSU has invited all campuses to participate and is actively seeking resources to fund additional phases to expand the initiative to more new and current students on more campuses. 
Why are only first-year and new transfer students eligible?
The program is focused on new students, who need more support as they begin their college careers, particularly in light of the ongoing challenges posed by the COVID-19 pandemic. Future phases of CSUCCESS could include returning students.​