Student Software
Adobe Creative Cloud
Adobe has made its Creative Suite available to all students free of charge until August 31, 2021. To access, please go to the abode sign in page and follow the instructions on how to sign in and download.
For full details on how to install and download Adobe Creative Cloud, visit this knowledge base article
For students who are about to graduate, Adobe has provided a method for migrating your content from your Creative Cloud account provided by Adobe to a personal one that you create.  You can find details in this article.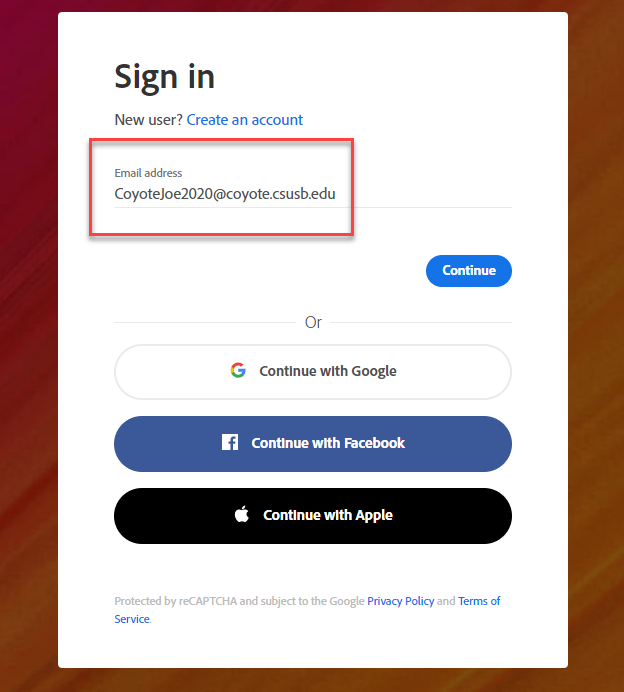 Coyote Labs - Virtual Computer Labs
With campus labs being closed to students, ITS has prepared resources for students to access computer lab resources remotely. A number of campus computer labs are accessible from a web browser at https://csusb.edu/coyote-labs. After you log in, you can access all the software in these labs as if you are physically there.
Follow the few simple steps on our Student Virtual Lab Access page to get access to the virtual labs and many popular software packages such as: SPSS, ArcGIS, JMP, R/RStudio, Adobe Creative Suite, and more. The breakdown of available workstations is as follows:
The Cave (PL-1109): 71 stations
Chemistry Lab (CS-333): 14 stations*
Health Science Lab (PS-224): 40 stations
Mathematics Lab (JB-390): 41 stations*
Computer Science Virtual Lab: 30 stations*
COE Lab (CE-205): 24 stations
Psychology Lab (SB-463): 29 stations*
Geography Lab (SB-359): 25 stations*
JHBC Open Lab (JB-127): 72 stations:
Accessibility Lab (PL-1109): 14 stations
*limited access to certain majors
Student Technology and Resources (STAR) Team
This team of ITS student assistants are standing by to answer your technology questions or to direct them to the appropriate response team and resources. The STAR team is available Monday – Saturday, 8am – 5pm to assist you. You can reach them live during this time through the TSC bot on the Technology Support Center website: https://support.csusb.edu, via e-mail: starteam@csusb.edu or by calling 909-537-STAR(7827).