A 2-day Event, Presented by CSU San Bernardino Information Technology Services (ITS)
Join the annual ITS October Tech Fest. Hear from academics, students, staff, administrators, and industry partners as they discuss and share their experiences in education, innovative pedagogies and research-led XR projects to support diverse, equitable, and inclusive teaching and learning spaces.
October 19, 2022 | 9:00 a.m. - 4:00 p.m.
October 20, 2022 | 9:00 a.m. - 4:00 p.m.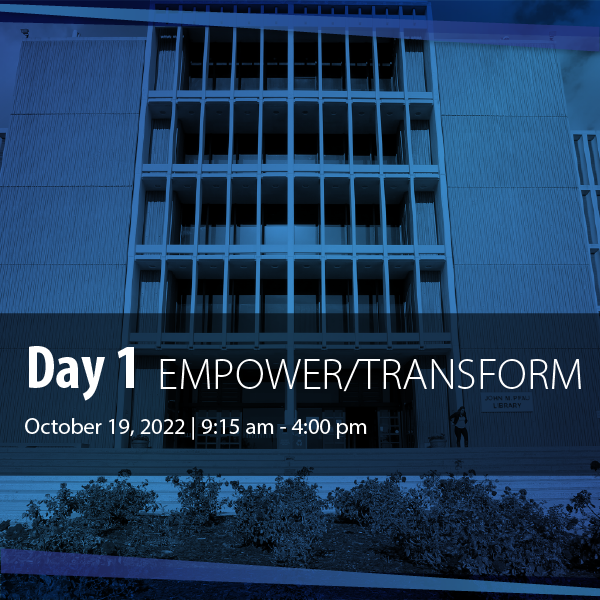 Day 1
Empower
We empower students, faculty, and staff at CSUSB by offering them the technology-related information, services, professional development, and equipment they need to succeed. We strive to help our community reach new levels of digital fluency and agility. 
October 19th, 2022 | 9:15 a.m. - 4:00 p.m.
Location: Via Zoom
Transform
We transform the way we work and study at CSUSB by focusing on the human experience. We strive to offer easily accessible, accurate, and intelligently designed systems to allow students, faculty, staff, and the community to interact with our institution seamlessly, both in person and digitally. 
October 19th, 2022 | 9:00 a.m. - 4:00 p.m.
Location: Via Zoom
Day 2
Innovate
We innovate by harnessing interdisciplinary ideation, leading-edge technologies, equity principles, design logic, data analysis, entrepreneurial spirit, and a tinkerer mentality to nurture the joy of learning, discovery, and public service.
October 20th, 2022 | 9:00 a.m. - 4:00 p.m.
Location: Via Zoom