Schedule An Admissions Appointment
Questions on applying for admissions? We welcome all undergraduate, first year, and transfer students to contact us for assistance. 
 CSUSB is accepting Spring 2022 transfer applications NOW!
Apply NowApplication WorkshopApplication Video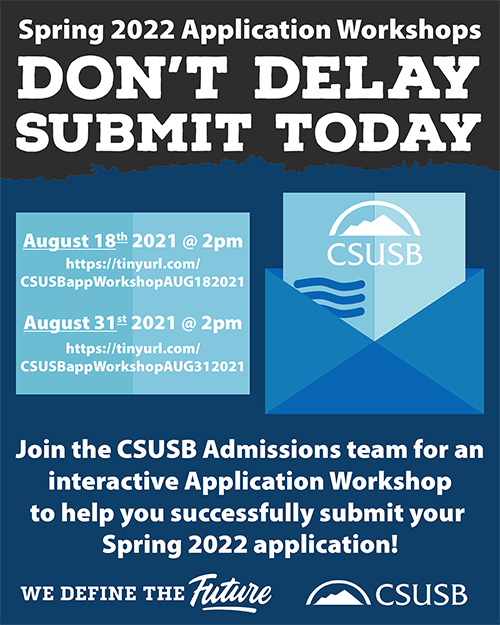 Cal State Apply
Use this direct link to access all CSUSB application programs  Cal State Apply CSUSB Programs
All applications to the California State University system campus are submitted through Cal State Apply. Cal State Apply is a resource for gathering information about particular campuses and programs, understanding impaction requirements and for submission of your application.  
When you are ready to complete your application to Cal State San Bernardino through Cal State Apply, be sure to  have the following items on hand.
 CSU Apply Application Workshop Videos
Please review the following links to CSUSB application workshop presentations for Cal State Apply:
 First-Year Student Workshop Video
 Transfer Student Workshop Video
First Year Student (Freshmen) Application Checklist
Unofficial transcripts
Test scores (SAT, ACT, AP or IB)
Your Social Security number (if applicable)
Your citizenship status
A method of payment
Your parent's citizenship status
Annual income: Your parent's if you are a dependent; your income if you are independent
EOP Applicants Only: Your parent's employment background and two recommendations
Transfer Student Application Checklist
Unofficial transcripts
Your Social Security number (if applicable)
Your citizenship status
A method of payment
Annual income: Your parent's if you are a dependent; your income if you are independent
EOP Applicants Only: Your parent's employment background and two recommendations