California State University, San Bernardino welcomes new undergraduate first year and transfer students to our campus for the Fall semester.  As an impacted campus, we do not accept applications for the Winter or Spring semester.
The application period for the Fall semester is October 1 to November 30 of the year prior to the term of your intended enrollment.  To determine your eligibility for admission, please visit our First-Year Students, Transfer Students applicant page for further information.
CSUSB currently has five impacted majors: Nursing, Kinesiology: Allied Health, Social Work, Psychology and Criminal Justice.  For information on admissions criteria to our impacted programs, please visit our impaction Information page. 
If you are a Non-Traditional applicant, including non-degree seeking students, returning students, Veterans, AB-540 or other special applicant population, please read more information regarding your application procedures on our Non-degree programs page.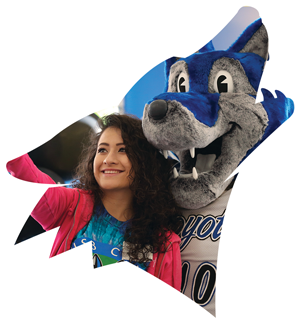 Cal State Apply
All applications to the California State University system campus are submitted through Cal State Apply. Cal State Apply is a resource for gathering information about particular campuses and programs, understanding impaction requirements and for submission of your application.  
When you are ready to complete your application to Cal State San Bernardino through Cal State Apply, be sure to  have the following items on hand.
First Year Student (Freshmen) Application Checklist
Unofficial transcripts
Test scores (SAT, ACT, AP or IB)
Your Social Security number (if applicable)
Your citizenship status
A method of payment
Your parent's citizenship status
Annual income: Your parent's if you are a dependent; your income if you are independent
EOP Applicants Only: Your parent's employment background and two recommendations
Transfer Student Application Checklist
Unofficial transcripts
Your Social Security number (if applicable)
Your citizenship status
A method of payment
Annual income: Your parent's if you are a dependent; your income if you are independent
EOP Applicants Only: Your parent's employment background and two recommendations