We highlight procedures for and possible consequences of copyright violations that originate from University owned computers or computers connected to the University network.
Processing Copyright Infringement Notifications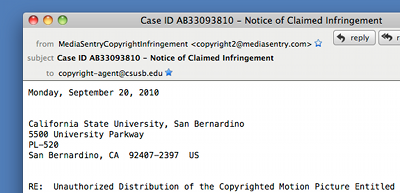 To comply with federal law, when the CSU San Bernardino receives a claim of copyright infringement originating from the campus network, upon verification, Internet access to the alleged computer is blocked and an investigation is initiated.
The University blocks Internet access based on requests from Copyright Enforcement Agents in order to claim "safe harbor" under the Digital Millennium Copyright Act §512(c).  When the University receive a notice, the Information Security office verifies the network details in the claim and assists Telecommunications & Network Services to revoke networking privileges for the computer identified from those network details. Since this type of claim may also be a violation of CSUSB policy, the appropriate administrative office (Human Resources, Academic Personnel or Student Affairs) is notified in accordance with campus procedural guidelines. The University does not release identity information to DMCA enforcement agents without a subpoena.
Policy and Consequences
The unauthorized distribution of copyright material is also a violation of CSU policy and the CSU San Bernardino Acceptable Use Policy for Electronic Communication. Since this type of activity also places the University at risk for possible criminal and civil liability, the University investigates each notice of possible violation and applies to the fullest extent all current applicable policies.
Although the campus, as a policy practice, does not prohibit the use of any type of software applications, it encourages the community to restrain from using software which may place the University, and the user at risk for possible civil and criminal liability.
Copyright and Peer to Peer Software
Copyright violation notices almost universally correlate with the use of peer to peer software (P2P).  Most users are not aware that as they use P2P software to download files, they are at the same time also distributing those and other files from their computers with the Internet. This is often called sharing, seeding, or uploading. The default configuration of P2P software is to share.
The problem with this type of sharing is that a large amount of the material is distributed without permission of the authors which it is a violation of the Digital Millennium Copyright Act, a federal law. Under this law, individuals who violate the DMCA may be subjected to criminal and civil action.
For information about the DMCA and other related documents visit the U.S. Copyright Office website.