About the Department
Gerard Au serves as the Deputy CIO and Chief Information Security Officer and oversees six distinct units that operates and maintains the university's most critical information technology infrastructure, ensures secure and reliable access, and provides world-class customer support. Visit the departmental units' website to learn more about their services.
Palm Desert Information Technology Services
About the Deputy Chief Information Officer
and Chief Information Security Officer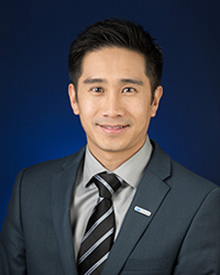 Gerard joined the CSUSB Information Technology Services team as Associate Vice President for Technology Operations and Customer Support in February 2014. In September 2019, he assumed the role as Deputy CIO and Chief Information Security Officer, overseeing technology operations, research computing, and the information security portfolio at CSUSB. In his previous role as director of information technology and chief information officer at UCLA School of Nursing, Gerard led a team to expand the global footprint of the UCLA School of Nursing through the strategic use of instructional technologies, and provided leadership to large-scale IT projects to include infrastructure upgrades, cloud services migration and electronic health records implementation.
Gerard holds a Bachelor of Science degree in electrical engineering from UCLA as well as Master of Business Administration from CSUSB. He has over nineteen years of IT experience in higher education, having worked in the private sector for a short time and later returned to UCLA in progressively responsible roles. Gerard held several staff leader positions at UCLA and at the University of California systemwide level. He is an active EDCAUSE participant, having served on the Top 10 IT Issues panel and as faculty for the EDUCAUSE Senior Directors Seminar, Gerard helped launch the inaugural Senior Directors Program for EDUCAUSE in 2019 and the Asian Pacific American Community group in 2021.
Current Projects & Initiatives
CyberTraining CIP Project with SDSC (NSF Award #2230127) 
Cloud Backup/DR and Storage Migration
Emergency Notification System
Information Security Audit
InTune Endpoint Management
Mobile and Digital ID
Network Infrastructure Replacement
Payment Card Industry (PCI) Compliance Enhancement
Performing Arts Center Construction
PDC Student Union Construction
Security Information and Event Management (SIEM)
Major Projects Completed
2021-2022
Cellular Service Expansion (Verizon)
eSports Arena
Next-Generation Smart Classrooms (NGSC)
Telecommunication Modernization and Cloud Voice
Virtual Infrastructure/Private Cloud Upgrade
Wireless Network Expansion (Phase 1)
2020-2021
Cellular Service Expansion (Sprint/T-Mobile)
Identity Management System Replacement
Multi-Factor Authentication
Student Union North Expansion
2019-2020
Adobe Sign eSignature Initiative
Campuswide Wired Network Upgrade
Center for Global Innovation Construction
Coyote Labs (Virtual Computer Labs)
CoyotePhoto (ID Photo) Online Submission
Palm Desert Campus iHub
Telecommunication Infrastructure Assessment
Unified Communication
Wireless Network Expansion (Phase 1)
2018-2019
100Gbps Network Connectivity Upgrade
Campus Directory Modernization
Cloud Acceleration Center (AWS) Grant
CSULearn Learning Management System Migration
Emergency Communication System Upgrade
Enterprise Service Management System Replacement
Ink SmartStation
Network Storage Upgrade
Palm Desert Campus Neurofeedback Center
Wireless Controller Upgrade
Major Projects Completed (Con't.)
2017-2018
Cellular Service Expansion (T-Mobile)
College Server Co-location and Virtualization
Facilities Service Management Upgrade
Fiber Infrastructure Upgrade
Network Storage Upgrade
Palm Desert Campus PAWS Radio
Research Network and Science DMZ
Student Housing and Dining Commons Network
2016-2017
24/7 Study Area - The Cave
Enterprise Mobility Management
Operation Efficiency Task Force
Operational Intelligence and Data Correlation
Outdoor Wireless Expansion
Network Firewall Replacement
Wireless Network Re-architecture
2015-2016
Alertus Campus Emergency Notification System
Email Gateway and Spam Filter Replacement
ITS Strategic Plan 2016-2020
New Employee Technology Orientation
Private Cloud Infrastructure Upgrade
System Center Configuration Manager
Virtual Desktop Infrastructure
2014-2015
Campuswide Wireless Network Upgrade
Cisco Voice over IP Platform Upgrade
GoPrint Mobile Printing
Hyland OnBase Workflow Management
Office 365 Email Migration
Powermat Mobile Charging Station Installation
2013-2014
Blackboard LMS Migration to Managed Hosted Platform
Campuswide Wired Network Upgrade
Data Center UPS Replacement and Electrical Upgrade
Hyland OnBase Imaging Upgrade
Microsoft Exchange Email Migration
Contact Us
Location
Office of the Vice President and CIO
John M. Pfau Library (PL) 2104
Gerard Au
Deputy Chief Information Officer and
Chief Information Security Officer
(909) 537-5100
gau@csusb.edu
Sonia Miranda
Administrative Support Coordinator
(909) 537-7752
smiranda@csusb.edu
Departmental Units
Distributed Technology Services
Bruce Hagan, Director Technology Operations, Cloud Services & Customer Support
(909) 537-4242
bruce.hagan@csusb.edu
Identity, Security & Enterprise Technologies
James Macdonell, Lead Security Analyst
(909) 537-3757
jmacdone@csusb.edu
Technology Operations
Bruce Hagan, Director Technology Operations, Cloud Services & Customer Support
(909) 537-4242
bruce.hagan@csusb.edu
Technology Support Center and Training Services
Brandon Sierra,  Assistant Director
(909) 537-3476
bsierra@csusb.edu
Palm Desert Campus Information Technology Services
Robert Garcia, Interim Assistant Director
(909) 537-5449
robert.garcia@csusb.edu