Career Center response to current health concerns surrounding COVID-19
Due to the current COVID-19 situation, the Career Center has transitioned to provide services through telephone or video conferencing via Zoom technology for the present time. Our hours are Monday through Friday from 8am to 5 pm, except for holidays.
If you are in need of technology resources such as laptops and internet service please see Student Resources for Virtual Learning and ITS Department.
For students and alumni, we will continue to provide career counseling appointments for internships and jobs, academic major/career exploration including career assessments, graduate school preparation, career and professional development opportunities for students to learn about and apply for internship and job opportunities in addition to connecting students with potential employers. To schedule or cancel an appointment, please see Handshake below for more information. For virtual workshops and other opportunities, please go to the Students/Alumni page for more information.
For employers and internship sites, we will continue to provide various opportunities for you to connect with and recruit our talented students. Please visit our Employers/Partners page for additional information.
For faculty and staff, the Career Center will provide class presentations virtually via Zoom technology for the spring quarter beginning April 6th. Please invite the Career Center to present on career exploration, résumé development, mock interviewing, and other topics essential to students' professional success by submitting a request via the Faculty/Staff presentation request form. To post student employment positions, please also visit the Posting student on-campus Jobs page. 
Finally, we look forward to inviting you back to the Career Center when the campus reopens and we will resume the Coyote Closet at that time. In the meantime, though, please contact us and visit our website for updates about upcoming workshops and other events.
Sincerely,
The Career Center Team
Email: careercenter@csusb.edu 
Phone: 909-537-5250
For information, questions or concerns regarding coronavirus please refer to the University's Covid-10 / Coronavirus information page.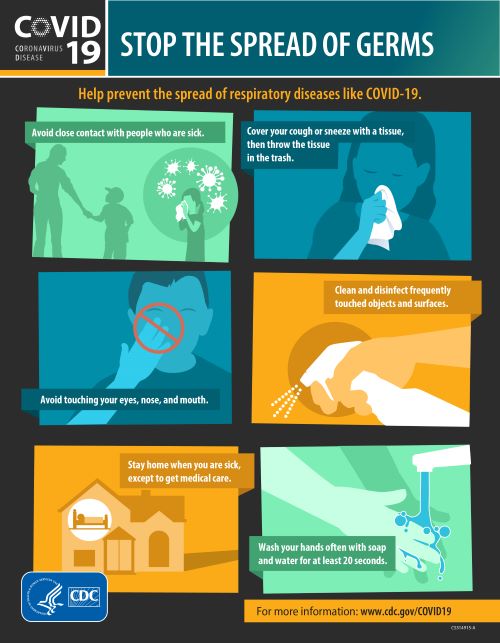 COVID-19 Coronavirus Disease: Stop the Spread of Germs
Help prevent the spread of respiratory diseases like COVID-19.
Avoid close contact with people who are sick.
Cover your cough or sneeze with a tissue, then throw the tissue in the trash.
Avoid touching your eyes, nose, and mouth.
Clean and disinfect frequently touched objects and surfaces.
Stay home when you are sick except to get medical care.
Wash your hands often with soap and water for at least 20 seconds.
For more information: www.cdc.gov/COVID19
Welcome
Welcome to the Career Center at California State University, San Bernardino! We are proud to offer premier programs and services at our CSUSB San Bernardino campus, located in the foothills of San Bernardino and our CSUSB Palm Desert campus located in the Coachella Valley. As a California State University that serves the nation's largest county, we strive to partner with local and national industry leaders to offer specialized programming, distinctive resources, and tailored events for over 20,000 current students as well as countless alumni across the Inland Empire and beyond.

Handshake is the exclusive Career Services management tool, offering students and alumni access to jobs, internships, and a range of other services. It is also your best option for posting career-related campus events and job posting to reach CSUSB students. Departments across campus can utilize this system free of charge.
Handshake - Students & Alum. Handshake - Staff & FacultyHandshake - Employers
Use Handshake to:
Help students find internship and job postings from local and worldwide employers specifically seeking CSUSB talent.
View CSUSB Career Fairs, panels, and other industry-focused events.
Schedule career advising appointments and on-campus interviews with employers from across the nation.
Handshake is built to function like familiar social media platforms including LinkedIn and Facebook.  Students and alumni can easily search and apply for jobs, communicate with employers and learn about upcoming career events on the platform.  Employers can use this tool to post open positions and recruit quality CSUSB students, schedule on-campus interviews and information sessions, and register for Career Fairs and other recruiting events.