Schedule An Admissions Appointment
Questions on applying for admissions? We welcome all undergraduate, first year, and transfer students to contact us for assistance. 
CSUSB is accepting Spring 2022 transfer applications NOW!
Apply NowApplication WorkshopApplication Video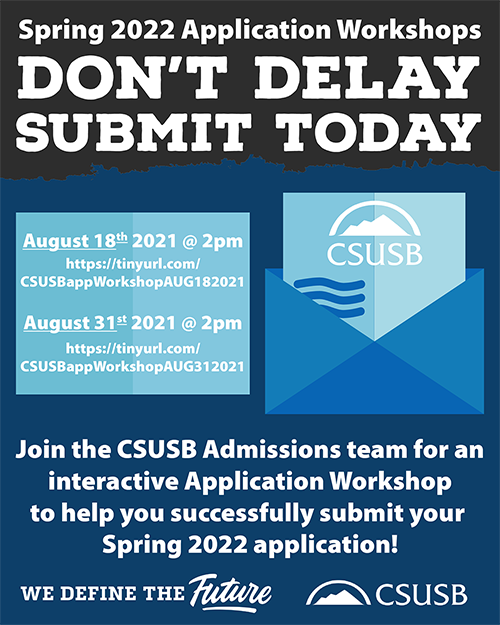 Admissions Requirements
The minimum admission requirements for transfer students applying to CSUSB are 60 semester (90 quarter) units of transferable course work taken at a regionally accredited* community college or university.
Within the 60 semester (90 quarter) units, students must complete the following four basic skills courses with a grade of "C-" or better in each course:
Freshman Composition
College Algebra (or baccalaureate level transferable math course equivalent)
Critical Thinking
Speech/Oral Communication
The remaining courses for transfer come from the CSU/IGETC General Education Transfer Pattern (at least 30 semester/45 quarter units), and the remaining courses come from the major).
Generally, baccalaureate-level courses from accredited institutions transfer. A complete list of transferable courses from the California community colleges to CSUSB may be found at ASSIST.
Because CSUSB is an impacted campus, we are limited in the total number of transfer students we are able to enroll in any given term.  Additional requirements for admissions to any campus major, including the five currently impacted majors, may be in place at the time of your application.
*Regional accreditation includes:
Western Association of Schools and Colleges
Middle States Association of Schools and Colleges
North Central Association of Schools and Colleges
New England Association of Schools and Colleges
Northwest Association of Schools and Colleges
Southern Association of Schools and Colleges
Upper division transfer students
You are eligible to be considered for admission as an upper division transfer applicant when you:
have earned at least 60 transferable semester or 90 transferable quarter units. California residents must have a transferable grade-point average of 2.0 ("C") or better.
have completed the four basic skills with a grade of "C" or better including: English composition, oral communication, critical thinking and college math equivalents.
have completed or will complete at least 30 semester units or 45 quarter units of courses in the general education requirements with a grade of "C" or better.
are eligible to enroll at the last institution you attended.
Out of Local Area transfer students:
CSUSB has defined its local area to include specific Community Colleges within San Bernardino and Riverside County. A list of local schools can be found on our FAQ page under "What does CSUSB consider to be its local area?". All other institutions are considered outside our local area.
Students who attended more than one institution will be classified depending on where the majority of their coursework was completed.  
Out of Local Area GPA requirements is set based on the application pool for the term. The minimum qualifying GPA for applicants outside of the local area will vary depending on the number of qualified applicants received at the end of the priority application filing period and enrollment limits.
Please note: All transfer applicants for fall must be fully eligible for admission based on the courses they have completed at the end of the spring term. CSUSB will not be able to accept any coursework taken during the summer term toward admission to fall. CSUSB is an impacted campus, while you will be eligible for admission based on the above criteria, you may not be admitted if there are more qualified applications than CSUSB is able to accommodate established by the campus impaction plan.
Associate Degree for Transfer (AA-T and AS-T)
Student Transfer Agreement Reform Act (SB 1440-Padilla), enables the California Community Colleges and California State University systems to collaborate on the creation of Associate Degrees for Transfer. These degrees assist with CSU graduation initiatives to allow students to earn a bachelors degree in four years. Upon completion of the Associate Degree for Transfer, students are eligible to transfer into the CSU system with junior standing.
See which CSUSB majors are available for this "degree with a guarantee".
Transfer Pathways Mapper
CSUSB and Chaffey College are currently piloting an online tool called the Transfer Pathways Mapper.  It provides example four-year roadmaps for students who complete their first two years at Chaffey, earn an Associate Degree for Transfer (ADT), and then transfer to CSUSB in a similar major.  Majors currently available in the online tool include: Anthropology, Biology, Child Development, Communication, Criminal Justice, English, History, Mathematics, Psychology, Public History, and Sociology.  Administration majors will be available soon.