We are Open for Spring 2021! Apply for housing today!
We welcome new and returning students to on-campus housing for the spring semester!  On-campus housing is available and our housing application is currently open.  To promote student health and safety, housing options are modified to allow for lower density and physical distancing practices.  On-campus residents have virtual opportunities to engage with peers and faculty, build community, and access resources to support personal and academic success!  We encourage students who have a need for on-campus housing to apply today or email us at housing@csusb.edu.  We have space available for Spring 2021!  We are here for you, Coyotes!
Thank you for your interest in on-campus housing!  Home is Where the Pack Lives!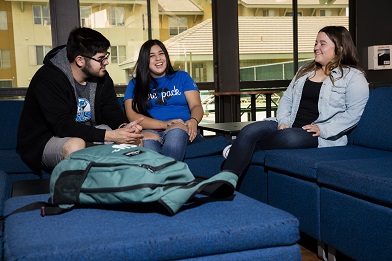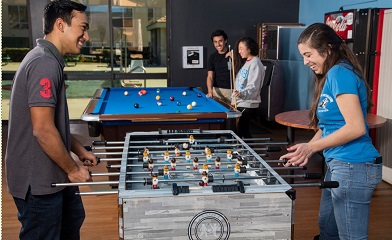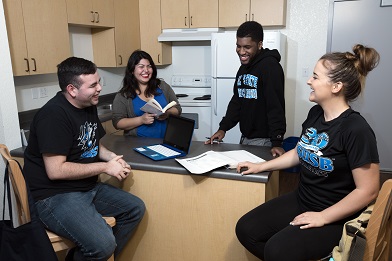 Live with the Pack
Graduate in 4-years
Achieve higher GPAs
Engage in Living Learning Communities
Receive academic support
Live in a safe environment; 24/7 security
Participate in free, exclusive activities and events
All inclusive rent includes utilities
Convenient Living 
Students recognize us for convenience, beyond just proximity to classes. We have made renting easier by creating one-bill to include room rent, utilities (electricity, water, heat, A/C, garbage and recycling), Wi-Fi, community and study spaces, academic support, and free social events.
Meaningful Connections 
Research shows that students who live on campus have stronger connections with faculty, better relationships with their peers, and participate in more student activities.
Graduation Goals 
Students who live on campus have higher graduation rates and graduate faster than those who live off campus.
Safe Environment
Our residents' safety and security in University housing and around campus is important to us.  All of our Villages are locked 24 hours a day and require card access.  Housing and Residential Education, in coordination with the University Police Department, work to provide a safe and healthy living environment for all our residents.
Peace of Mind 
There are no hidden fees or change of contract rates once you move in. If someone moves out of your room or apartment, you will never be obligated to pay their bill; and if you are having issues in your room, our staff can help mediate or find a new space. Additionally, we encourage you to contact the Office of Financial Aid and Scholarships regarding how best to finance living on-campus.
Dining and Healthy Eating
The CSUSB dining experience is more than great food.  It is a community experience centered around a variety of food choices and healthy options.  Coyote Commons offers an array of all-you-care-to-eat selections. First-year students are required to choose a meal plan, and continuing and transfer students can opt-in to a plan. Visit Yotie Eats to learn more. 
View the video below to listen to a resident's perspective regarding living on-campus.