Welcome
California State University, San Bernardino Office of Ombuds Services is a confidential, informal, impartial, independent resource for the students, faculty, staff, alumni, and community members with a university-related concern seeking assistance with resolving problems, disputes, or complaints. The university Ombuds Officer will assist visitors in exploring the full range of problem-solving options and help to identify constructive resolutions.
The office supplements, but does not replace, the University's formal channels, such as the grievance process. The university Ombuds Officer treats all inquiries following the International Ombudsman Association Ethical Principles.
OMBUDS OFFICE & CORONAVIRUS
OMBUDS OFFICE & CORONAVIRUS
The Ombuds Officer will be available to all members of the CSUSB community during this state of emergency.  Upon scheduling an appointment, the Ombuds will discuss the meeting form and format that best meets your needs while honoring the University's efforts to manage the risk of spreading of COVID-19. 
CSUSB COVID-19 regular updates may be found here: COVID-19 Updates
Thank you!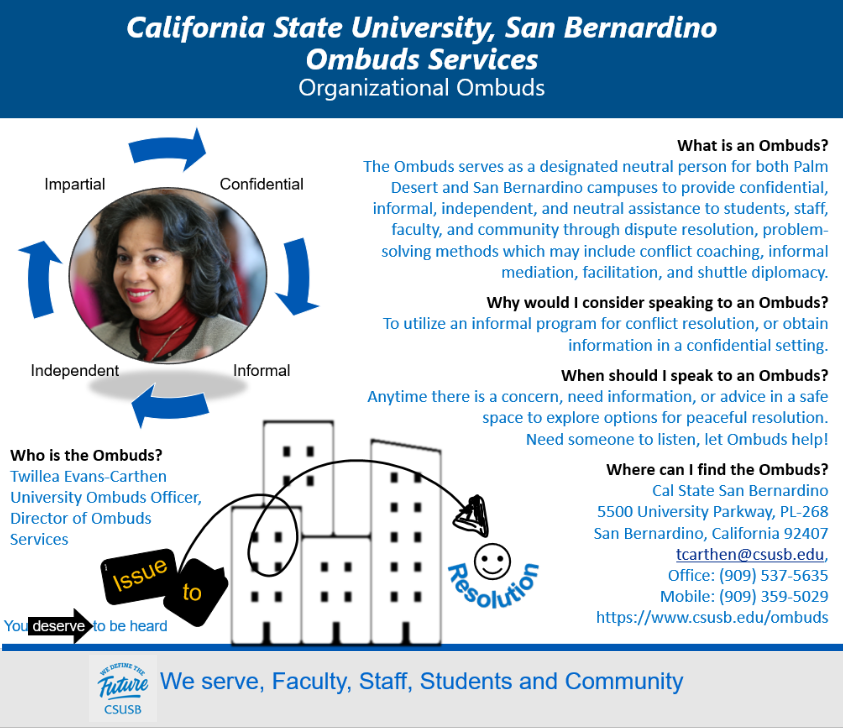 California State University, San Bernardino
Ombuds Services
Organizational Ombuds
What is an Ombuds?
The Ombuds serves as a designated neutral person for both Palm Desert and San Bernardino campuses to provide confidential, informal, independent, and neutral assistance to students, staff, faculty, and community through dispute resolution, problem-solving methods which may include conflict coaching, informal mediation, facilitation, and shuttle diplomacy.
Why would I consider speaking to an Ombuds?
To utilize an informal program for conflict resolution, or obtain information in a confidential setting.
When should I speak to an Ombuds?
Anytime there is a concern, need information, or advice in a safe space to explore options for peaceful resolution. Need someone to listen, let Ombuds help!
Who is the Ombuds?
Twillea Evans-Carthen
University Ombuds Officer,
Director of Ombuds Services
Where can I find the Ombuds?
Cal State San Bernardino
5500 University Parkway, PL-268
San Bernardino, California 92407
tcarthen@csusb.edu,
Office: (909) 537-5635
Mobile: (909) 359-5029
https://www.csusb.edu/ombuds
We serve, Faculty, Staff, Students and Community