Welcome
California State University, San Bernardino Office of Ombuds Services is a confidential, informal, impartial, independent resource for the students, faculty, staff, alumni, and community members with a university-related concern seeking assistance with resolving problems, disputes, or complaints. The university Ombuds Officer will assist visitors in exploring the full range of problem-solving options and help to identify constructive resolutions.
The office supplements, but does not replace, the University's formal channels, such as the grievance process. The university Ombuds Officer treats all inquiries following the International Ombudsman Association Ethical Principles.
OMBUDS OFFICE & CORONAVIRUS
OMBUDS OFFICE & CORONAVIRUS
The Ombuds Officer will be available to all members of the CSUSB community during this state of emergency.  Upon scheduling an appointment, the Ombuds will discuss the meeting form and format that best meets your needs while honoring the University's efforts to manage the risk of spreading of COVID-19. Availability will be increased while the University's special operating procedures are in effect.
CSUSB COVID-19 regular updates may be found here: COVID-19 Updates
Thank you!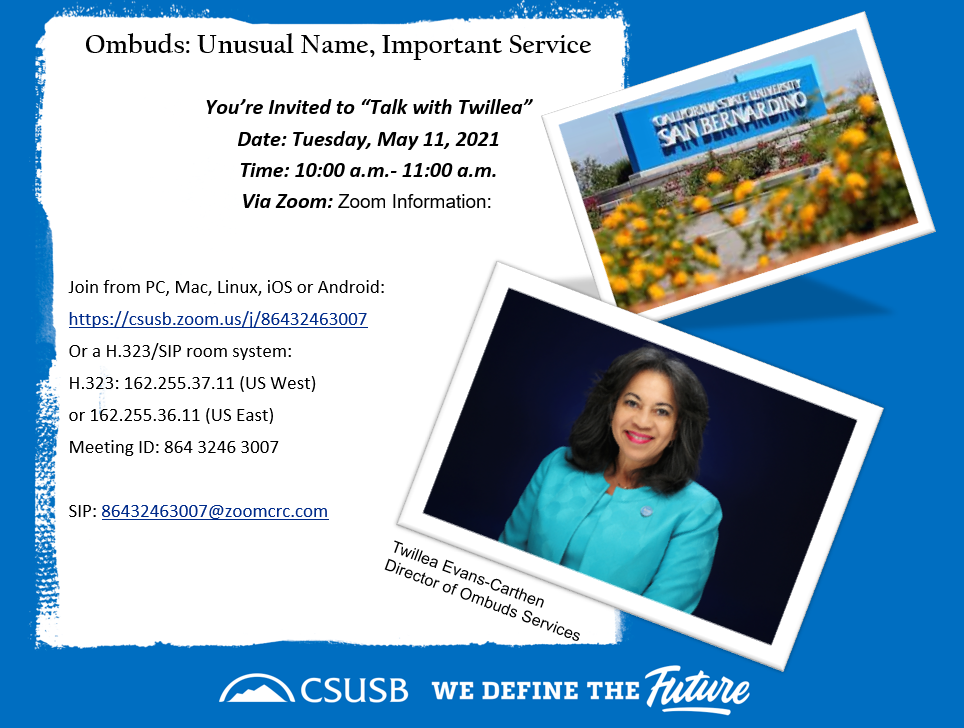 Ombuds: Unusual Name, Important Service
You're Invited to "Talk with Twillea"
Date: Tuesday, May 11, 2021
Time: 10:00 a.m.- 11:00 a.m.
Via Zoom: Zoom Information: 
Join from PC, Mac, Linux, iOS or Android:
https://csusb.zoom.us/j/86432463007 
Or a H.323/SIP room system:
H.323: 162.255.37.11 (US West)
or 162.255.36.11 (US East)
Meeting ID: 864 3246 3007
SIP: 86432463007@zoomcrc.com