This is our university's central website for information and updates regarding COVID-19.
Reporting COVID Cases
Students: Report all students who test for COVID-19 to the campus Infectious Disease Response Team Infectious Disease Response Team overseen by the Student Health Center. Student assistants are required to complete the COVID-19 Reporting Tool for risk management and email the IDRT@csusb.edu to report a test result.
Employees: Report all faculty, staff, auxiliary employee, and student assistant COVID-19 confirmed cases and exposures in the confidential COVID-19 Reporting Tool. Those who self-report must follow regular departmental procedures for being absent from work.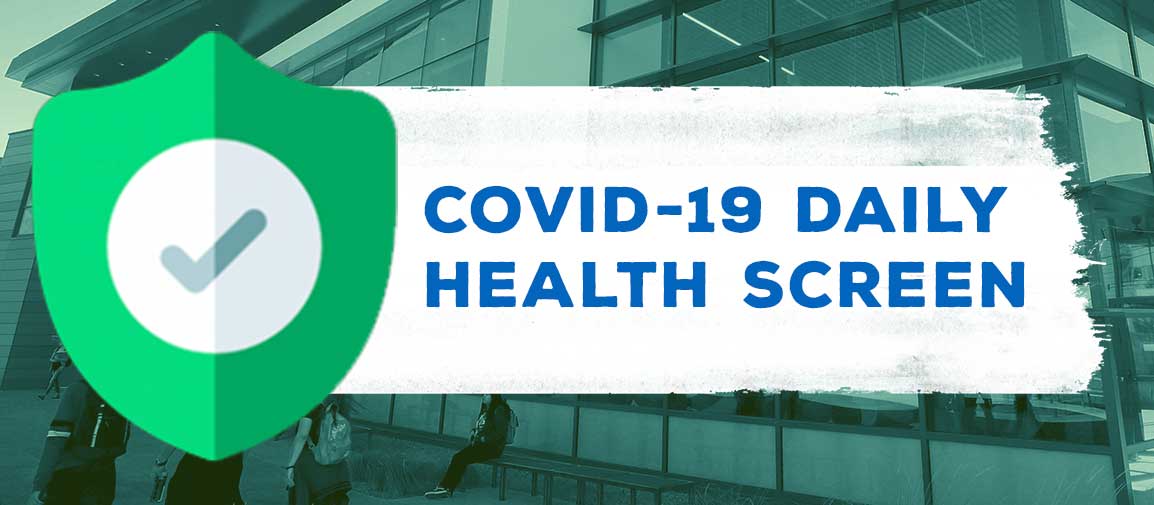 All students, faculty and staff are required to complete the Health Screening Survey EVERY time they come to campus.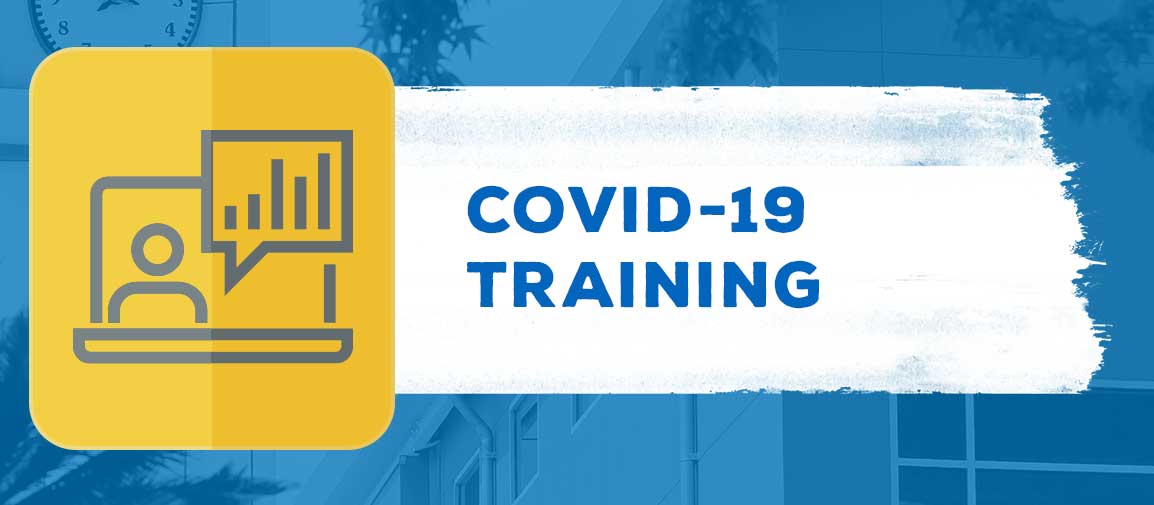 Students: Returning to Campus
Faculty & Staff: Returning to the Workplace
All CSUSB students, faculty and staff are required to complete a 30-minute COVID training before they can come on to campus this fall.
Contact csulearn@csusb.edu for any questions or concerns regarding the training modules.
Help California stop the spread by signing up for the Exposure Notification System (CA Notify).
University-Issued Statements on Coronavirus
Message to the CSUSB Community
4/15/2021 – Reminder Message on Campus Events
Due to the ongoing conditions of the COVID-19 pandemic, a reminder to the campus community that Cal State San Bernardino continues to have a moratorium on all in-person campus events and gatherings through August 15, 2021.  This encompasses all university activities as well as third-party events for the San Bernardino and Palm Desert campuses including, but not limited to, in-person conferences, workshops, meetings, student programming, camps, banquets, receptions, luncheons and dinners.  The moratorium is subject to change or further extension based on pandemic conditions.
Message to the CSUSB Community
4/14/2021 – COVID-19 Vaccination Clinic, Saturday 4/17 at CSUSB
Coyotes Get Vaccinated
CSUSB partners with Rite-Aid to host a vaccination clinic this Saturday, April 17, 2021, from 10 a.m. to 6 p.m. at the CSUSB campus. CSUSB faculty, staff and students: Show your Coyote Pride by wearing Coyote Blue.
Message to the CSUSB Community
4/9/2021 – COVID-19 Vaccinations Now Open to Ages 16 and Above
The Departments of Public Health in both San Bernardino and Riverside Counties have announced that COVID-19 vaccination appointments are now open to everyone, 16 years of age and above.  There are no restrictions or priority groups.  All CSUSB students are now eligible for vaccination for the first time.  Currently, Los Angeles and Orange Counties are indicating an April 15 start to vaccinations for all.
Frequently Asked Questions
What is the coronavirus?
The novel coronavirus is a virus identified as the cause of respiratory illness first detected in December 2019 in Wuhan, China. The virus causing COVID-19 can cause mild-to-severe respiratory illness with fever, cough, and difficulty breathing. 
How does it spread?
Researchers believe COVID-19 spreads the way other respiratory viruses do – through the droplets produced when an infected person coughs, sneezes, etc. A person catches the virus when these infected droplets enter their nose, mouth or eyes, either directly or through contaminated hands. Researchers also believe a person can spread COVID-19 even before showing symptoms.
How can I protect myself?
The CDC recommends everyday preventive actions to help prevent the spread of coronavirus, the flu and other respiratory viruses:
Wash your hands often with soap and water for at least 20 seconds. If soap and water are not available, use an alcohol-based hand sanitizer.
Avoid touching your eyes, nose, and mouth with unwashed hands.
Avoid close contact with people who are sick.
Cover your cough or sneeze with a tissue, then throw the tissue in the trash.
Clean and disinfect frequently touched objects and surfaces.
Check with your healthcare provider whether obtaining the influenza vaccine is advisable for you.
Do remote workers need to report their COVID+ case?
Yes. This creates a record and allows campus officials to determine whether any follow up needs to take place.
What should I do if I feel sick?
Students, faculty and staff concerned about their health are urged to contact their primary care physician or health care provider for support, attention, testing and treatment.
Students who test positive for COVID-19 should contact Beth Jaworski, assistant vice president for Student Services, at (909) 537-5185.
Faculty and staff who test positive for COVID-19 should contact their supervisor and provide appropriate details, including the most recent date of being on campus.
If you have recently returned from travel – statewide, nationally or internationally, or have had contact with someone known to have COVID-19, and are experiencing respiratory symptoms, contact your primary care physician or health care provider's office.
The most common symptoms of COVID-19 include fever, tiredness, and dry cough. If you feel sick:
Stay home and away from others in the household.
Avoid contact with others and do not travel while sick.
Cover mouth and nose with a tissue or a sleeve (not your hands) when coughing or sneezing.
Clean hands immediately after coughing, sneezing, or blowing your nose by washing them with soap and water for at least 20 seconds or using an alcohol-based hand sanitizer that contains 60%-95% alcohol. Soap and water should always be used if hands are visibly dirty.
Monitor your symptoms closely.
Periodically take your temperature if you believe you have a fever.
If you will be absent – Students should notify their instructors; Employees should notify their supervisor.
Be especially careful around infants and small children as well as individuals who have chronic illness, compromised immune systems and/or are over the age of 65.
Take care of yourself. Rest as much as possible and drink lots of fluids.
If possible, call ahead before going to a doctor's office or emergency room and inform them about your symptoms.
As with any medical emergency, call 911.
Am I allowed to come to campus?
CSUSB has developed a Fall 2020 Plan which outlines who is allowed to be on campus. Read CSUSB's Fall 2020 Plan.
Also be aware of the required trainings for students, faculty and staff:
COVID-19 Training – All CSUSB students, faculty and staff are required to complete a 30-minute COVID training before they can come on to campus this fall. Student Training. Faculty & Staff Training.
COVID-19 Daily Health Screen – All students, faculty and staff are required to complete the Health Screening Survey EVERY time they come to campus.
When can I return to work/class?
Those who have had a close contact exposure (within 6 feet, for more than 15 minutes) with a person that tested positive for COVID-19 must not be on campus until after their quarantine period.
If the individual will not have further close contact, the employee may discontinue quarantine after 14 days from the date of last contact.
If the individual lives with a lab confirmed case, but can avoid further close contact – the last day of quarantine is 14 days from when the person with COVID-19 began home isolation.
If the individual is under quarantine and had additional close contact with someone who has COVID-19 – the last day of quarantine is determined by the date of most recent close contact with a person who has COVID-19, plus an additional 14 days for quarantine.
If the individual lives with someone who has COVID-19 and cannot avoid continued close contact – the last day of quarantine is determined based on the date the person with COVID-19 ends home isolation, plus 14 additional days.
When ending quarantine in less than 14 days is determined to be appropriate, the following must be observed through the 14th day:
Adhere strictly to all recommended non-pharmaceutical interventions, and any doctor recommendations
Continued use of a face covering,
Self-monitor for any symptoms through day 14 and if symptoms present, do not report to work, notify your supervisor, and follow the appropriate isolation procedures outlined in this plan.
Example: An employee who was exposed to a confirmed case must quarantine for at least 10 days. If symptoms do not present during that time, the employee may meet the return to work criteria but must continue to monitor for symptoms for an additional 4 days. Should symptoms present even after returning to work, the employee must notify their supervisor immediately and return home to follow the applicable isolation procedures identified above.
Note: A negative test result shall not shorten a quarantine period.
Those who have tested positive for COVID-19 must not be on campus until it is safe to be around others.
For employees with symptoms all of these conditions must be met: 
At least 10 days have passed since symptoms first appeared,
At least 24 hours have passed since a fever of 100.4 or higher has resolved, without the use of fever-reducing medication; and
Other COVID-19 symptoms have also improved.  
For employees without symptoms:
A minimum of 10 days has passed since first positive test (sample collected)
For additional information, please refer to CSUSB's Draft COVID-19 Prevention Plan.
Is there a test?
The CDC has distributed test kits to state health departments to determine if a person has the virus that causes COVID-19. At present, testing is not available at the CSUSB Student Health Center.
Am I required to wear a face covering at CSUSB?
Pursuant to guidance from the Center for Disease Control (CDC) and state and local health officials, all members and guests of the CSUSB community who are on campus property are required to always wear a face covering over their nose and mouth. This includes any indoor space on campus, including lobbies, hallways, bathrooms, break rooms, and any open office space with multiple workstations, even if there are no other individuals present. Face coverings are also required in any outdoor space on campus where there is a potential to encounter another individual.
Face coverings help to slow the spread of the COVID-19 virus, but they should be the last line of defense. Other preventive measures, including frequent hand washing, social distancing of six feet or greater, and minimizing the duration of contact time with others, need to be maintained even while wearing a face covering.
What is an acceptable face covering?
A cloth covering over the face and mouth, which can include a purchased or homemade mask, scarf, bandana, gaiter, or handkerchief. Please do not seek to acquire N95 masks, as they should be preserved for medical professionals and first responders.
Additional CDC guidance on the "Use of Cloth Face Coverings to Help Slow the Spread of COVID-19" is available online. This guidance discusses wearing, cleaning and removing face coverings, as noted above. This document also has instructions on how to make your own face covering.
What are the expectations on how to properly wear a face covering?
The face covering should always cover both the nose and mouth. Wearing the face covering in a manner that leaves either the nose or mouth exposed is not in compliance with this requirement.
If you are reusing the face covering during the day, take care to ensure you are using the same side of the covering toward your face.
Face coverings should be changed if they become wet, soiled, or compromised in some fashion.
Face coverings should be washed daily if they have been exposed to the public.
Are there exceptions to the face covering requirement?
Anyone in an indoor area of complete isolation (i.e., private office, lab space, residence hall apartment/room) with the office/lab/resident hall unit door closed and do not expect other individuals to come into the room, may remove their face covering when inside. However, when you leave your office/lab/residence hall unit and proceed into an office common area or hallway (even if there are no other individuals present), you must wear your face covering.
Anyone driving alone in a vehicle or cart on campus, with no passengers in the vehicle, and the vehicle is not used by anyone else, may remove their face covering while driving. However, a face covering is required if the vehicle or cart is used by others, or if there are other passengers.
A face covering must always be immediately available, even when in an area that is a stated exception to the requirement.
Will face coverings be provided?
For employees required to work on campus, face coverings have already been provided by the appropriate supervisor. Please contact your supervisor if you require a replacement.  CSUSB will strive to provide face coverings to employees upon request, based on availability.
It is our shared responsibility to take the appropriate mitigation steps to prevent community spread of COVID-19, doing our part to create a safe campus environment. Students and employees are always expected to comply to this requirement while on campus. Employees not adhering to these instructions will receive corrective action by the appropriate supervisor. Students will be referred to the Office of the Vice President for Student Affairs for appropriate disciplinary action.
This face covering requirement is in effect until amended and applies to both the San Bernardino and Palm Desert Campuses.
How can I avoid coronavirus exposure in public spaces?
People may be sick with the virus for 1 to 14 days before developing symptoms. As recommended by the Center for Disease Control (CDC), as well as regional health officers, it is critical to maintain vigilance to help prevent the spread of COVID-19.  In accordance with the current stay at home order, individuals:
Should only go out to conduct essential work and access essential services.
Maintain physical distancing of at least 6 feet from any other person.
Wash your hands frequently for at least 20 seconds.
Avoid touching your face.
It is essential to limit any outside contact should you or anyone in your house exhibit any COVID-19 symptoms.
To avoid not only COVID-19 but also the flu and common cold, the CDC recommends cleaning and disinfecting frequently touched surfaces (e.g., doorknobs, tables, light switches) with a disinfectant. In addition, avoid close contact with someone who is sick from a respiratory illness.
What items should I have at home?
The following items are recommended to have in the home:
Non-prescription medications such as pain relievers, fever reducers, decongestants, anti-diarrheal medication and cough drops
Alcohol-based hand sanitizer
Thermometer
Facial tissues
Face masks – to be used only if you or someone at home is sick
A 30-day supply of non-perishable food staples such as canned or instant soups (look for low sodium), canned fruit, canned tuna, etc.
Decaffeinated tea
Heat or ice packs
Toilet paper
Blankets
Laundry detergent
Household cleaners
Paper towels
Soap
Your health care provider's phone number
Diapers, baby food if you have small children
How is CSUSB dealing with possible outbreaks within the campus community?
The University has plans for managing illness should it affect our campuses. University leadership is actively engaged in making preparations on an ongoing basis.
The University is in close contact with the county and state departments of public health for up-to-date information on the status of COVID-19 within our region.
Check the CSUSB COVID-19 website for the latest University-Issued Statements on Coronavirus.
Is CSUSB restricting travel?
What campus resources are available?
The University is committed to helping students continue their academic progress. It is also dedicated to assisting faculty and staff in their endeavors to maintain CSUSB's educational mission.