Announcements
Attention SRWC Members:
The Recreation and Wellness Center will be closed on Veteran's Day 11/11/19.
Yosemite National Park Camp and Explore - November 1-3
Join Adventure for a weekend exploration of Yosemite National Park. Yosemite is best known for its waterfalls, but within its 1,200 square miles of wild lands you will find deep valleys, grand meadows, ancient giant sequoias, and much more. Register online by October 30 at 6:00pm.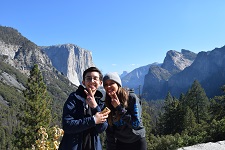 CSUSB Adventure Guide Summer and Fall 2019
The Summer and Fall 2019 Adventure Guide is here!
Check it out online. 
 
CSUSB Aquatics is HIRING:
Hire a Personal Trainer
Hire a Personal Trainer & Commit To Be Fit In the New Year! Need an extra boost of motivation to reach your fitness/health goals? Hire one of our very own Personal Trainers today! We even offer buddy sessions to students and SRWC members.