Announcements
Aquatics
Pool is closed May 9, 2022 through May 22, 2022. Summer hours will be posted shortly and will begin on Monday, May 23, 2022. 
Do You Want to Play Intramural Sports?
We are reaching out to the campus community for a little assistance. Our Intramural Sports Program has been significantly impacted by the pandemic. We will be conducting a campus survey over the next 3 weeks to gather feedback. Responses will help guide us in our decision making on what, when, where and how we offer our Intramural Sports to the campus community.  The survey will only take 1-2 minutes and your participation would be greatly appreciated.
Survey Link: Do You Want to Play Intramural Sports?
CSUSB Adventure Guide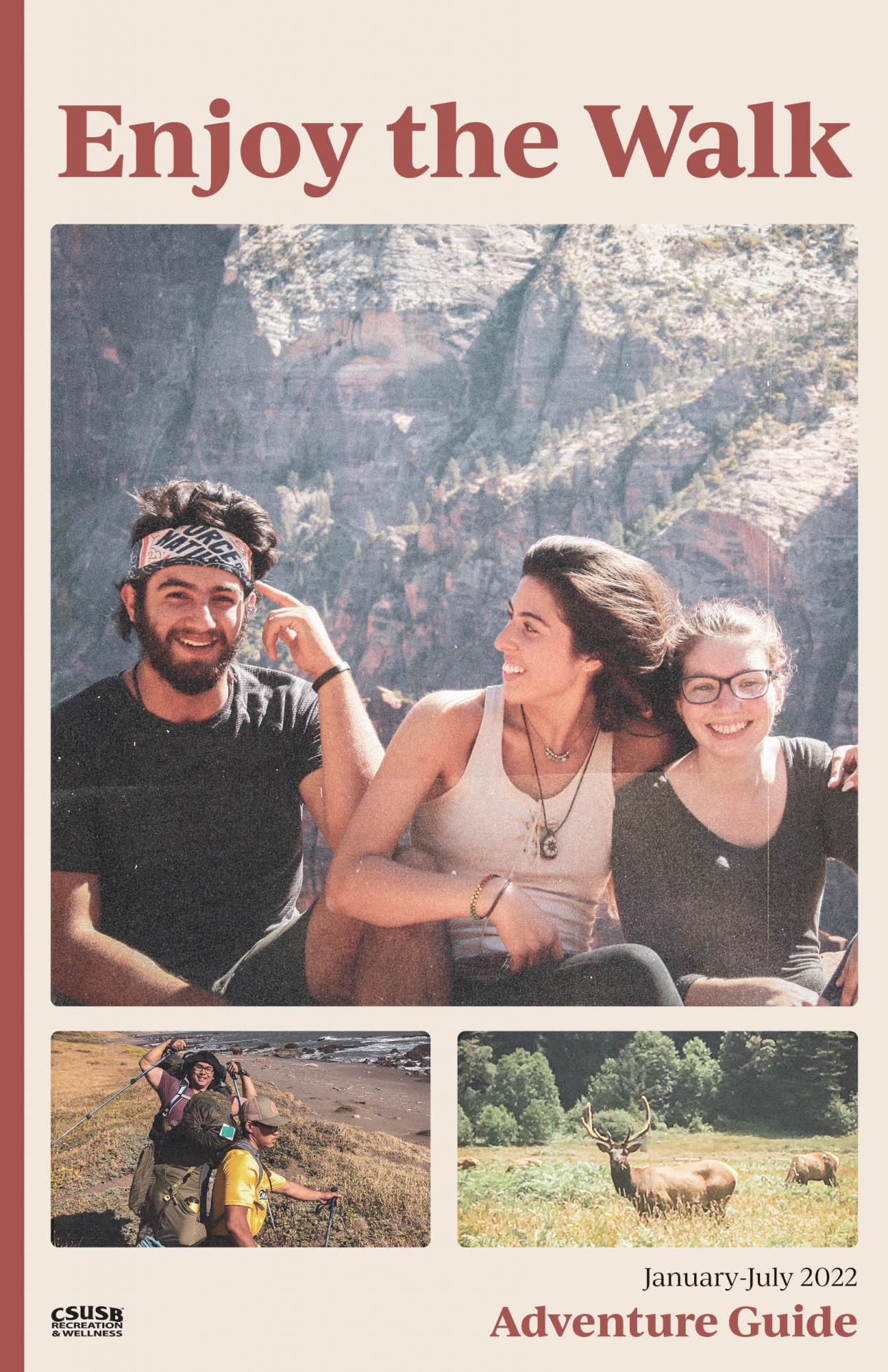 The CSUSB Adventure Guide is Here! Check out all the great adventures we have planned for the Spring semester and beyond! Registration is currently limited to CSUSB Students, Faculty and Staff. Do you want to become a CSUSB Adventure leader and learn to lead these great trips? Check out page 18-19 to learn more. 
         Registration for May - July trips will open on 3/1/22 at 8:00am
Covid-19 Info: Eligible vaccinated non-CSUSB students, faculty, and staff who can provide proof of a completed regimen for a COVID-19 and booster if it has been six months since receiving the second dose or a two-dose vaccine or two months after receiving a Johnson and Johnson vaccine of an authorized by the US Food and Drug Administration (FDA) or World Health Organization (WHO) are able to register for Adventure trips starting March 1, 2022. Non-SRWC members will need to register in person at the CSUSB SRWC. All participants must wear face covering inside vans and indoors. 
The Student Recreation & Wellness Center and Aquatic center is now open. For more information on our current programs and services, beyond our website information, please visit our Instagram Account at: @csusbrecwell.