UPDATE:  COVID-19 / CORONAVIRUS
The health and safety for our students, faculty, and staff is top priority for Cal State San Bernardino, therefore the Office of the Registrar has temporarily suspended in-person services due to the COVID-19 (Coronavirus). Starting Monday, March 23, 2020, the staff will not physically be in the office. Our staff will be monitoring both phone messages and e-mail communication remotely. Click here for more information regarding COVID-19.
To ensure that we help assist you more effectively, please make sure you clearly identify your first and last name, your student ID number, and your coyote email address when leaving either a voice or e-mail message.   We will respond to your message within 3-5 business days via your coyote email account.
Questions regarding class registration, please email the Registration Help Desk at registrationhelp@csusb.edu.  Please also refer to Adding A Class for more information. 

Questions regarding CSUSB transcripts, Grade Discounts, Leave of Absence, please email us at recordsinfo@csusb.edu. 

Questions regarding transfer credits, Grad Checks, Change of Major/Minor, Concurrent Enrollment, please email us at evalinfo@csusb.edu.  
Registration FAQ's:
Q.  When do Spring 2020 classes begin?
Most class instruction will begin on or after April 4 (Saturday scheduled instruction beginning April 4, weekday scheduled instruction beginning April 6).  Lab, clinical, graduate and other courses may begin instruction as early as March 28.  Further information about instructional start date will be available in your course blackboard or be sent via communication from your faculty. 
Q.  How can I register for classes?
The registration process will continue through myCoyote and through online department approvals (permits). 
For more information, refer to Adding A Class.
Q.  How does the waitlist work?
If a class is waitlisted, students must enroll themselves to the waitlist.  The waitlist process will run once nightly.  If the students on the waitlist are enrolled, an email confirmation will be sent to each student enrolled.  We highly recommend that students check their email daily. 
Q.  I'm on the waitlist but I no longer want or need the class, what do I need to do?
We ask that students remove themselves from the waitlist by dropping the class from their class schedule through myCoyote.  Doing this allows other students on the waitlist the opportunity to move up in position for the waitlisted class.
Q.  What if I was enrolled by the waitlist process but I no longer want or need the class?
If a student is enrolled by the waitlist process and no longer wants or needs the class, students will be required to drop the class through myCoyote by the Census date, April 20, 2020.  Drops after April 20, 2020 will require students to petition for permission to withdraw with the college dean of their major in order to drop.  Approved petitions will be processed by the Office of the Registrar for withdrawal and a grade of W will be assigned.  
Q.  Will I have access to Blackboard while on the Waitlist?
Yes.  All waitlisted students will have Blackboard access through Monday, April 13th.  However, beginning Tuesday, April 14th, only students who have been officially enrolled by April 13th will retain Blackboard access.  
Q.  How do I request approval for a Course Overload?
At this time, we are asking students to use their CSUSB email accounts to email the instructor of the class, the department chair of the class and the College Dean of their major to request approval to overload.  Once approved, the College Dean will then forward the request to the Office of the Registrar to process the enrollment.  A confirmation email will be sent to the student at their CSUSB email address.  Please use the CSUSB Campus Directory for any needed email addresses.  
Q.  What if the class I want to overload is waitlisted? 
If approved, additional units may be added only during the late registration period if classes are open and are not waitlisted.  For more information, refer to Course Overloads.  If the class is waitlisted, the approved Course Overload will be processed after the waitlist periods ends, April 14, 2020 and by the Office of the Registrar once the approved overload request is received.   
Q.  When is the last day to add a class through department permit and for Financial Aid eligibility?
Census:  Monday, April 20, 2020 - The Census date is the last day to add classes without petitioning to the College Dean of the class.  Further, it is also the last day to enroll to meet Financial Aid eligibility.  
Q.  When is the last day to drop a class?
Census:  Monday, April 20, 2020 - The Census date is the last day to drop a class or all classes without penalty of the withdrawal (W) grade and without record of enrollment.  For more information, refer to Dropping A Class. 
Q.  When is the last day of Spring 2020 classes?
Monday, June 8, 2020.
Q.  When are Spring 2020 finals?
Tuesday, June 9 - Saturday, June 13, 2020.
Mission Statement
The Office of the Registrar is committed to helping our students meet their degree objectives. By building positive working relationships with our students and providing quality services, we lead them through their academic careers today for successful professions tomorrow.
"Empowering our students to become tomorrow's professionals."
Records
The function of the records unit consists of many different processes that affect a student's university record. These processes include, name changes, grade discounts for repeated courses, end of term grade postings, readmission from a leave of absence, management of the National Student Exchange program, CSU IntraSystem Visitor/Concurrent Enrollments and CSUSB transcript requests.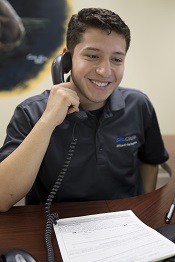 Registration
The function of the registration unit consists of promoting quarterly registration periods, assisting in the registration process, MyCoyote navigation, withdrawal from the university, petitions to add and/or drop, course overload permissions, simultaneous enrollments, and enrollment verifications.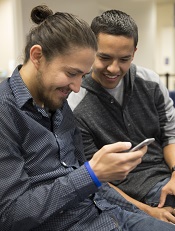 Evaluations
The function of the evaluations unit consists of evaluating graduation requirements, credits from other transfer institutions, concurrent enrollments, change of majors, adding minors, processing certificate program requests and ordering of diplomas. The Transfer and Graduation Counselors (TGC's) of the evaluations unit are available to CSUSB students in a one-on-one setting to answer questions regarding their PAWS reports, graduation checks, concurrent enrollments and other various academic matters.