The Palm Desert Campus of Cal State San Bernardino offers career services to all students. It is located in the Indian Wells Center for Educational Excellence Building (IW), Room 102.
Mission
The Career Center at California State University, San Bernardino empowers students and alumni to develop a lifelong skill set for an ever-changing labor market through exploration, programming, and experiential learning opportunities to meet their personal and professional goals.
About Us
Whether you are exploring a career, seeking a new opportunity, or looking to expand your professional network and connect with fellow Coyotes, CSUSB is committed to helping you achieve your professional goals. The CSUSB Career Center provides services and resources to all students and alumni. Our staff meet with students and alumni to help identify skills, interests and values, as well as explore career opportunities. Learn more about what we do and how we can support you. We look forward to helping you, wherever you are in your career journey!
Career Services
Resume
Cover Letter
Career Planner
Job Search
Internships
Interview Skills
Career Assessments
Major Exploration
Graduate School
LinkedIn
Networking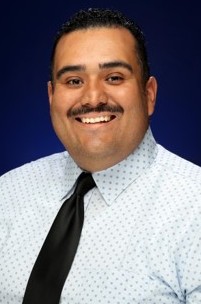 Hours of Operation
8:00 a.m.-5:00 p.m.
Monday & Tuesday: Walk-Ins: 9:00 a.m.-12:00 p.m. and 1:30-4:00 p.m.
Wednesday & Thursday: Scheduled Appointments
Friday: 8:00 a.m.-5:00 p.m.
Students

Be sure to utilize Handshake to search for internship and career opportunities. 
 
View Criminology major internship opportunities.
PDC Career Center Employment Wall
PDC Career Center Volunteer/Internship Wall
The PDC Career Center is excited to share the scheduled programming for the Spring 2023 term. Please review the information and take advantage of the career development programming. If you have any questions, please contact Oscar Fonseca.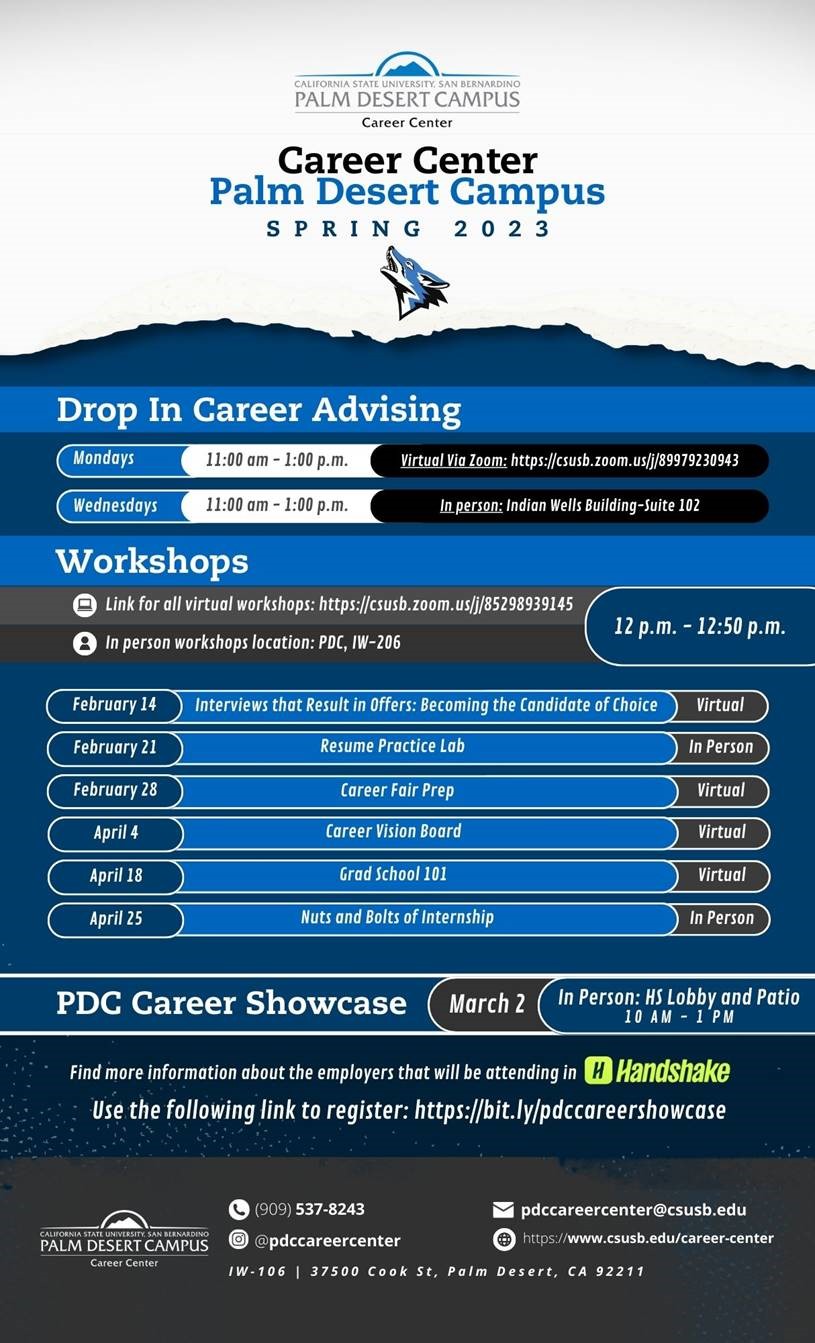 The PDC Career Center is always interested in responding to students' needs. Many PDC students have expressed the need to be more educated on the LinkedIn platform. Please take the time to view the presentation below, titled "What Is & Is Not: LinkedIn" facilitated by Ms. Cassidy Quilling, an Account Executive at LinkedIn. Ms. Quilling is an alumna of Palm Desert High School and is always willing to help our local students. Please connect with Ms. Quilling via LinkedIn to grow your network. Also, use the links below to develop your LinkedIn Profile.
What Is & Is Not: LinkedIn (Zoom Video Password: PDC2021S$)
LinkedIn Profile Checklist - College Students
LinkedIn for University Students
Tip Sheet Building a Great Profile
The Easiest Way to Research and Find Alumni on LinkedIn
The Ultimate Guide to LinkedIn for Students
Employers
For collaboration opportunities, please email Oscar Fonseca, Employer Relations, or visit the CSUSB Career Center's Employers/Partners page.
How have PDC students benefited from the PDC Career Center?
'I just wanted to thank you for all the support; from creating my resume to obtaining an internship. You helped boost my confidence and become prepared for future opportunities. Overall, it was a great experience talking to you.''Oscar's passion for higher education inspired me to pursue my lifelong dream. He truly works closely with you to make sure you take advantage of all the opportunities given to you.''Oscar has helped me with everything from improving my resume and submitting internship applications, to helping me expand my network. Oscar has been a phenomenal resource and friend to me.'
Congratulations to Alan Garcia, a PDC senior majoring in administration, with a concentration in accounting, who recently accepted a position in the finance and human resources department at FIND Food Bank!