The Coyote Bookstore at Palm Desert Campus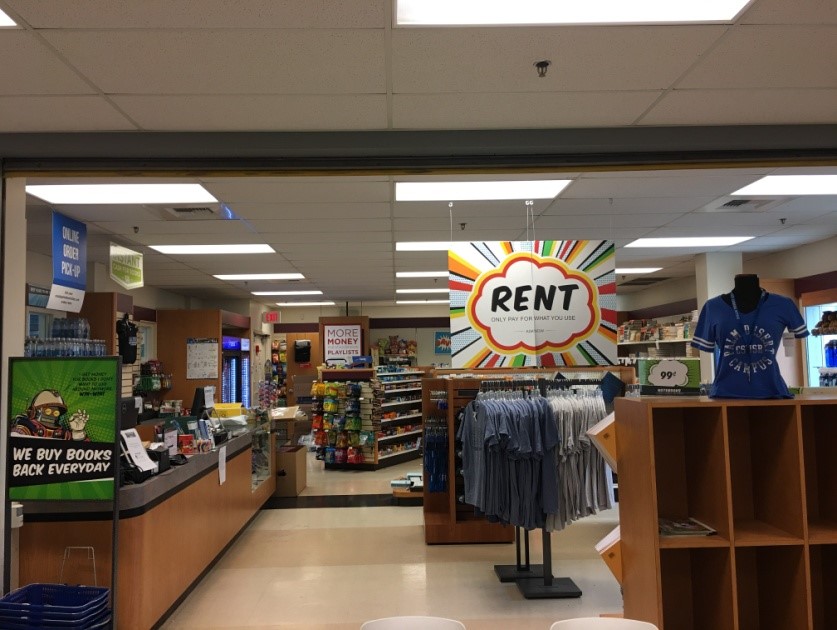 The Coyote Bookstore at CSUSB's Palm Desert Campus is located beside the Student Union in the Mary Stuart Rogers Gateway Building. Besides textbooks, we provide emblematic gifts and clothing, including Palm Desert-specific items, school supplies, computer software, snacks and beverages, daily parking permits and bookstore gift cards. Need something special? We have a wide assortment of custom gifts available for order, contact the bookstore manager for details.
Bookstore Hours:
Monday-Thursday: 8:30 a.m.-6:30 p.m.
Friday: 8:30 a.m.-2:00 p.m.
Saturday and Sunday: Closed
*The Bookstore's website and in between term hours will vary.*
Textbooks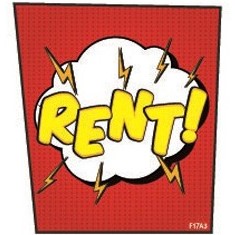 The bookstore offers a variety of options for textbook purchases, including new, used, rental, and digital formats. Textbook information, including purchase and rental pricing, is available through MyCoyote or at Coyote Bookstore Palm Desert Campus.
Renting Textbooks
Textbook rental is a great way to save money on one of your biggest college expenses; on average, rentingyour books will save you about 50% of a new book purchase. Not every book is rentable, but the list of rental titlesis growing every term.
Digital Textbooks
Brytewave-the Bookstore's leading format for digital textbooks-offers a more advantageous approach when in search for the right textbook. It can be used on many devices, including your laptop, tablets, and mobile devices and you can log in from anywhere. This is also a cost effective way of saving money by going digital!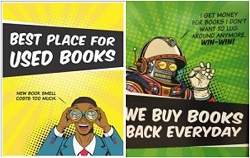 Used Textbooks
The bookstore offers used-sellable condition textbooks-at a lower cost than new textbooks. By purchasing used or new textbooks you can sell them back to us for up to 50% of your money back!
Price Match
Save on books with Price Match! We price match with Amazon & Barnes & Noble, please come in and ask us how!
Special Custom Orders
Is there a group or club on campus looking for items they'd like to show their spirit? At Campus Collections you can view a variety of clothing, gifts, drink ware, and much more to customize! Once you decide which style or item you'd like you can bring that into the bookstore for us to order! *Please see bookstore for more details*
Parking Permits
The bookstore sells daily parking permits in 1-day, 2-day, 3-day formats; the cost is $6 a day. They are effective the date of sale and cannot be sold for future dates. Multiple-day formats must be consecutive days. Semester and annually permits can be purchased through the Parking Services website at Parking website. Please contact Parking Services or PDC administration with questions about parking rules and regulations.
Snacks and Beverages
Feeling hungry or thirsty or just want a quick bite? The bookstore offers a wide variety of snacks and beverages for the customer's to enjoy. Also come enjoy the Starbucks hot coffee for a pick me up before or between classes and with our newly added coffee rewards program, the 7th cup of coffee will be FREE! 
Computers and Software
The Palm Desert bookstore collaborates with the San Bernardino Bookstore and sells an assortment of Windows and Adobe software with academic pricing. If you're in the market for a new computer, the San Bernardino store has a great assortment of PC laptops and Apple products, including iPads and iPods and all the accessories. You can see the details at Coyote Bookstore, or drop by the Computer Corner  and test drive something. Visit Follett's computer and software website at Follet Computer Software.
Contact the Bookstore
Call: (909) 537-8123
Email: CoyoteBooksPDC@bkstr.com
Coyote Bookstore Contact: Rochelle Ervin, Manager
Drop in and see us!