COVID-19/Coronavirus Spring 2020 Update
Due to COVID-19/coronavirus, we are not in our campus offices—but we are still open for business and working to support you!
College of Natural Sciences (CNS) staff, faculty, and advisors are working virtually to meet the needs of students, colleagues, and members of the CSUSB community. Currently, the best means to contact us is via email. You are important to us, and we will respond to your emails as soon as possible. You can look up faculty and staff emails on the CSUSB Campus Directory. Check your department's homepages for additional contact information or updates relevant to your major—for example our Department of Biology and Department of Chemistry and Biochemistry have updated their homepages. You can also contact the CNS Office of the Dean at cns@csusb.edu.
Please monitor your Coyote email daily for important announcements and information from CNS and CSUSB administrators, faculty, and staff. Also, keep in touch with your instructors via Blackboard in addition to email.
Stay safe, stay healthy, and practice social distancing. We are all in this together, and we are taking all steps necessary to support your academic goals and progress during these challenging times.
Spring 2020 classes will begin April 4, 2010 (Saturday classes), and April 6, 2020 (weekday classes).
Please visit the Resources for Virtual Learning, Teaching, and Working page for updated information on internet access, laptop checkout, Zoom training and tutorials, housing, counseling, basic needs, parking refunds, free software downloads and training, tech support, financial aid, information for student assistants, and ASI.
For questions related to enrollment requests such as Course Overload, Add/Drop, and Simultaneous Enrollment, please consult the information below.
Again, thank you for your patience and understanding. 
Welcome to the College of Natural Sciences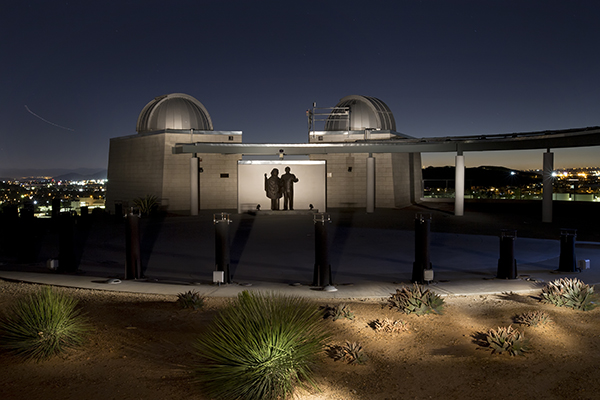 The College of Natural Sciences (CNS) encompasses nine departments: Biology, Chemistry and Biochemistry, Computer Science and Engineering, Geological Sciences, Health Science and Human Ecology, Kinesiology, Mathematics, Nursing and Physics. The college also oversees the operation of the Murillo Family Observatory. The dean oversees the college as a whole and each department consists of its own chair, faculty, administrative, and technical staff. In addition to its bachelor's degrees, several department offer Master's programs. Though distinct and in some cases physically separate, all departments interact closely in support of students, collaborative research, shared facilities, and common interests.
Although private and public support continues to be essential, the college has made great strides in recent years in acquiring state-of-the-art facilities and equipment. For example, the Department of Kinesiology has modern laboratories in Human Performance, Biomechanics, Motor Learning, and Hemodynamics. The Department of Biology has a suite of modern imaging systems that include small animal X-rays, epifluorescence, confocal microscopy, microinjection and microfluidics analysis, scanning electron microscopy, and transmission electron microscopy.  There are also facilities for 3D scanning, modeling, and printing, tissue culture and cell sorting, ultracentrifugation, a large environmental chamber, and physiology and molecular biology research. 
The Department of Geological Sciences is constructing a new experimental petrology lab for studying changes that take place in rocks at high pressure, and is developing the capability to use drones and photogrammetry software to make detailed observations of the Earth's surface to study faults, landslides and other features.  The Department of Computer Science and Engineering operates a multi-million dollar computer facility of more than 120 engineering workstations on the world-wide Internet and also houses two supercomputers and fileservers supporting more than 50 gigabytes of secondary storage for application software and user directories.   
Much of this equipment and support facilities were obtained not only through the university and as gifts, but also as major grants from the National Science Foundation and other external agencies, awarded to many of our outstanding faculty. We look forward to continuing our quest to update major equipment and facilities in support of both our teaching mission and to promote student and faculty research efforts in an increasingly technology-dependent society.
The fundraising effort includes raising private funds to build a strong endowment to support future generations of scholars and students. Increased private support will enhance the already high-quality student body and help recruit faculty members whose teaching and research abilities distinguish them as excellent scholars. This support will build state-of-the-art facilities and renovate or refurbish current facilities to ensure that CNS students and faculty learn and work with cutting-edge technology and resources. The campaign will help the College of Natural Sciences achieve its strategic priorities and secure its status as a preeminent institution, recognized nationally and internationally for excellence in education, research and public service.
Course Overload Request
College of Natural Sciences students who wish to submit a Course Overload request, please click on our CNS Course Overload Request Process to initiate the request. Follow the email instructions beneath the bolded word "STUDENTS."
Simultaneous Enrollment Request
College of Natural Sciences students who wish to submit a Simultaneous Enrollment request, please click on the CSUSB Simultaneous Enrollment form, download it, fill it out (it is a fill-able PDF that you can sign with a digital signature), and submit it to the instructors for review. Once this form has been signed by the instructors and chairs, please email the completed and signed forms to cns@csusb.edu for review and for final processing by the Office of the Registrar.