The master of arts and preliminary and professional credential programs in educational administration prepare individuals to assume leadership roles in school administration, school business management, curriculum development, higher education, and supervision of personnel and instruction.
Candidates are also prepared for the preliminary level of the administrative services credential. Most students in the Preliminary Credential Program are expected to be working toward a master's degree. The program offers a thesis or a comprehensive evaluation class option. See the program overview available on the CSUSB website (link below) for more information.
Program Mission
The mission of the Department of Educational Leadership and Curriculum is to prepare educational leaders who will work collaboratively with others to establish a positive climate for teaching and learning in the 21st century. The faculty is dedicated to working with our diverse students and assisting them in acquiring the appropriate knowledge, skills and dispositions that will result in a well-prepared school leadership team.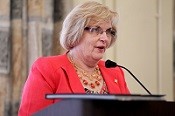 Susan Jindra
Program Coordinator, Educational Administration
Department of Educational Leadership & Technology
California State University, San Bernardino
(909) 537-5674
For more information on a master's degree or certificate in Educational Administration, please visit the CSUSB Educational Administration website.