Modified Spring Break Hours
PDC DEN  - Health Science Building Rm 118
Monday (3/27) - Closed
Tuesday (3/28) - 9 a.m. - 4 p.m.
Wednesday (3/29) - Closed
Thursday (3/30) - 9 a.m. - 4 p.m.
Friday (3/31) - Closed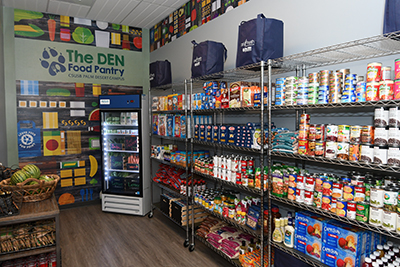 Food insecurity is a serious issue on campuses throughout the United States. Often, students go hungry in order to pay for college tuition and school expenses. Knowing it's difficult to learn on an empty stomach, the CSUSB Palm Desert Campus created the "DEN," a food pantry on campus. It's a place for any student facing food insecurity who needs a healthy snack or a quick meal.

Students can visit the DEN for food, fresh produce, hygiene items and CalFresh application assistance. The PDC DEN provides currently enrolled students with free food regardless of verified need. The DEN is committed to eliminating barriers, promoting student success, and connecting PDC students with important campus and community resources.

For more information, contact:  pdcden@csusb.edu or (909) 537-8173.
Questions about receiving food assistance? We're here to help!
The PDC DEN serves to assist CSUSB students who face food insecurity or scarcity.
The PDC DEN is only available to currently enrolled CSUSB students, including undergraduate, credential, graduate, and doctoral students.
To be eligible to utilize the services, students must be currently enrolled at CSUSB. Please make sure to bring your CoyoteOne Card to each visit to The PDC DEN. Confidentiality is maintained at all times.
Our food items come from community partners including the Helping Hands Food Pantry, through departments and student club and organization food drives, as well as in-kind donations.
The PDC DEN can also help with referrals to on- and off-campus resources.
Spring 2023 Hours
Monday, Tuesday, & Thursday : 10:00 a.m.- 4:00 p.m
Wednesday: 10:00 a.m.- 6:00 p.m.
Friday: Closed
Location
The PDC DEN is located in the Palm Desert Health Sciences Building, Room 118. 
Make a Donation
The PDC DEN depends on donations from people like you to provide critical food assistance to members of our campus community in need.  You can make a difference!
Make your tax-deductible gift to:

CSUSB Philanthropic Foundation
Attn: PDC DEN
37500 Cook Street
Palm Desert, CA 92211