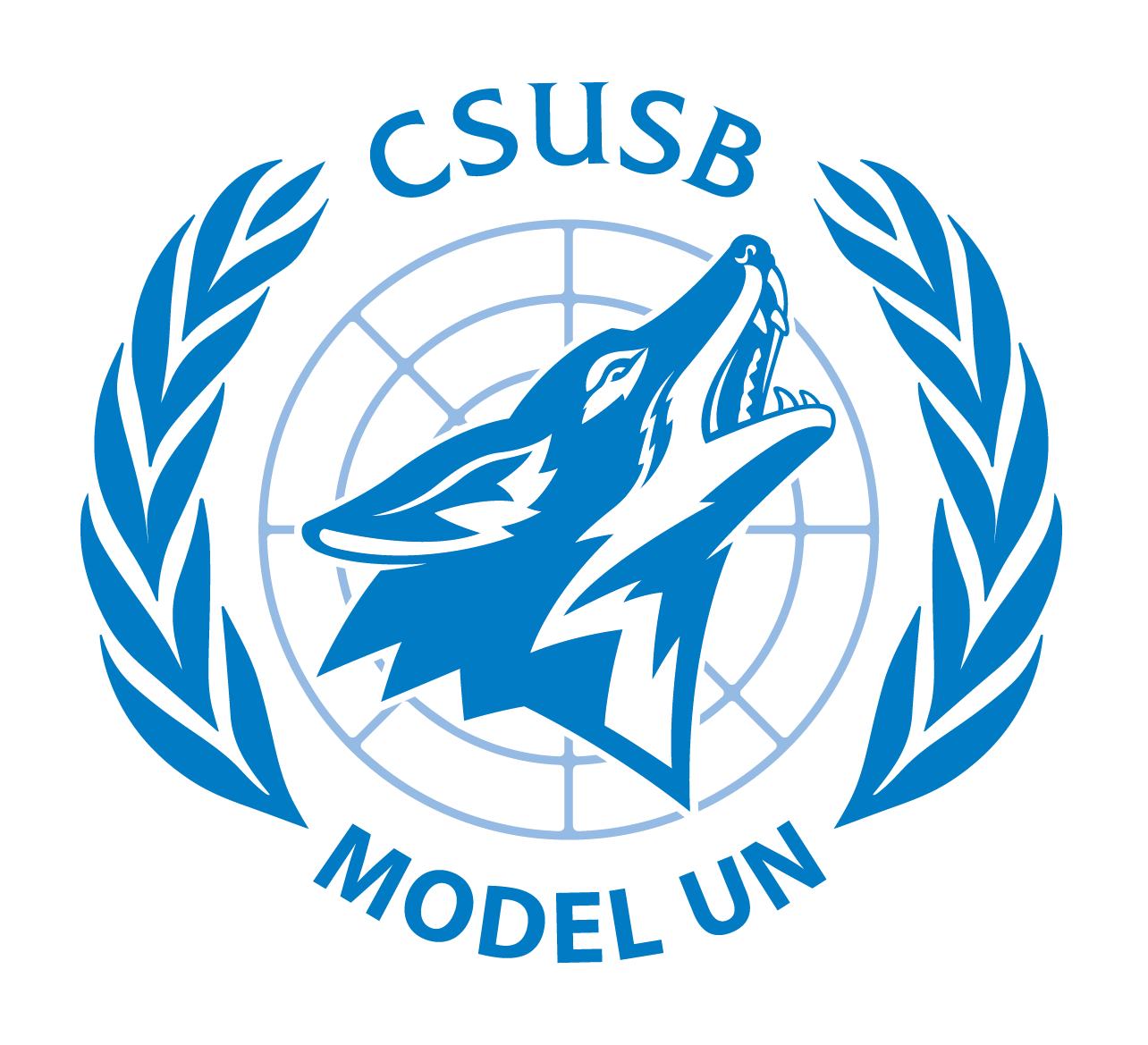 Official seal for the CSUSB Model United Nations Program
Welcome to the CSUSB Model United Nations Program
The CSUSB Model United Nations (MUN) Program is an academic program housed in the Department of Geography and Environmental Studies within the College of Social and Behavioral Sciences at California State University, San Bernardino.  The MUN Program provides students with insight into global affairs, diplomacy, and the United Nations system.  The program prepares students for a variety of career paths by helping students develop their soft skills set -- including (but not limited to) public speaking, writing, interpersonal communication skills, teamwork, conflict resolution skills, research skills, and leadership skills.  Due to the successes of the program and its participants, the CSUSB MUN Program is used as a model for other MUN programs around the globe.
The CSUSB MUN Program annually participates in the National Model UN Conferences held in New York City every Spring and at a variety of international sites every Fall (including South Korea, Czech Republic, Canada, and Germany).  It has participated in Model UN conferences globally for the past three decades.  The Fall MUN teams are part of a joint program between the Department of Geography and Environmental Studies and the Study Abroad Office housed in the College of Extended and Global Education.
2021 CSUSB Coyote Model UN-New York Team
Please Note:  Due to the COVID-19 outbreak and related travel restrictions, the CSUSB Model UN Program will not be forming a team to participate in any Model UN conferences during the Fall 2020 Semester.  For those students who had planned on applying for the CSUSB MUN-Fall team (that was scheduled to travel to Japan for the 2020 NMUN-Japan Conference), we strongly encourage you to apply for the 2021 CSUSB MUN-Spring team (who will participate in the 2021 National Model UN Conference-New York City).
PLEASE NOTE: For applicants to be eligible to serve on the Spring 2021 CSUSB MUN Team (MUN-NYC), applicants must be enrolled in GEOG 5150 (Global Governance and the UN System) prior to applying or in the same term as the team they are applying to be a part of.  Therefore, for Spring 2021 applicants, you must have taken SSCI 515 or its equivalent in the prior quarter system at CSUSB or be enrolled in GEOG 5150 during the Fall 2020 or Spring 2021 semester terms.  Questions concerning these requirements need to be forwarded to Dr. Kevin Grisham (kgrisham@csusb.edu) or Prof. Sina Bastami (Sina.Bastami@csusb.edu).
More questions can be directed to Dr. Kevin Grisham at kgrisham@csusb.edu (or) Prof. Sina Bastami at Sina.Bastami@csusb.edu -- the Faculty Advisers for the CSUSB Model United Nations Program.