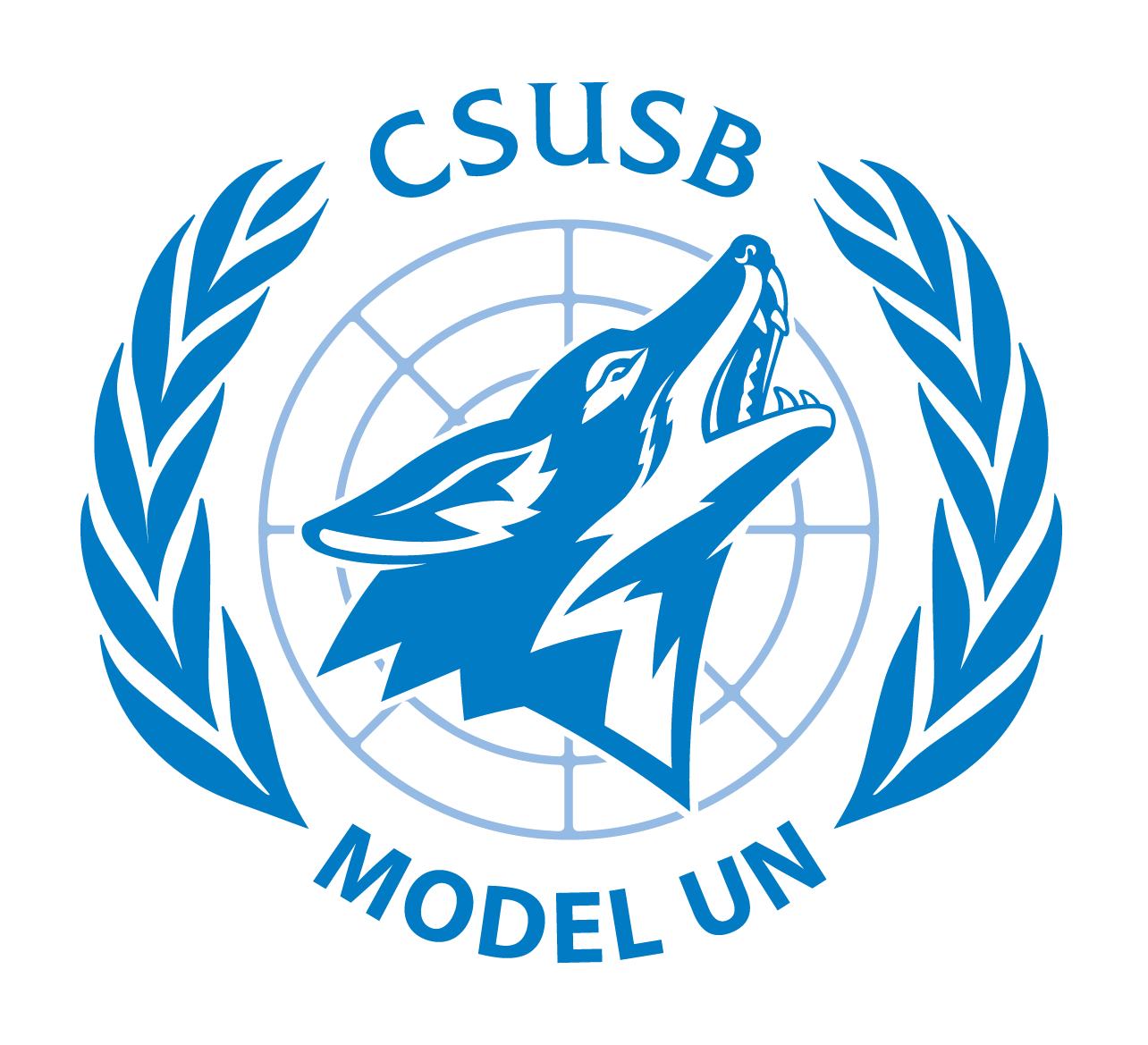 Official seal for the CSUSB Model United Nations Program
Welcome to the CSUSB Model United Nations (MUN) Program 
The CSUSB Model United Nations (MUN) Program is an academic program housed in the Department of Geography and Environmental Studies within the College of Social and Behavioral Sciences at California State University, San Bernardino. In the MUN Program, students learn how to be a diplomat. Each year the team is assigned a new Member State (country or INGO) to represent in the conference. The assigned Member State has specific role in the United Nations system with specific positions. Students learn about the positions of a given Member State, they learn about the United Nations, the role of different Member States within the UN, and how to think, behave, and speak like a diplomat.
The training for the MUN team includes research, writing, interpersonal communication, teamwork, conflict resolution, and public speaking.
The career paths some of our alumni have succeeded in spans legislative and legal, diplomatic and foreign services, law enforcement and national security, academic and research, and private sector. 
The CSUSB MUN Program annually participates in the National Model UN (NMUN) conferences held in New York City every Spring and at a variety of international sites every Fall (including South Korea, Czech Republic, Canada, Japan, and Germany). The CSUSB MUN team has participated in NMUN conferences globally for more than two decades. 
For more details concerning the MUN Program, see the Overview

If you are interested in becoming a part of the CSUSB MUN Program, explore Join MUN

If you want to see a bit more about the National Model UN conference check out their NMUN YouTube channel.
Spring 2022 CSUSB Coyote Model UN Team
The CSUSB MUN Program will be attending the NMUN Conference in New York city in April, 2022. 
The application is open, and
we strongly encourage you to apply for the 2022 CSUSB MUN-NY team. 
For applicants to be eligible to serve on the Spring 2022 CSUSB MUN Team (MUN-NY), applicants must be an enrolled student. New York City enforces clear and strict vaccination code. You must be vaccinated to participate in NMUN. Proof of vaccination is required by State of New York and New York City. 
More questions can be directed to Prof. Sina Bastami at Sina.Bastami@csusb.edu -- the Faculty Advisers for the CSUSB Model United Nations Program.