Prepare for College
It is never too early to plan for college.  If you take the right courses and are aware of required tests from the beginning of your high school career, you can make a smooth transition in to the university.  Some students and their families begin to plan as early as the sixth grade. 
Developing a good set of study skills and setting a higher standard for the grades you earn can be an important factor for getting into the university that you choose.  Families can help by allowing students time during the week to focus on their schoolwork and by encouraging academic achievement.  
Find out if there are any programs or clubs available at your school to support students who are interested in going to college and join them. (AVID, Future Leaders, etc.)
This may also me a good time to begin saving for college expenses.
Begin to study college entrance exams.  Tutorial books and courses are available for both the SAT and ACT.
Take the opportunity to participate in the EAP in the 11th grade.  You may earn exemptions from CSU-required English and math placement tests.  
Additional planning tools may be found at Cal State Apply.
Admissions Requirements
All CSU campuses use a combination of your high school college preparatory courses, grade point average and the score from either the SAT or ACT to determine whether you are eligible for admission to the campus.
CSUSB is an impacted campus. This means we receive far more applications from CSU qualified students than we can register in classes. Additional admission standards have been set for students graduating from California high schools outside of our defined local area.
Students must also complete this A-G college preparatory pattern of courses with grades of "C-" or better: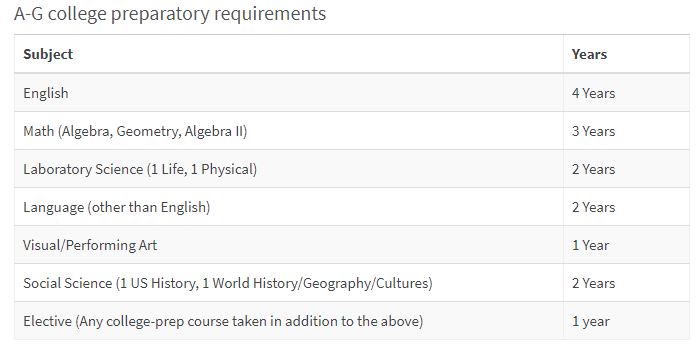 Acceptable courses from your high school may be found at University of California A-G Guide.
Calculating Your Eligibility Index:
Your GPA and SAT or ACT test scores are combined to determine an eligibility index. The formula used to determine the eligibility index depends on the test.
 SAT: GPA x 800 + total SAT (critical reading and math) = Eligibility Index
ACT: GPA x 200 + (ACT total x 10) = Eligibility Index
Local Area Eligibility Index:
The minimum acceptable eligibility index for a CA resident from a local area school for the SAT is 2900 or ACT 694 for many of our majors. 
Depending on the major you apply to, a GPA of 3.0 and above qualifies for admission with any score. All first-year applicants must submit SAT or ACT test scores for admission.
The minimum GPA to qualify for admission is a 2.0.
Out of Local Area Eligibility Index:
The eligibility index for the Out of Local Area is set based on the application pool for the term. The minimum qualifying index for applicants outside of the local area will vary depending on the number of qualified applicants received at the end of the priority application filing period and enrollment limits.
Out-of-state/non-resident students:
For most majors, a GPA of 3.61 and above qualifies with any score. All first-year applicants must submit SAT or ACT test scores for admission.
The minimum GPA to qualify for admission is a 2.45.