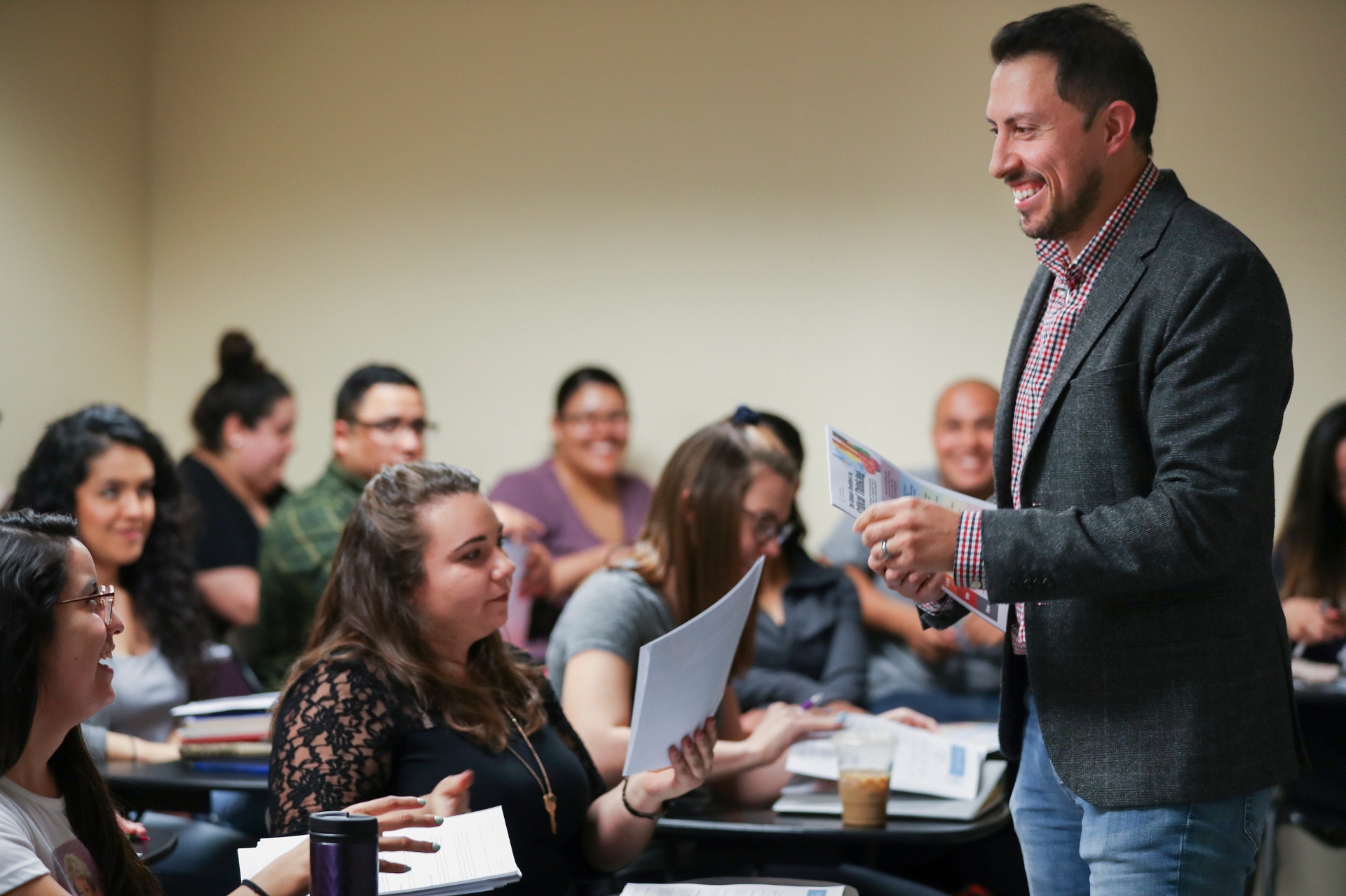 The CSUSB School of Social Work offers coursework leading to the completion of a Master of Social Work (MSW) degree. The program is modeled on the requirements of the Council on Social Work Education (CSWE), the national accrediting body for social work programs. All MSW courses are offered on the main campus in San Bernardino, or online via the Pathway Distance Education Program. There are currently no plans to teach MSW classes at our Palm Desert Campus.
CSUSB MSW Program is carried out using an advanced generalist model with a specialization. In the advanced (final) year of the program, students select a specialization which can be a social issue, client population, or field of practice. Students apply assignments and their research projects to their chosen specialization
To accommodate student needs, our MSW Program can be completed through the following options:
MSW Advanced Standing Program: This option is available at the main campus, face to face instruction. It is strongly recommended that students DO NOT work during the program. It is 36 units and completed within 12 months.                                                                                                   

The Two-Year Program: Two academic years (4 semesters) of coursework. This option is best for students who are able to focus their time and attention to full-time, intensive study. 60 Units

The Three-Year Program: Three academic years (6 semesters) of coursework. This option is best for students who have to work (or have other, similar obligations) while they are enrolled in school. No less rigorous or intensive than the two-year program, but spread out over three years. 60 Units
 
Pathway Distance Education Program: Essentially, this is the same as the three-year program, but is taught online for students who either live too far away to attend courses at the main CSUSB campus, or are in a work / personal situation that makes campus-based attendance at CSUSB impractical. 60 Units
 
Master of Social Work / Master of Public Administration Concurrent Degrees (MSW/MPA): The MSW/MPA concurrent degrees are to serve students who envision a career path that includes high level administrative roles in social service agencies. The Two-Year and Three-Year program (on campus or online) options offer the MSW/MPA concurrent degree option. 73 Units

Interested applicants must meet admission requirements and apply during the application process.

MSW Admission Requirements
How to apply
MSW Curriculum
It must be emphasized that an MSW program is very demanding of time and energy. The three-year program is not designed for students who must work 40 hours per week. It will very likely be necessary for these students to reduce their hours of employment.