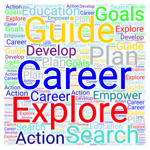 What is Career Advising?
Career advising is focused on helping current students and Alumni identify career, educational, and personal goals based on their needs, interests, values, skills, strengths, and life circumstances. Through the career advising process, guidance is provided to help individuals make informative and intentional career decisions and establish a course of action for their career and educational pursuits.
Who are the Career Advisors?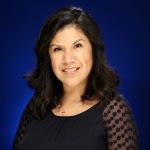 Valentina Felix, BA
Career Advisor | Liaison to College of Natural Sciences
(909) 537-3247
vfelix@csusb.edu 
Valentina Felix has been part of the CSUSB community since 2008, initially as a member of the CoyoteCareers award winning team, which supported underserved students in STEM. Valentina has also been part of the CSUSB Cybersecurity Center, as the project manager, where she secured nearly $2 million to increase access to the cybersecurity field to unrepresented students. Valentina oversaw the annual CSUSB GenCyber program, recognized as a national model in STEM engagement. In her current role as Career Advisor, Valentina is the liaison for the College of Natural Sciences and is also leading efforts to improve resources and services in the pre-law area. Valentina has been an active member of the campus Association of Latino Faculty Staff and Students (ALFSS), chairing numerous events over the years.  Along with her husband, Jesse Felix, they have launched the Felix Family Scholarship new scholarship to support students committed to diversity, inclusion and equity at CSUSB.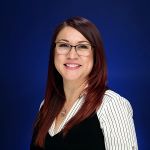 Sarai Maldonado, MBA
Career Advisor | Liaison to College of Arts & Letters / College of Education / College of Social and Behavioral Sciences
(909) 537-3682
smaldona@csusb.edu
Sarai Maldonado, Career Advisor, helps students and alumni shape and realize their career goals by providing counseling, workshops, and career-related resources. She is a proud fellow Yote with a Bachelor in Sociology and a Master of Business Administration from the University of Redlands.  She also serves as the liaison to the College of Arts & Letters, College of Social & Behavioral Sciences, College of Business, Cyber Security, College of Natural Sciences, Nursing, and Alumni Association. In turn, she works closely with employers to give them access to diverse talent in the country.
Oscar Fonseca is the Career Counselor at California State University, San Bernardino – Palm Desert Campus and works directly with students to explore and connect them to internships and employment opportunities in order to have an educated workforce in the Coachella Valley. Mr. Fonseca has over fifteen (15) years of experience in higher education while also working for local organizations such as Big Brothers Big Sisters of the Desert, College of the Desert, and is Co-Founder of both OneFuture Coachella Valley & University Alumni of the Coachella Valley a program engaging local alumni who are trailblazers within their industry. He was raised in La Quinta, where he graduated from La Quinta High School in 1999. He attended College of the Desert and then transferred to Fresno State, where he received his Bachelor's degree in Liberals Studies & Masters of Science degree in Counseling & Student Services with an emphasis in Higher Education. After completing his education, Oscar's goal was always to return to the Coachella Valley and help other succeed in their educational journey. Oscar is passionate about serving his students and families within the Coachella Valley and constantly advocates for equality. Mr. Fonseca always shares this quote with his students "Nothing will work unless you DO" – Maya Angelou.
What can a Career Advisor help me with?
Career Advisors are here to assist you in all aspects of your career journey. During your appointment with a Career Advisor, you will have the opportunity to ask questions related to career and educational planning, discuss challenges and barriers to success, and work towards accomplishing your goals.
Appointment types include:
Career Advising (General Questions)
Career Assessment Review
Career Exploration
Cover Letter Review
Graduate/Professional School Advising
Internship Search
Interview Prep
Job Search
Major Exploration
Networking/LinkedIn
Personal Statement Review
Resume Review
How do I make an appointment?
How do I provide feedback on my Career Advising appointment?
Scan the QR Code below or click here Post-Appointment Surveyto complete the survey.