Fall 2024 Applications Available Now!
Greetings, fellow (and future) Coyotes! Our office is open, however for the ease and convenience of students and prospective students, most of our services are conducted virtually.
Please schedule virtual appointments for prospective student questions, academic advising, application interviews, and more by clicking the "Virtual Appointments" button below.
Click Here For Virtual Appointments
The MBA Office is open Monday-Friday, 8:00 a.m. - 5:00 p.m Pacific Time. The office is located in Room 134 on the first floor of Jack H. Brown College of Business and Public Administration on the Cal State San Bernardino campus. You can call our office at 909-537-5703 or email us at mba@csusb.edu. 
Information regarding CSUSB's response to COVID-19 can be found on CSUSB's dedicated COVID-19/Coronavirus Information web page. Thank you and stay safe!
Welcome
Our AACSB (The Association to Advance Collegiate Schools of Business) accredited MBA program from the Jack H. Brown College of Business and Public Administration (JHBC) at California State University San Bernardino (CSUSB) offers high-quality faculty, relevant curriculum, convenient class times and affordability!
Our MBA Program Options
The Master of Business Administration (MBA) program provides post baccalaureate students with a high-quality master-level education in the field of business administration. The program is designed to prepare promising students for positions of increasing responsibility and leadership through education in the broad scope of business. It is open to all qualified students regardless of undergraduate major. The degree program has three options:
Traditional MBA: For qualified applicants seeking to develop in-depth, graduate-level knowledge in one or more specialized business areas. 
Online Executive MBA: For qualified applicants possessing early- or mid-career experience who seek to expand their professional knowledge and skills through graduate business education. 
Executive MBA: For senior-level managers or executives who seek advanced business instruction to help them become more effective decision makers.
We invite you to explore each of these options to see which program best fits your needs.  Visit our Choose the Right MBA page for a side by side program comparison.
Award Winning Programs
Did you know that our college is one of the best in business? With National and Global recognition, including…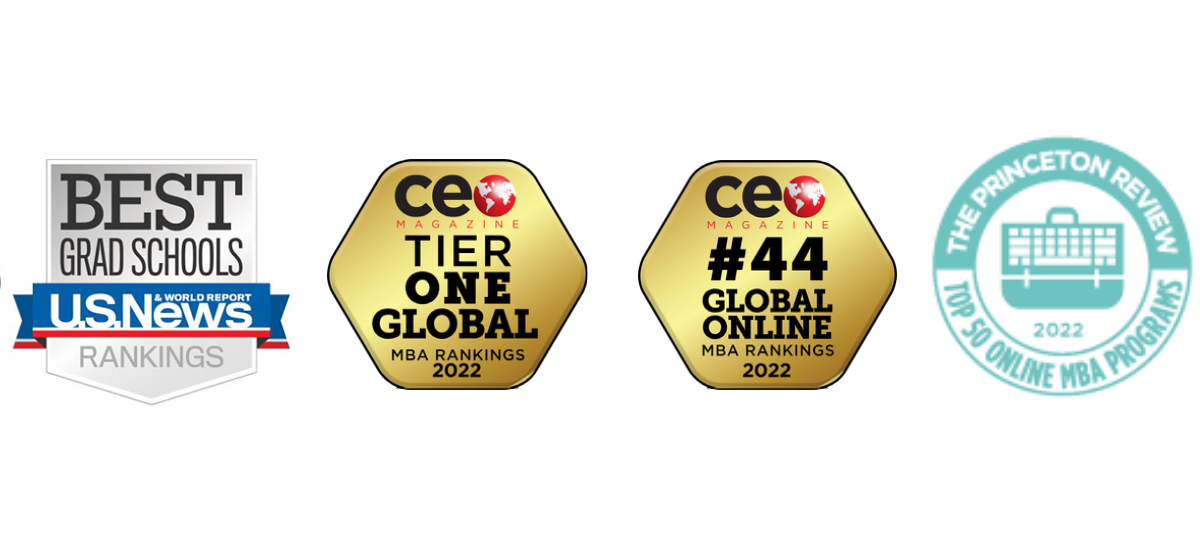 We have earned these distinctions through our world class faculty, exceptional support staff, and innovative program design. We also offer specialized experiential learning opportunities including an MBA Boot Camp, internship and study abroad opportunities, student clubs and organizations, graduate assistantships, career services, financial aid available. Together, with convenient class scheduling and low cost, our AACSB Accredited program is one of the best values in global business education.
CSUSB MBA, where we transform today's business talents into tomorrow's leaders!
Admissions & Tuition Information
Cal Stat San Bernardino MBA program offers rigorous course work, mentoring from exceptional and well seasoned faculty, resulting in exciting and rewarding career opportunities.  Please carefully review our admissions & tuition information so that you can determine which of our programs meets your needs and expectations.  Pre-admissions advising is available to answer all your questions. 
Our Mission
The mission of the Masters of Business Administration (MBA) program at California State University, San Bernardino (CSUSB) Jack H. Brown College of Business and Public Administration (CBPA) is to offer a high-quality master's level education. The program prepares students for positions of responsibility and leadership in business administration, emphasizing conceptual knowledge and practical skills.
Why CSUSB MBA
A quality AACSB accredited program, exceptional faculty and staff, convenient class times and an affordable price.

AACSB Accreditation signals to the world that an institution has met the most rigorous standards of excellence in business education. Institutions that bear the AACSB-accredited mark demonstrate that they are committed to upholding—and advancing—the quality of their programs both at the undergraduate and graduate levels
Check Out Our Video Podcast Series!
Welcome to the Silvers Connection, a video podcast hosted by CSUSB MBA Director Ernie Silvers! The events of the past couple of years have changed life as we know it, and navigating through this new landscape can be challenging. Fear not! The Silvers Connection is here with expert advice from industry leading professionals on the power of resilience, self-care, courage, and much more! Tune in for valuable insights to help harness the power of YOU!