Our Mission
The mission of the Educational Administration Program is to prepare educational leaders who will work collaboratively with others to establish a positive climate for powerful teaching and learning in the 21st century. The faculty is dedicated to working with our diverse graduate students by assisting them in acquiring appropriate knowledge, skills, and dispositions that will result in well-prepared school leadership teams/learning communities.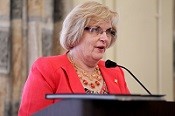 Susan Jindra
Program Coordinator, Educational Administration
Department of Educational Leadership & Technology
California State University, San Bernardino
(909) 537-5674
sjindra@csusb.edu
Attend an Upcoming M.A. in Educational Administration Information Session
2021 - 2022Educational Administration Program Information Session
Attend all sessions via Zoom Link: https://csusb.zoom.us/j/81449775288
All sessions will be from 4:00 PM to 5:00 PM
September 2021: Thursday 09/08, Thursday 09, 23
October 2021: Thursday 10/07, Thursday 10/21
November 2021: Thursday 11/04, Thursday 11/18
December 2021: Thursday 12/09, Thursday 12/16
January 2022: Thursday 01/06
There are no scheduled upcoming events at this time.