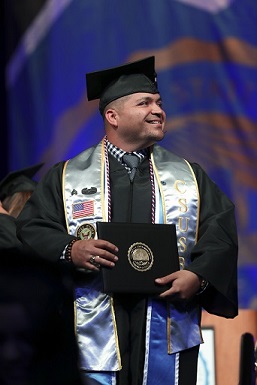 California State University, San Bernardino, has been approved by the California State Approving Agency for Veterans Education (CSAAVE), to train eligible veterans and their eligible dependents.
Undergraduate Degree Programs, Certificate Programs (through regular university only), Graduate Degree Programs and Teacher Credential Programs are approved programs for eligible veterans and their dependents. No other programs are approved by the CSAAVE and veterans will not be awarded benefits for them. Therefore, only course work completed towards the specific degree, certificate program or credential program will be certified to the Veterans Administration. The School Certifying Official at this institution has been delegated the authority to process enrollment verifications and other certification documents to confirm and audit each Veteran's enrollment activity to ensure that Veteran Benefits disbursements are in compliance with the Title 38 Program.
The following Veteran Education Benefits are handled by the School Certifying Official:
Chapter 30 (Montgomery G.I. Bill®)
Chapter 31 (Veterans Readiness and Employment, VR&E)
Chapter 33 (Post 9/11 G.I. Bill®)
Fry Scholarship
Edith Nourse Rogers STEM Scholarship
Chapter 1606 (Reserve G.I. Bill®)
Chapter 1607 (REAP)
Chapter 35 (Dependents Education Assistance)
College Fee Waiver Program for Veterans Dependents (CalVet Fee Waiver)
This office does not handle Tuition Assistance. Please contact Chris Han with Student Financial Services at chris.han@csusb.edu or (909) 537-5156, office location: UH-034.
The School Certifying Official is located in the Veteran Success Center, lower level of the Building 23 (BK-006). To initiate for the first time or to transfer your benefits, please contact: Jaime Espinoza, School Certifying Official, at 909-537-7196 or at jespinoza@csusb.edu. 
For more specific information about the different benefit programs, please contact the Department of Veterans Affairs at 1-800-827-1000.
Visit the Veteran Success Center website. 
G.I. Bill® is registered trademark of the U.S. Department of Veterans Affairs (VA).