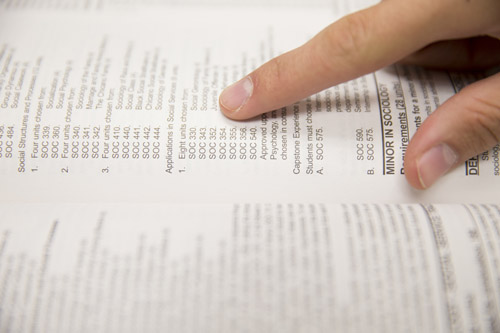 In order to declare/change a major, add a concentration/track/option/plan, or to change catalog years (quarter/semester), students must submit a Change of Major form with the Office of the Registrar.  Students will be held to the major requirements for the catalog year in which the Change of Major is submitted.  Dual concentrations within the same major will require approval from the Department Chair.  An email to your CSUSB email account will be sent to you as notification that an updated PAWS Report reflecting the change or addition is available to view and print approximately two weeks after the form has been submitted.
Undergraduate students may submit a Change of Major request through their myCoyote Student Center.  Please see the "Change of Major/Minor Guide" for instructions on how to submit an online request. In unique cases, it may be necessary to submit a Change of Major PDF form request to our office.
Impacted Majors
Criminal Justice
Kinesiology: Allied Health
Nursing (applications are no longer accepted)
Psychology
Social Work
Changing to an impacted major from your current major (or from undeclared) requires additional approval through the Online Change of Major process. Because each impacted major requires different eligibility requirements, students must apply and meet with an advisor within the impacted major to determine eligibility. Review of the request is routed to the department chair and then the Office of the Registrar for processing.  
PLEASE NOTE: Change of Major requests for the Nursing major are no longer accepted.  For additional information and questions, please contact the Nursing department at nursinginfo@csusb.edu or at 909-537-5380.
Students Submitting an Application for Impacted Majors
Step 1: Students seeking to change (or add) an Impacted Major must first seek approval from the Department Chair (Psychology requires form reviewed by Academic Advisor.)
Impacted Majors:
Criminal Justice (Christine Famega, Department Chair)
Kinesiology: Allied Health (Nicole Dabbs, Department Chair)
Nursing (No longer accepting applications)
Psychology (Dr. Michael Lewin, Department Chair) An Academic Advisor must review all student requests to declare Psychology as a major before receiving the department chair's signature. Students should contact psycadvising@csusb.edu to initiate the review process.
Social Work (Carolyn McAllister, Department Chair)
Step 2: Student's approved request must be submitted to Office of the Registrar (evalinfo@csusb.edu) and include the following:
Why are you making the request?
Expected term and year of graduation
Attached PDF form
Biology Pre-Med Majors
PLEASE NOTE: Starting 2016-2017 academic year (AY), the following degree options will no longer be offered:
BA in Biology Pre-Med Option
BS in Biology Pre-Med Option
BA in Biology Integrated Teaching Track (ITT). 
Currently declared Pre-Med students will be allowed to remain in the Pre-Med option requirements but are strongly encouraged to switch to the new BA or BS options.
Questions should be addressed to any advisor in the College of Natural Sciences Advising Center, any Biology dept faculty member, or the Dept Chair of Biology. Or visit the Biology Department website.
PAWS (Program Advising Worksheet for Students)
What is PAWS? 

PAWS is an automated credit summary, for undergraduate degrees, that provides students with a listing of all coursework required for graduation from CSUSB. It allows students to map out their course selection at any point in their academic career by comparing the classes they have taken or are now taking to those they will need to take in order to complete their undergraduate degree program.  An email will be sent to the student's CSUSB Email as notification that their PAWS report is available for reviewing and printing. To review a PAWS report, students will need to log into MyCoyote.
Please Note: New students who have not received an email notification may be viewing an incomplete PAWS report.
PAWS is available daily from 6:00am to 4:00am
For questions regarding your PAWS or if you're experiencing trouble accessing the PAWS program, please email us at evalinfo@csusb.edu