New Graduate Student Outreach Center Offers Peaceful Oasis for Busy Students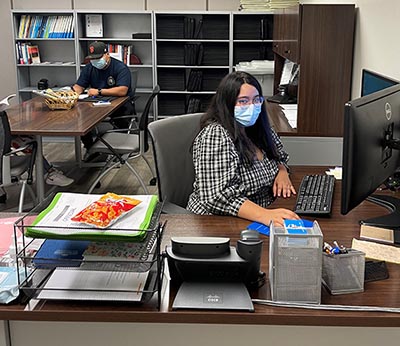 Looking for a quiet place on campus to study or relax? The Graduate Student Outreach Center is now open! Designed with graduate students in mind, the Center offers comfortable seating, a table for small study groups, and access to a desktop computer, scanner, and microwave oven. The Graduate Student Resource Specialist will be on hand to assist you if needed.  Bring your books and favorite snacks and settle in for a study session in a space created for you.
The Center also contains a small collection of study guides, resource materials, and books by faculty authors – we hope you enjoy them!  Help us expand our library by donating similar items you no longer need, such as writing and citation guides, information on graduate schools, or scholarly journals. Materials can be dropped off at the Office of Graduate Studies, CE 356.
The Graduate Student Outreach Center is located in the College of Education, room 356A, just behind the Office of Graduate Studies. The Center is just around the corner from the Graduate Writing Center, the Office of Student Research, and the Doctoral Program offices.
Hours of Operation 
During summer, the Center is open from 7:00 am – 5:30 pm Monday – Thursday. Check in at the Office of Graduate Studies, (CE 356) or see April Lane in CE 345 to sign in to use the space. 
Graduate Student Outreach Center Summer Hours
Monday - Thursday, 7:00 am - 5:30 pm
Location: CE 356A
For more information of the Graduate Student Outreach Center, contact the Office of Graduate Studies at (909) 537-5058 or email gradstud@csusb.edu