CSUSB Offers Graduate Degrees that Meet Your Academic and Career Goals
Ready to advance your career? Cal State San Bernardino's graduate programs produce leaders and professionals in a wide range of fields. With nearly 40 different master's degrees, nine credentials, and a doctorate in education, you're certain to find a program suited to your unique career path.  Learn more about our graduate programs and our outstanding campus at one of our upcoming events for prospective students, or make an appointment to chat with our graduate student recruiter.  We're here to support you.
Want to find out more information about applying to a postbaccalaureate program at CSUSB? 
Schedule an appointment with Erma Cross our Graduate Recruitment Specialist Erminia.Cross@csusb.edu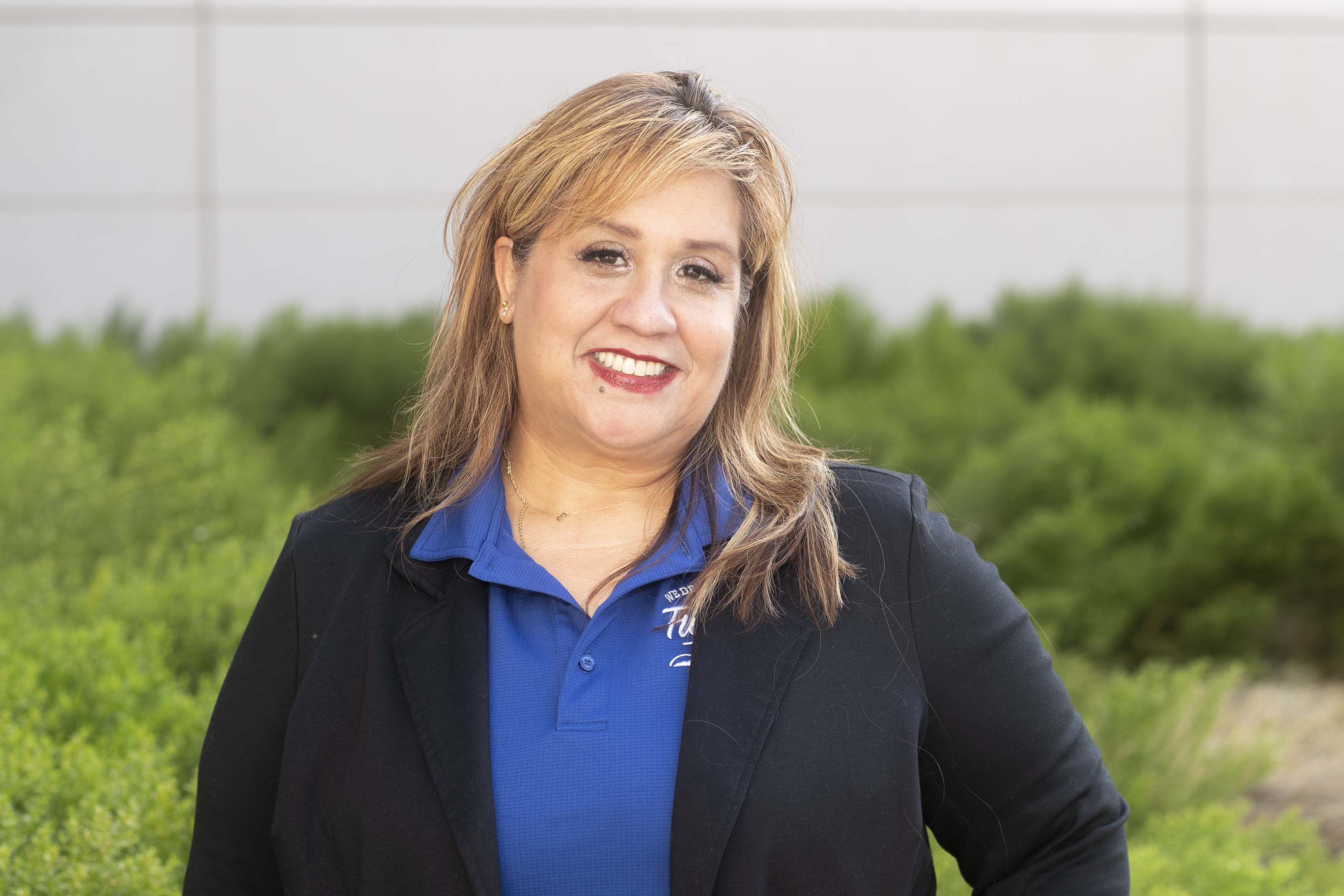 Graduate Recruiter Erma Cross
Learn More about Graduate Education at CSUSB
Graduate Programs Brochure - Opportunities abound at CSUSB! From our helpful and caring faculty to our many research opportunities we are here to help you achieve your educational and professional goals. What are you waiting for?
Office of Graduate Studies Fact Sheet - Learn more about application, acceptance and enrollment rates and how the Office of Graduate Studies is here to support you in completing your degree.
Graduate Opportunities - Learn More Earn More - Want to earn close to a half-million dollars more over the course of your lifetime, or help change the world? Check out how earning a master's degree can help you define the future.
Explore degree programs at CSUSB - Our ever-expanding offerings range from traditional liberal arts programs like English and Social Sciences to our innovative M.S. in Information Systems and Technology. Many of our classes are offered in the early evening or online, making it easier to pursue an advanced degree while balancing family and career obligations.
Cal State Apply Application Information Sessions - The Graduate Studies Application Information Session will provide information on completing your CSUSB Cal State Apply graduate program application and offer hands-on assistance with writing your personal statement, uploading documents, and submitting the application. We will also offer helpful and time-saving tips to complete your application. 
Explore our Campus - Take a virtual tour of California State University, San Bernardino! A preeminent center of intellectual and cultural activity in Inland Southern California. Opened in 1965 and set at the foothills of the beautiful San Bernardino Mountains, the university serves more than 20,000 students each year and graduates about 4,000 students annually.
Financial Support - Explore opportunities to help fund your graduate and doctoral program. Grants, fellowships, research and travel, and internship opportunities are available.
Graduate Student Life - Professional Resource and Engagement Program (PREP) is a space for you as a CSUSB graduate student to take advantage of free workshops to develop professionally and personally.
Taco Tuesday Drop-in Sessions
No RSVP required! Come engage with staff, find answers to your questions, and learn more about upcoming events. Zoom every Tuesday 1:30 - 2:30.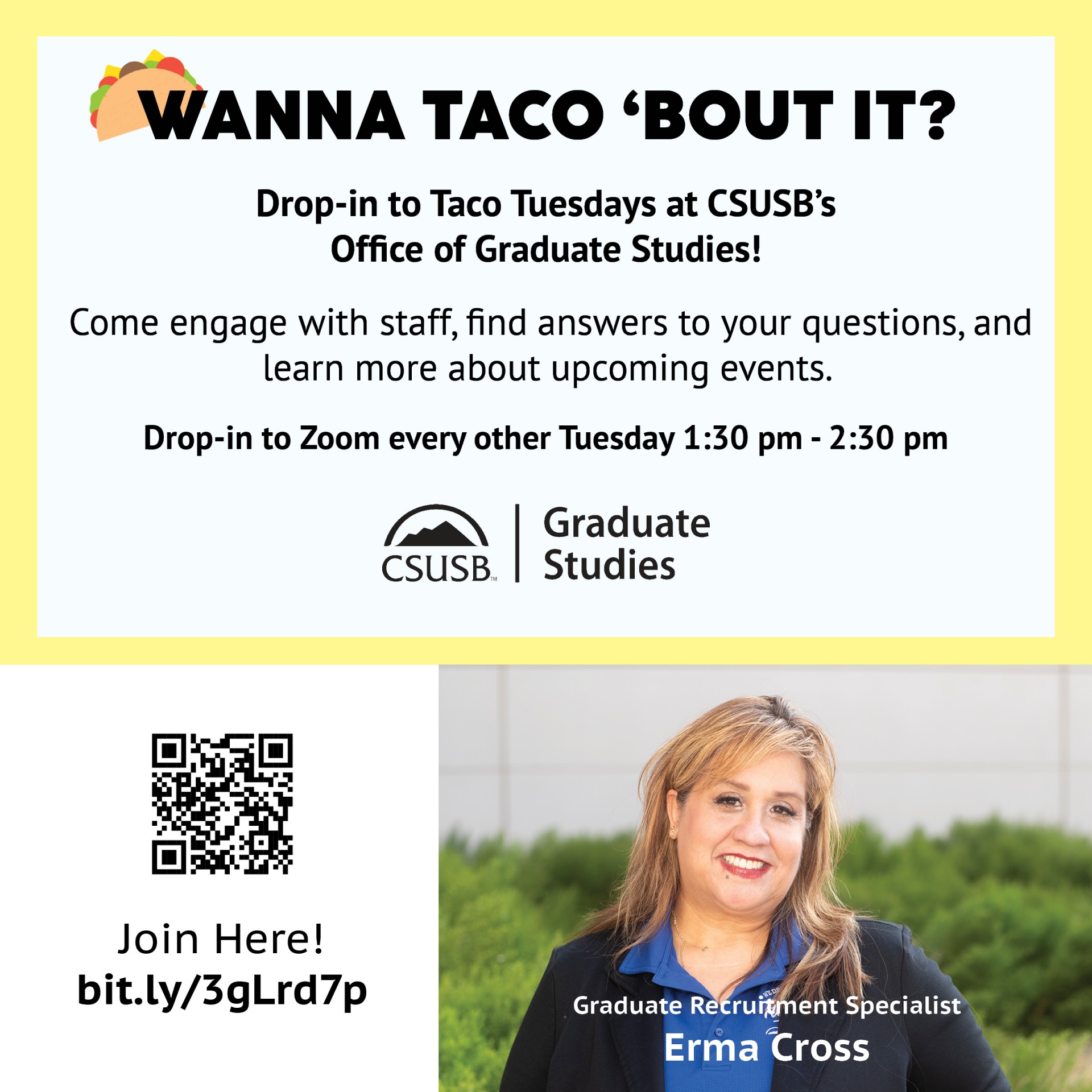 Tea Time Thursday Drop-In Sessions
Learn more about graduate programs at CSUSB at our casual tea-time chat session. Held on alternate Thursdays throughout the semester. See the home page calendar for dates or scan the QR code below.