Policies and Procedures
Graduate students should familiarize themselves with the university's policies and procedures, as well as department requirements. To help you navigate any bumps in the road, our office has compiled the Coyote Graduate Student Guidebook. The Guidebook includes information on many of the policies unique to graduate education, campus resources, and a general roadmap for completing your degree.  Note: The Guidebook is updated at the beginning of each semester. For the latest information on university policies and graduate coordinator contact information, please contact the appropriate CSUSB department or the Office of Graduate Studies.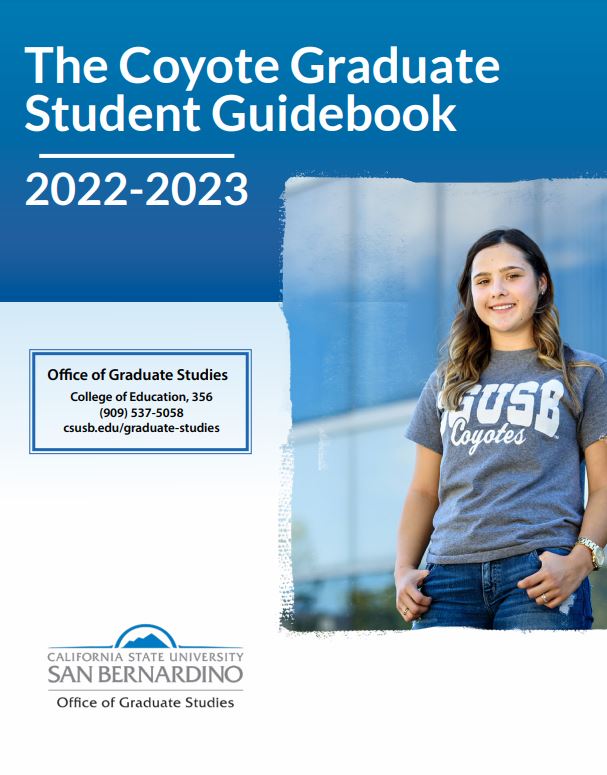 The Coyote Graduate Student Guidebook 2022-2023
Policies that most often concern graduate students are listed below; details are included in the Coyote Graduate Student Guidebook. Please consult the University Bulletin of Courses (course catalog) for complete information on all university policies, requirements, and procedures. 
See the Coyote Graduate Student Guidebook for more information about the following:
Advancement to Candidacy

Continuous Enrollment

Full-time Academic Load

Graduation Writing Assessment Requirement (GWAR)

Graduation Requirement Check (Grad Check)

Probation and Dismissal

Repeat of a Course/Grade Discount

Validation of Expired Coursework/Seven Year Limit on Applicable Coursework

Unit Limit Prior to Classification
Click on the links below for additional information about the following:
Addtional forms information for graduate/credential program applicants and students can be found by clicking on the "Forms" box below.
Required End Sexual Violence Training
The Title IX & Gender Equity Office upholds the CSU Chancellor's Executive Order to address sexual discrimination, harassment and violence in an educational institution's academic, educational, extracurricular, and athletic activities. The office is a resource for education, assistance, and reporting options on sexual misconduct.
All students, including graduate students, are required to complete mandatory End Sexual Violence Training each academic year. Options include online training, events, and workshops administered by the Title IX & Gender Equity Office. Please visit the Title IX website for more information on training, deadlines, and resources.