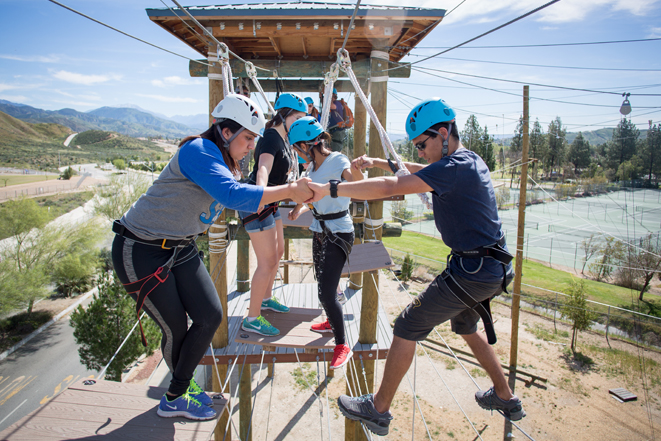 About the LCC
The state-of-the-art CSUSB Leadership Challenge Center, which is part of Cal State San Bernardino Recreation and Wellness program, provides unique team-building and leadership development programs for CSUSB students, departments, clubs, teams, schools, businesses, as well as the community.
Our programs are designed to help and teach a person how to appropriately build trust in others; empower a person to develop skills necessary to be part of a healthy community; and increase individual interpersonal skills, social skills and physical abilities.
The Center's programs provide a safe environment that allows participants to step outside their comfort zone and take a risk, learn and grow.
Leadership Challenge Center activities are designed to…
Increase awareness of self, attitudes, behaviors, etc.
Increase confidence and self-esteem
Enhance coordination and agility
Enhance an understanding and respect for individual differences
Promote expression of thoughts and feelings
Enhance communication skills (active listening, giving/receiving feedback, etc.)
Identify and improve critical thinking and problem solving skills
Enhance trust
Identify and improve decision-making skills
Enhance teamwork and cooperation
Identify and improve planning skills
Enhance leadership (responsibility for guiding a group towards a goal)
Overcome preconceived personal limits, prejudices, and fears
Safety
Our state-of-the-art course was built by a CA licensed contractor to meet the standards set forth by the Association for Challenge Course Technologies (ACCT). In addition to an external yearly inspection, each activity and piece of equipment is inspected daily. In addition to being CPR/AED and First Aid certified our staff has undergone extensive training in technical skills as well as creating physically and emotionally safe environments. Safety is our priority.