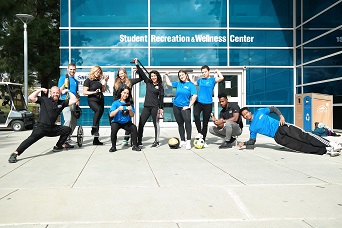 What we do!
Our certified personal trainers and group exercise instructors are here to make fitness fun, safe, and approachable! We are dedicated to motivating and pushing our clients, coworkers, and colleagues to be the best they can be. We host 2 certification internships, a CPT Preparation Workshop series and an AFAA GX Instructor Preparation Course. We provide group exercise classes throughout the semester as well as host one-on-one personal training!
Why train at CSUSB?
We offer high quality training from certified personal trainers, many of which are Kinesiology majors!
Our personal training rates are incredibly affordable!
We have a different approach to fitness than most corporate gyms. Without the constant pressure of selling, our trainers are able to focus on programming and assessments.
Coyotes stick together; we got you!
What is a Complimentary Consultation?
A complimentary consultation is a free, 1 hour consultation. In this consultation, a trainer will go over goal setting and baseline assessments with you to see where your current fitness level is and how you can reach your goals! You can choose to buy training after your session.
How to Sign Up for Your Consultation:
So you're ready to see what personal training is all about, what's the next step? Visit the front desk, towel kiosk, or Fitness & Wellness office to fill out our complimentary Coyote-Fit Orientation Form and we will set-up an appointment with you within 48 hours! You can also fill it out online.
What if I want to be a Personal Trainer?
Every semester, we host a 10-week NSCA Certified Personal Trainer Workshop Series to help young, fitness professionals study and pass their national exam (CPT test)! If you would like to get into the next course please email Jasmine.Curtis@csusb.edu. Mandatory dates are: Weekend of 2/4 & 2/5 from 9am-5pm and then, Thursdays 2/9-4/20 from 2-4pm. We also work with the Kinesiology department on campus to host KINE 493 interns! Interested in internship opportunites? Visit the Department of Kinesiology Student Resources web page, click on Agreement Form, fill out as much as you can, and email to Jasmine.Curtis@csusb.edu. 
Personal Training Prices (Consultation Required Before Purchase):
One-on-One Training 
You'll have undivided attention from one of our trainers for a 60 minute session. This will include initial assessment and a personalized program to suit your specific needs.
1 session:     Students: $22       Faculty/Staff: $24       Alumni/Affiliate: $25
5 sessions:  Students: $100      Faculty/Staff: $110      Alumni/Affiliate: $115
10 sessions: Students: $180     Faculty/Staff: $200     Alumni/Affiliate: $210
Buddy Training (Train with a Friend!)
1 session:     Students: $28       Faculty/Staff: $30       Alumni/Affiliate: $31
5 sessions:  Students: $130      Faculty/Staff: $140      Alumni/Affiliate: $145
10 sessions: Students: $240     Faculty/Staff: $260     Alumni/Affiliate: $270
Take Home Programming (Programming from one of our Trainers!)
4-Week:  Students: $40    Faculty/Staff: $50     Alumni/Affiliate: $60
6-Week:  Students: $50    Faculty/Staff: $60     Alumni/Affiliate: $70
8-Week:  Students: $65    Faculty/Staff: $75     Alumni/Affiliate: $85