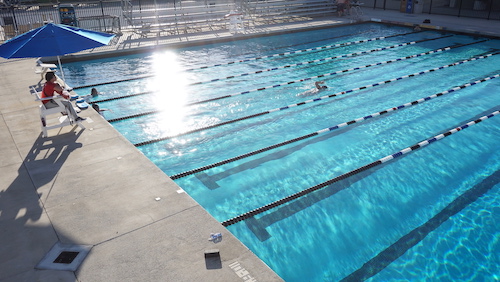 The CSUSB Recreation & Wellness Aquatics Center includes an outdoor pool with eight 25-yards pool lanes. The water is heated to 80-84˚F year-round. The pool depth ranges from 4 ft to 13 ft. A unique feature includes the diving well. The Aquatics Center is available for lap swimming, recreational swimming, and programming.
Spring 2023 Hours
MONDAY
4:15PM-7PM
TUESDAY
9AM-12PM
3-6:30PM
WEDNESDAY
8:30AM-12PM
4:15PM-7PM
THURSDAY
9AM-12PM
3PM-6:30PM
FRIDAY
9AM-12PM
2PM-4PM
SATURDAY
10AM-3PM
SUNDAY
CLOSED
Eligibility
Open Swim - CSUSB Students, Staff, and Faculty are eligible to use the pool at no cost.

Affiliates and Alumni Association Members have pool access after purchasing Recreation and Wellness Center Membership.

First time users will need to register at the Recreation and Wellness Center front desk.
Lifeguard Training - Open to anyone over 15 years of age.
Group Summer Swim Lesson
Group Summer Swim Lesson schedule and sign-ups are suspended until further notice.
Year Round Family Swim
Family members, including youth of SRWC members are able to use the CSUSB Pool year-round by purchasing a youth day pass when our pool is open.  
Children under 12 years of age MUST be supervised on the deck or in the pool by an adult.
American Red Cross Course
Classes such as Lifeguard, First Aid & CPR, and Basic Life support are offered HERE at CSUSB