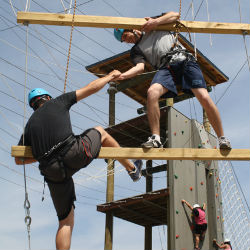 An experienced CSUSB Team Leader will work with your group to develop a custom program that meets the needs of your group. Your program may consist of the following components.
Warm-ups - These activities are designed for people to get to know each other in a different light. Participants begin to set aside fear of embarrassment and establish a safe learning environment.
Initiatives - Teams are presented challenges that requires the entire group to work together in order to arrive at a solution. The focus is on communication, support and problem solving.
Low Initiative - These activities involve physical and mental challenges conducted low to the ground. They take group effort to accomplish. The group creates the safety system, spotting and supporting one another.
High Individual or Team Challenges - Some of our programs include events on our TEAMS or Dynamic Course which is built in poles from 15 to 45 feet above the ground. Participants are encouraged to step beyond their comfort zone and attempt, rather than complete, the element.
The TEAMS course allows teams of two to eight people work together to support each other in problem-solving.
The DYNAMIC course is perfect for larger group and teams working on setting personal goals.
Whether climbing a wall, riding the zip line or walking the catwalk, these elements deliver the impression of risk, though they are built to be as safe as any activity on the ground.
Rates (per person)
2.5 hour Program (includes warm-ups, initiatives and Low elements Only)
4 hour Program(includes the above plus, one level of the TEAMS Course or 2-3 Dynamic Elements )
6 - 7 hour Program (includes all the above, plus both levels of the TEAMS course or 4-6 Dynamic Elements and up to 1 hour break for lunch or dinner, not provided)
Leadership Challenge Center Rates

|   | 2.5 Hour | 4 Hour | 6 - 7 Hour |
| --- | --- | --- | --- |
| CSUSB Student | $ 7.00 pp | $ 13.00 pp | $ 18.00 pp |
| CSUSB Faculty, Staff, Alumni Association Member | $ 13.00 pp | $ 26.00 pp | $ 38.00 pp |
| Non-profit* | $ 20.00 pp | $ 33.00 pp | $ 43.00 pp |
| Not Affiliated with CSUSB | $ 27.00 pp | $ 45.00 pp | $ 57.00 pp |
* as defined by the IRS (School Groups, Scouts, Government Orgs. Youth Orgs.)
Programs are available for groups as small as 8, or as large as 200. Minimum age requirement 9. Please call for special rates for groups larger than 60.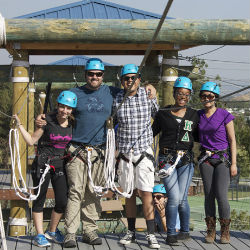 Reservations are on a first-come first served basis based on the following priorities.
12 months 
Chartered CSUSB student clubs and organizations, faculty groups, staff groups and campus departments can schedule programs up to 12 months in advance.
9 months 
CSUSB students, faculty and Alumni Association Members can schedule programs up to 9 months in advance.
6 months 
Off-campus groups can schedule up to 6 months in advance.
LCC Forms