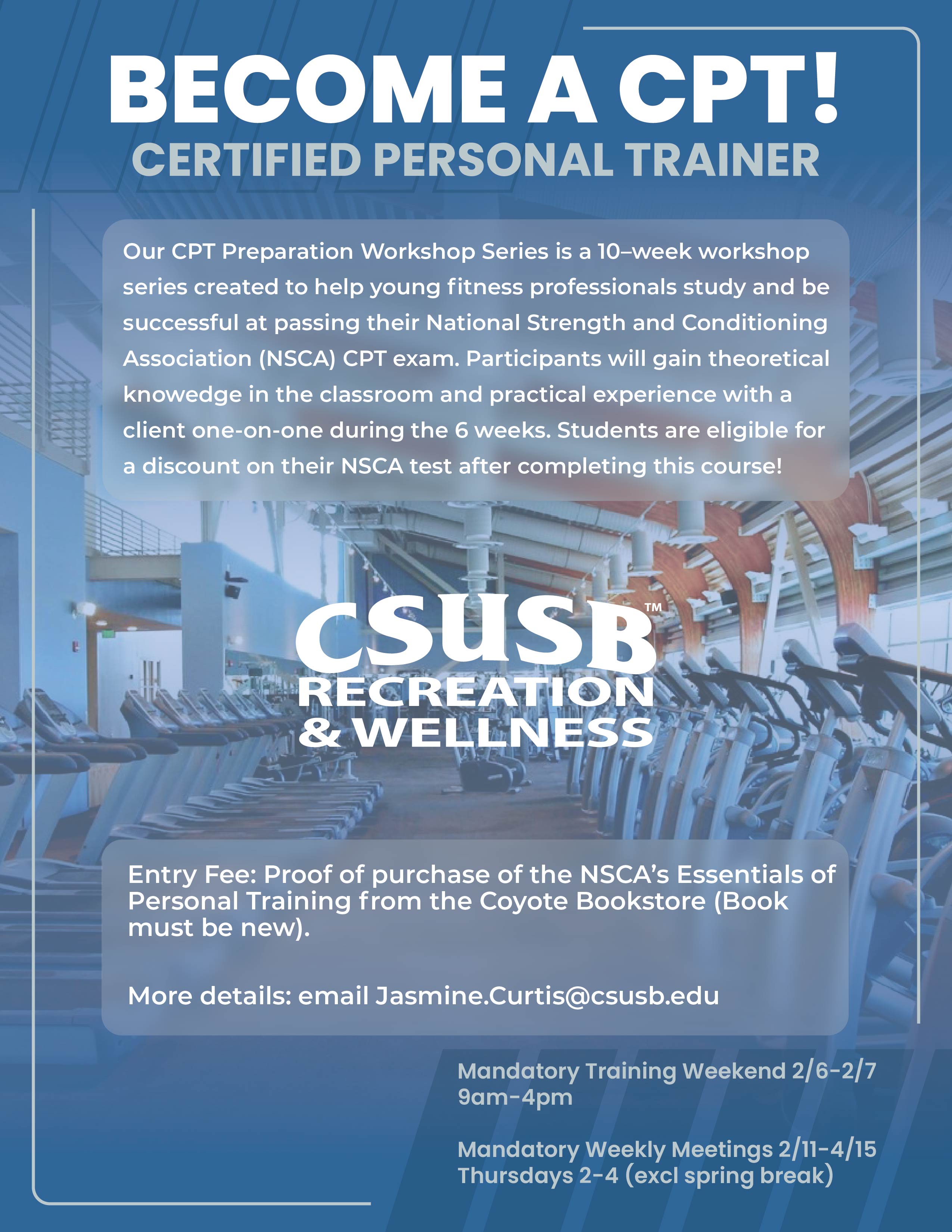 Certified Personal Trainer Preparation Workshop Series 
Spring 2021 is ALMOST FULL; Visit the CPT Prep page for more information! Come join us!

For more questions about this course contact Jasmine Curtis, Fitness Coordinator at (909) 537-3862.
Free Access to the F45 Challenge App!
CSUSB SRWC is extremely excited to announce a virtual partnership with F45 Training! F45 Training is the HIIT, circuit based training system that is taking over the world. With over 2000 franchises sold worldwide, over 30 college partners, and Mark Whalberg as one of our investors and strategic partners — we are sure you will love the F45 Challenge portal along with millions around the globe. 
The portal is 100% for free for all students, faculty and staff that use their @csusb.edu or @coyote.csusb.edu email address to register, and will give access to on-demand workouts, meal plans, personalized calorie guides, results trackers and more!
Simply go to www.f45challenge.com to register or download the F45 Challenge App from your device.
Steps:
1: Go to F45Challenge.com to download the app onto your preferred device. 
2: Click "LET'S GO", then "I'M NEW TO F45."
3: Register using your csusb.edu or coyote.csusb.edu email address
4: Try out the F45 Challenge App for workouts and resources
Complimentary 1-Hour Zoom Consultation with a Personal Trainer
Our 1-hour sessions are set-up specifically for the unique needs of the individual.  Examples are, but not limited to goal setting, fitness assessments, equipment orientation, and exercise program design.

Sign-up: Complimentary 1-Hour Session.