Welcome to CSUSB!
We are open and ready to support you!
As we continue to monitor and meet established safety guidelines in response to the novel coronavirus (COVID-19) outbreak, our offices are still open and operating in a virtual format. You can reach us by phone at (909) 537-5193 or via email at cisp@csusb.edu. We will respond as quickly as possible. Please keep a close watch for new announcements. Many of them, as well as several resources, can be found on CSUSB's dedicated COVID-19/Coronavirus Information web page.
Student Services
The Center for International Studies and Programs (CISP) is the central location for international student services. We foster student development by providing services and support outside of the classroom.
Education Abroad Programs
As a CSUSB student, you may consider Education Abroad, which includes studying, conducting research, interning, serving, volunteering, and working in other countries. Visit our website, goabroad.csusb.edu, to learn about these opportunities.
Welcome to Cal State University, San Bernardino!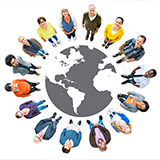 The Center for International Studies and Programs (CISP) leads CSUSB's internationalization by collaborating with university and off-campus partners to develop and offer programs, activities and services that support our strategic goals.

CSUSB is a proud member of IIE's Generation Study Abroad initiative.