Events
Halloween Costume Competition 2023
GET READY FOR A SCARY SEASON
OR
HALLOWEEN at CGI
CSUSB International Students Join us in the CGI building for a Howlin Good Time from 10/23 through 10/31
Take pictures with our Spooktacular Decorations
Craving a Sweet Treat swing by the CGI Front Desk and Trick or treat yourself to some candy at the CGI Front Desk
Spare some time for Halloween fun! As we host our Annual Halloween Costume Contest on Instagram for a chance to win a Boo-tastic Prize!
Upload a picture for a chance to win one of three boo-tiful prizes.  We will announce the winners in CGI Front Desk November 1, 2023 at 4PM.
See the flyer below for more information. 
HAVE A SAFE & HAPPY HALLOWEEN!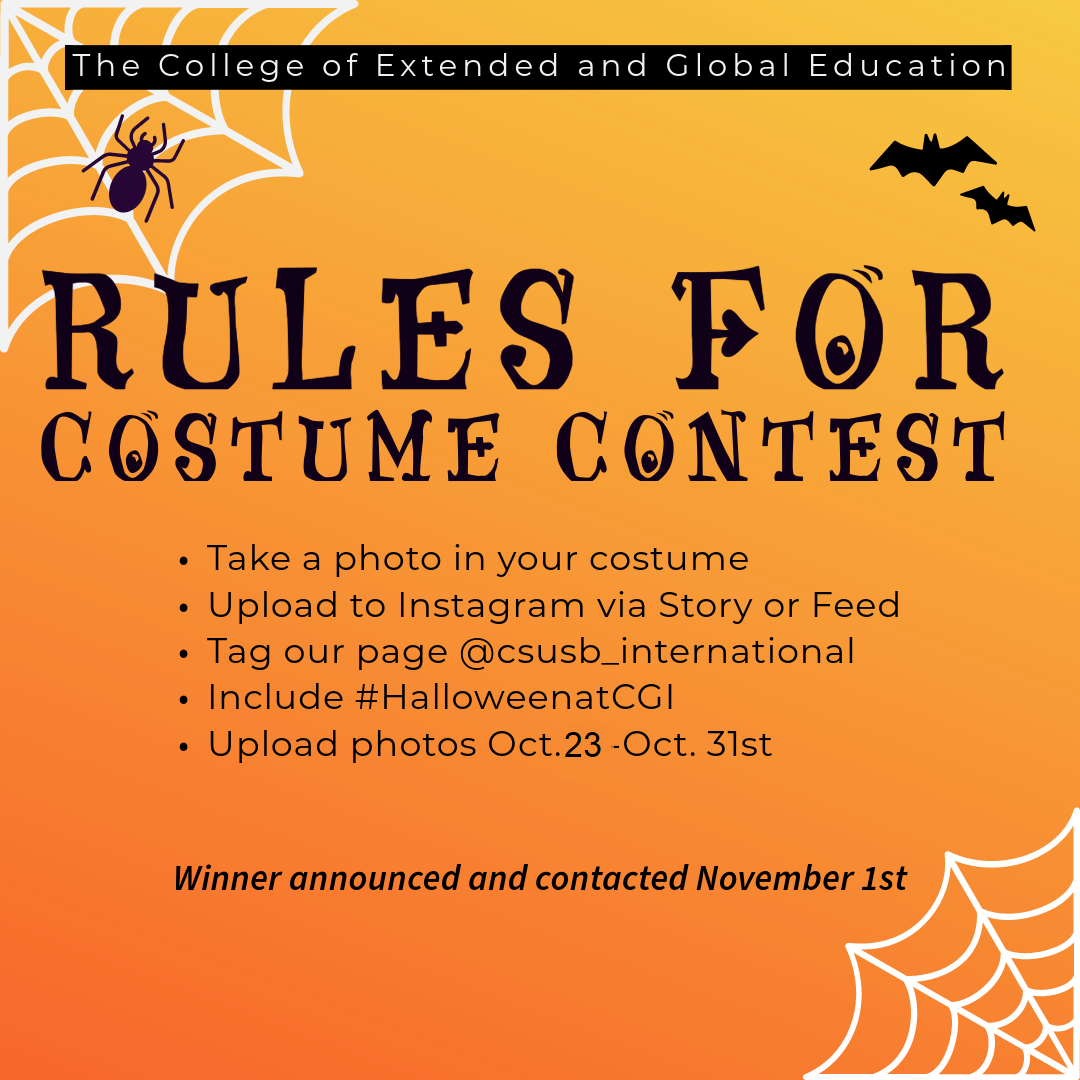 Restaurants – Off Campus
Many unique and wonderful restaurants are in the vicinity of CSUSB campus in the northern part of San Bernardino. Some student favorites include:
Dickey's Barbecue Pit
1725 Northpark Blvd W
(909) 473-7393
www.dickeys.com 
Jamba Juice
1725 Northpark Blvd W #2
(909) 473-6300
www.jambajuice.com 
Wayback Burgers 
1725 Northpark Blvd W
(909) 473-6140
www.waybackburgers.com
Denny's
5975 N Palm Ave
(909) 880-0955
www.dennys.com
Pizza Hut
2999 Kendall Dr Suite C-14
www.pizzahut.com
Yang Noodle House
2999 Kendall Dr Suite 216
(909) 683-6160
www.yangnoodlehouse.com
WaBa Grill
2999 Kendall Dr Unit B-20
www.wabagrill.com
Farmer Boys 
1766 Kendall Drive
(909) 473-1717
www.farmerboys.com
Rock & Roll Sushi
5244 University Parkway # B
(909) 804-8811
www.rocknrollsushi.com
Quiznos Sandwich 
5244 University Parkway # E
(909) 880-2615
www.quiznos.com
El Pollo Loco 
1695 Kendall Drive
(909) 880-6337
www.elpolloloco.com
Del Taco
4344 University Parkway
(909) 473-9512
www.deltaco.com
Royal Dumpling House
1689 Kendall Dr suite G 
(909) 880-0829
www.royaldumplingsca.com
Paco's Tacos
1689 Kendall Drive # I
(909) 880-2755
Thai Place
1689 Kendall Drive # K1
(909) 887-7644
KFC 
4694 University Parkway
(909) 880-8118
www.kfc.com
Carl's Jr
4424 University Parkway
(909) 473-1066
www.carlsjr.com
Papa John's Pizza
4434 University Parkway
(909) 887-7272
www.papajohns.com
Little Caesars Pizza
4414 University Parkway # 1
(909) 887-1625
www.littlecaesars.com
Nonna's Italian Restaurant
1689 Kendall Drive # H
(909) 726-1787
Lack transportation? Try delivery for home, please visit:
Student Clubs and Organizations at CSUSB
There are many unique clubs and organizations on campus that meet the diverse interests of CSUSB students. The university registers clubs and organizations through the Office of Student Engagement each year. One of the easiest ways for students to expand their educational experience is to join one or more of the established organizations on campus, or to start a new one. 
Clubs and organizations offer opportunities for students to challenge themselves with new responsibilities while becoming involved in the campus community. They also provide educational, social, and recreational experiences that enrich students' lives. Club officers and committee chairs gain leadership skills that have tremendous value in their professional careers after graduation. Clubs also provide students with a sense of belonging in the community through spending time with people who have similar interests. 
Go to Coyote Connection to find campus events, learn about specific student clubs and organizations, sororities and fraternities, and explore a variety of campus wide engagement opportunities. 
Student Health and Wellness Resources 
Recreation and Wellness CenterStudent Health and Counseling CenterCounseling and Psychological Services
City Guide for International Students
San Bernardino Sympohony OrchestraRobert V. Fullerton Art MuseumEvents in the Inland Empire
Major Shopping Locations

Local Cities
Local cities important to CSUSB students include San Bernardino, Redlands, and Highland.  
San Bernardino city spans 81 square miles on the floor of the San Bernardino Valley with a population of about 210,000. San Bernardino is divided into several districts. Many hotels, restaurants, and retail establishments are around Hospitality Lane in the southern part of the city. Downtown has shopping and government buildings. In the foothills of the San Bernardino Mountains lies the University District, with shopping, dining, and high-density residential space.
Redlands city spans 36 square miles, with a population of about 75,000. The city is regarded as the "Jewel of the Inland Empire". Local attractions include: (1) Citrus Plaza, a large open-air shopping center; (2) Pharaoh's Adventure Park, a 20-acre theme park that incorporates Egyptian themes and includes a go-cart raceway, miniature golf, bumper cars, an amphitheater, and a water park; and, (3) Hangar 24 Craft Brewery.
Flanked by the often-snowcapped peaks of the San Bernardino and San Gabriel Mountains, Highland is close to an array of skiing and other mountain recreational opportunities.
Safety Issues
CSUSB is committed to providing a safe campus environment. Students may request an escort to any on-campus location at any time by student assistants equipped with police radios.  The University Police operates year-round and can be reached by calling (909) 537-5165 for non-emergency requests and 911 for emergencies.
Transportation
Many companies exist for local travel, and you can usually find taxis waiting near airports. Rates are standardized and based upon time and length of trip. While convenient, they can be expensive, and it is standard practice to tip the driver 10-15% of the fare.
CSUSB and San Bernardino valley are accessible by public transportation agency Omnitrans. CSUSB is served by bus # 2, 5, 7, and 11. You may use San Bernardino line on the Metrolink train to travel from the train station in San Bernardino to Union Station in downtown Los Angeles. Visit the CSUSB's Parking and Transportation Services for more information.
Personal vehicles are a popular mode of transportation in Southern California. Parking is available to students living on or off campus. A driver's license and insurance are required to operate a vehicle. Insurance rates vary and are based upon where one lives.
Traveling to and from Airport
CSUSB is served by several airports, including, Ontario (ONT), Los Angeles (LAX), Long Beach (LGB), and Santa Anna (SNA). The airport closest to campus is Ontario. Most international flights arrive and depart from Los Angeles airport. Supershuttle is a popular service operating between airports and the Inland Empire. For prices and arranging service visit Supershuttle.
Driver's License
A driver's license is required to purchasing a car and when obtaining car insurance. The State of California does not recognize International Driving Permits (IDP) as a valid driver license. The California Department of Motor Vehicles (DMV) website outlines the process of obtaining a California Driver's License. The application process includes a written test and driving skills test administered by the California DMV. The California Driver's Handbook is an indispensable resource when preparing for these tests. Samples of written tests are also available on-line for reference.
If you would like to get a driver's license, you must be fully enrolled. The CISP team can provide further information as well as a verification letter. 
Parking on Campus
Campus Parking Permits are required to park on campus. 
Communication
A number of options exist to stay in touch with friends and family around the globe throughout the year. 
Telephone
If living on campus, there is an option to purchase the college's telephone plan which includes local and long-distance service. Each room has a telephone jack, but phones are not provided. If living off campus, there are numerous long-distance carriers from which to choose. Shop around to find the best rates.
Available for sale at many local stores or online, pre-paid calling cards provide a set number of minutes for long-distance calling. Instructions on use are printed on the card.
There are a wide variety of mobile phone service plans. Be sure to shop around and compare prices and plans. Some services include the cost of the phone, others do not.
Skype offers free or relatively inexpensive voice and video communication between devices that have the software installed.
Google Voice provides a free phone number for calls, text messages, and voicemail. You can use the apps on smartphones and computers, and you can link your number to any mobile or landline number. Visit Google Voice for more information.
Mail
Numerous options exist for mailing depending upon destination and contents of the letter or package. Consider the following when planning to mail letters or packages:
Less expensive than express but often slower than express is standard mail.
Certified mail is available at any U.S. Post Office and provides registered receipts with each shipment. The receipt provides a tracking number which follows the parcel to its destination. All mail sent to USCIS should be sent certified mail or via a service that allows you to track the mail (such as FedEx or DHL).
For more information visit US Postal Service for postage rates and options. 
E-mail
All CSUSB students have university-provided e-mail accounts. This address can be found in the MyCoyote Student Center under Personal Information. For assistance signing in, please visit Information Technology Services.
Resources for the 5 largest Populations of International Students
India
The cities of Cerritos and Artesia, near Los Angles, were the first Indian ethnic enclaves in the USA. The cities are approximately 75 minutes by car from campus and have several retailers, restaurants, places of worship, and a movie theatre.  Artesia is also home to "Little India".
Several Indian restaurants are situated in the Hospitality Lane area of San Bernardino and in the nearby city of Colton, about 15 minutes from campus. Similarly, the city of Riverside, an approximately 30-minute drive from campus, also has Indian grocery stores and restaurants.
India Clay Oven 
228 W Hospitality Ln # E 
(909) 890-0090 
www.indiasclayovensb.com 
Delhi Palace 
2001 Diners Ct 
(909) 884-9966 
www.newdelhipalacecuisineofindia.com 
Ravi's India Cuisine 
1091 S Mount Vernon Ave # G 
Colton, CA 92324 
(909) 824-1100 
Gul Naz Cuisine Pakistan 
1624 E Washington St.  
Colton, CA 92324,  
(909) 370-0111 
https://gulnazcuisine.com 
India Sweets & Grocery 
779 W Blaine St, 
Riverside, CA 92507  
(951) 784-7400 
https://www.facebook.com/people/India-Sweets-Grocery/100069287856879/ 
Punjab Palace  
10359 Magnolia Avenue  
Riverside, CA 
(951) 351-8968 
www.punjabpalaceca.com 
Hindu Society of Inland Empire 
9292 Magnolia Ave.  
Riverside, CA 
(951) 359-4743 
http://www.riversidetemple.org/ 
Sikh Temple  
7940 Mission Boulevard 
Riverside, CA 
(951) 685-4571 
China
The cities of Alhambra and Monterey Park, about one hour from campus, as well as Downtown Los Angeles' Chinatown are popular with students as there are a number of Asian shops and restaurants to explore.
Sm Seafood & Asian Market  
333 S E St.  
(909) 888-6520 
Hana Asian Market  
738 S Waterman Ave #A11  
(909) 890-1556 
Loma Linda Chinese SDA Church  
25665 Van Leuven Street  
Loma Linda, CA  
(909) 478-3939 
https://llc.adventistfaith.org/ 
Christian Alliance Church 
9640 Jurupa Road 
Riverside, CA  
(951) 360-0013 
www.riversidecma.org 
Trinity Church  
1551 Reservoir Road 
Redlands, CA  
(909) 335-7333 x110 
www.trinityonline.org 
Korea
Located west of Downtown Los Angeles and south of Hollywood, about 90 minutes from campus, Koreatown is one of the most diverse neighborhoods in Los Angeles. K-town is also known for having one of the largest concentrations of 24-hour businesses and restaurants in the country.
Golden Dragon Korean and Chinese Restaurant  
1024 W. Highland  
(909) 883-3390 
https://goldendragontucson.com 
Sm Seafood & Asian Market  
333 S E St.  
(909) 888-6520 
Loma Linda Korean SDA English Ministries  
11487 New Jersey St. 
Redlands, CA  
https://lomalindakoreansda.com/home 
Olive Presbyterian Church 
820 N La Cadena Dr 
Colton, CA 92324 
(951) 312-9784 
www.olivechurch.org 
Middle East
Little Arabia in Anaheim, about a one-hour drive from campus, boasts a wonderful collection of restaurants, shops and ethnic markets along Brookhurst St. between the I-5 freeway and Katella Avenue.
Gul Naz Cuisine Pakistan 
1624 E Washington St.  
Colton, CA 92324,  
(909) 370-0111 
https://gulnazcuisine.com 
Alina's Lebanese Cuisine  
2250 South Archibald Ave.  
Ontario, CA  
(909) 947-2070 
www.alinaslebanesecuisine.com 
Dar Al Uloom Al-Islamiyah of America 
2034 Mallory St 
(909) 880-0201 
https://www.facebook.com/Dar-Al-Uloom-Al-Islamiyah-of-America-171923836168598 
Islamic Center of Riverside 
1038 W Linden St. 
Riverside, CA  
(951) 684-5466 
https://www.islamiccenterofriverside.net/