The California Pre-Doctoral Program provides financial assistance for students interested in exploring and preparing for a doctoral program. These funds are designed to enable current CSU students to explore and prepare to succeed in doctoral programs in their chosen field of study. Awards are based on competitive review of student applications and given to current upper-division or graduate students who demonstrate academic excellence while experiencing economic or educational disadvantage. The funds may be used for students to visit U.S. doctoral-granting institutions, obtain membership in professional organizations, subscribe to academic journals, GRE preparation, and to cover the cost of graduate school application and test fees, and also provides an opportunity to participate in a funded summer internship opportunity.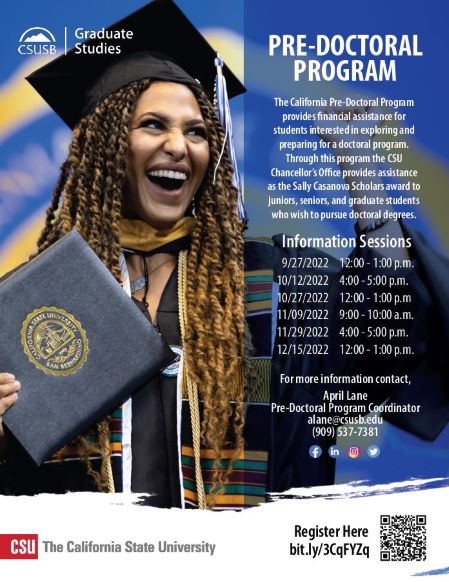 Dollar Amount: $3,000 + funded summer internship opportunities
Upcoming Program Information Sessions: 
The information session dates have past,  but you can watch a previously recorded session. Passcode: Vnf7YH#Z
Application Deadlines & Submission Process:
Step 1: Submit your complete application packet (draft) to April Lane by 5:00 p.m., Friday, January 20, 2023.
Your application will be reviewed by a faculty committee.
Once your application has been reviewed you will receive an email requesting a short meeting with April Lane. Once you meet with April you will be provide with an application submission link and you can then proceed to Step 2.
Step 2: Once you are approved submit, and receive the submission link, submit your application through InfoReady by 11:59 p.m. on Friday, February 17, 2023.
Application Questions: For more information or questions regarding your application packet please contact the program coordinator, April Lane, or call (909) 537-7381.
Information about AB 1887 prohibition on state-funded and state-sponsored travel to states with discriminatory laws.
Awarding: Sally Casanova Scholars are selected by the Chancellors Office on the basis of three major criteria: potential for success in completing a doctoral program, probable effectiveness of the student/faculty plan, and level of economic and educational disadvantage.
Congratulations to our 2022-23 CSU Sally Casanova California Pre-Doctoral Scholars: Viviana Alvarez, Estevan Hernandez, Jaime Castro, Megan Haynes, and Jennifer Perretti!
Chancellor's Office Website: CA Pre-Doctoral Program