Congratulations Dr. Esteban Córdoba for winning the Evans Award for 2020-21! 
The Anthony and Lois Evans Faculty Development Award is awarded to the highest ranked Mini-Grant proposal submitted by an untenured faculty member in each academic college.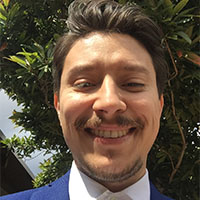 Dr. Córdoba will use the mini-grant to research and write a peer-reviewed journal article that examines the intertextuality between the works of Clarice Lispector and Sérgio Sant'Anna, two of Brazil's most important 20th-century writers.
His work will illustrate overlooked intersecting articulations between the authors while providing a deeper understanding of their literary output and influence on one another.