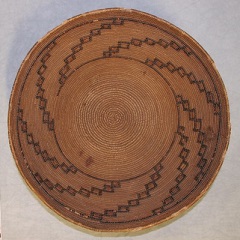 Luiseño (the language of the Pechanga Band of Mission Indians)
With the generous support of the Pechanga Band of Luiseño Indians, we are offering a series of full-credit courses in Luiseño, a Southern California indigenous language, with a 200-year old written literary tradition, and a long-standing oral tradition. Luiseño is a member of the Uto Aztecan Family of Languages, which stretches from Southern Idaho to Central America, encompassing such well known languages as Nāhuatl (Aztec), Hopi, Comanche, and Paiute. Luiseño is a language rich in metaphors, figurative speech, and is also ,highly poetic. A person in mourning is an 'ahíichumay tamáawumal' or 'an orphaned little mockingbird', which symbolizes a talkative person with no relatives left to talk to. Boys are 'hengé'malum', or 'flighty ones', who dart around girls, or 'nánnatmalum', which is a word that derived from a root, meaning 'the center'.
These language courses, taught by Professor Eric Elliott (Ph.D. in Linguistics, UC San Diego), represent a first in the history of higher education in the state of California. No university in either the California State University or the University of California system has previously offered an American Indian Language course sequence as part of its regular curriculum to fulfill the General Education world language requirement.
Professor Elliott learned Luiseño, Cahuilla, Serrano, and Cupeño from some of the last fluent speakers of these languages: Mrs. Villana Hyde (Luiseño), Mrs. Katherine Siva Saubel (Cahuilla), Mrs. Dorothy Ramón (Serrano), and, posthumously, Mrs. Rosinda Nolásquez (Cupeño). He hopes to pass on this knowledge, especially to Native American students interested in becoming elementary school teachers.
The courses provide an excellent opportunity for students to enrich their understanding of our region and its diverse cultures. Students at both the undergraduate and graduate level will find these language courses particularly attractive options for fulfilling a GE requirement.  For CSUSB students, these language course sequences (LUIS 1111 and LUIS 1112) are part of the regular curriculum to fulfill a GE requirement. For community members, anyone can register for these courses via Open University.
Course Descriptions from the CSUSB Catalog (Note: Luiseño Studies courses are listed in the Course Catalog with the course abbreviation (prefix) LUIS.)
Please check the Class Schedule for the current offerings. Note: Luiseño Studies courses are listed in the Course Schedule with the course abbreviation (prefix) LUIS.