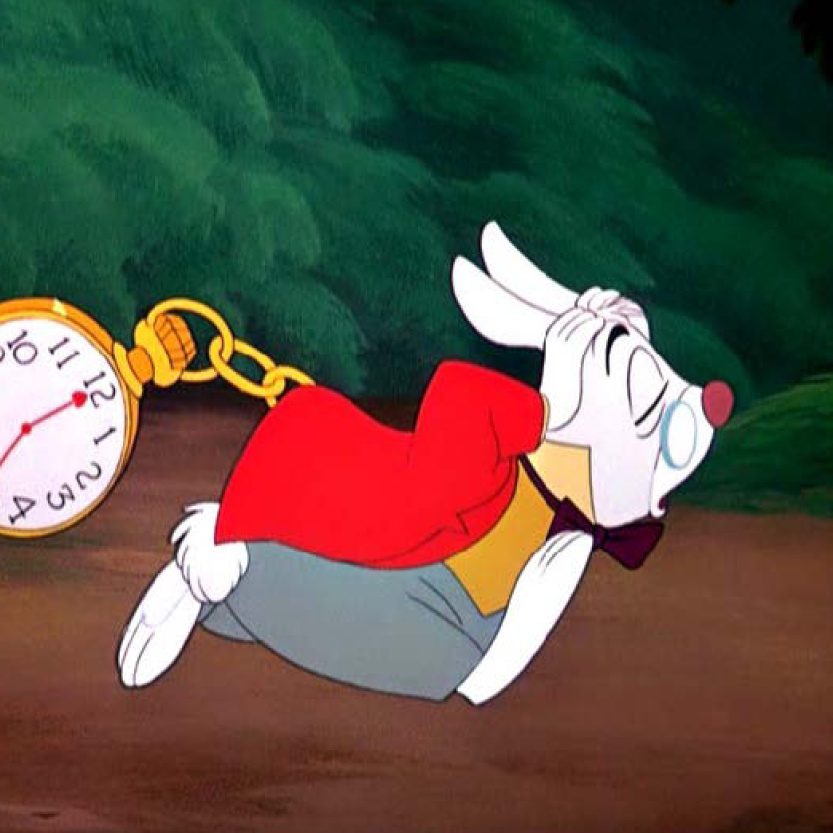 Can you really be late to a meeting?
The concept of time is different for the Spanish culture. In Spain, being late in not considered impolite or disrespectful as it does in other western European nations. Deadlines are also viewed as objectives that will be met when possible, but not as binding.
Why Study Spanish
With over 500 million speakers, Spanish is one of the most spoken languages in the world (after Mandarín).
With official status in 21 countries and sizable populations of speakers in many other countries, including the United States, Spanish can be heard in just about in every corner of the world.
With close to 50 million U.S. speakers, Spanish is a living language in the United States that serves real world needs beyond the confines of the classroom. Indeed, the U.S. is home to the second-largest Spanish-speaking population in the world, after Mexico.
With a rich cultural legacy and literary tradition, Spanish can expand your mind and broaden your perspectives. It is also a gateway to professional opportunities in the U.S. and abroad. From Healthcare, to Business, Education, Communication, Criminal Justice – wherever your career goals may lie – Spanish can help you get farther and do more.
The knowledge of Spanish for those seeking employment in our region is critical for the fields of teaching, journalism, publishing, advertising, writing, business, law, law enforcement, government, health services, as well as other career opportunities. Even a basic knowledge of Spanish at the SPAN 103 level may increase the probability of employment for these and other fields, as well as affect salary.
Course Descriptions from the CSUSB Catalog
Some classes are offered only once a year, so make sure to consult with a Counselor or Advisor.
Contact
Your Spanish Professor
or
Coordinator: Dr. George Thomas
George.Thomas@csusb.edu
909-537-5849
UH 314
2021 Certificate Program in Criminal Justice Spanish
Starting Fall 2021
Pre-reqs: Span 1112 or equivalent. Spanish Placement exams available.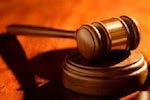 Coursework
SPAN 2261 Intermediate Criminal Justice SpanishI – offered Fall 2021
SPAN 2262 Intermediate Criminal Justice SpanishII – offered Spring 2022
SPAN 3061 Criminal Justice and Cultures in Spain/LatinAmerica – offered Spring 2022
SPAN 4401/2 Spanish for the Professions – offered Fall 2021 and Fall 2022
SPAN 5557 International Experience – offered Summer 2022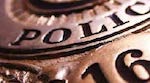 Summer 2021 - Span 1112 class for Criminal Justice
Summer 2022 - Study abroad in Spain (Barcelona & Valladolid) 
Contact: Prof. Jany, cjany@csusb.edu or Prof. Marteache, nmarte@csusb.edu
Download Criminal Justice Certificate Flyer
Four Concentrations
The B.A. in Spanish is offered in four different concentrations:
Hispanic Language, Literature and Civilization (Teaching)
Hispanic Studies
Business Studies
Communication Studies
The Liberal Studies degree, for those prospective teachers of elementary children K-6, can be enhanced by taking the Hispanic Language, Literature and Civilization. This concentration allows the student to teach in both English and bilingual classrooms.
The minor in Spanish, which can be combined with any non-Spanish major, gives the student additional experience in Hispanic culture, literature and linguistics. A double major of Spanish and another subject is also an option.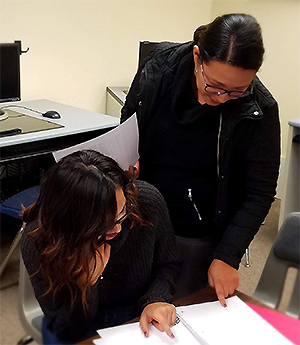 Peer Lab Program
Some upper division courses offer Peer Lab Facilitators.  The Peer Lab Facilitators have excelled in the course previously.  They offer specific office hours (separate from the regular course time) in which they are available to answer questions, improve understanding of a subject concept and more.
If you are interested in being a Peer Lab Facilitator, apply through the Office of Student Research.
Program Learning Outcomes
Communicate effectively in three modes of communication: interpretative, interpersonal, and presentational with speakers of the target language to function successfully in global communities
Comprehend and analyze oral and written texts in the target language effectively and critically as socially and ideologically constructed and shaped by context so that they can contribute to enriching their local and global communities
Students can think critically, pose questions and solve problems responsible using their communication skills and knowledge/awareness of the target language and the culture, make connections with their local and global communities
Students can practically apply disciplinary concepts and ways of thinking in new settings and contexts by engaging in local and global communities
Students develop an understanding of multiple perspectives and can respectfully interact, collaborate and solve problems across communities and cultures, respect other cultures and become aware of stereotypes in the target community as well as the local one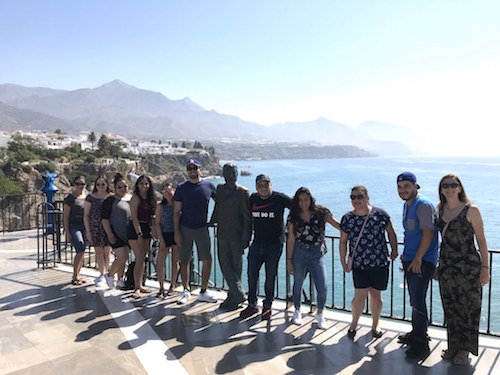 Study Abroad
There are multiple opportunities to study abroad, expand your knowledge of the language and culture AND earn units.
Check out the Study Abroad in Spain page for more details.
Inclusive Access
Students enrolled in Spanish 1111 through 2112 courses can access the textbook beginning the moment they activate Connect through Blackboard. The cost of the digital materials is at the discounted price and will automatically be charged to the student's account. Students are responsible for paying the charges applied to their student account. In addition to the discounted rate, students have access to their class materials in digital format (e-books) from the first day.  You should have received an email from the bookstore, Follett, when you enrolled in the course.  It contains students' username, and link for the Follet-CSUSB portal to create their account to login in and opt-out.
Saving Students' Money
The Affordable Learning Solutions Program gave special recognition in 2019 to The Department of World Languages and Literatures for pioneering the Inclusive Access Program at CSUSB and saving money for our students.
The Spanish Section has been working hard with the Inclusive Access Program under the leadership of our lower division coordinator, Dr. Rafael Correa. 
With Inclusive Access, students have access to their class materials in digital format (e-books), at no charge, from the first day of class until census day; when they can choose to remain in the program and pay for the e-book or opt out. The program has proven to be an efficient way to help students, in that they do not have to commit to buy a textbook until they are sure about staying in the class. Additionally, e-books are usually a less expensive format. This method is also ideal for students who do not receive their financial aid at the beginning of the term.
The Department of World Languages and Literatures helped to save students $120,177.92 through the lower division Spanish courses in 2018-2019.  Across CSUSB, Affordable Solutions saved a total of $944,678.83 in one year!!
Opting-Out
If you wish to opt-out of this program and not receive access to the required digital materials; you will follow the instructions provided in the email sent from the bookstore, Follett, when you enrolled in the course. If you opt-out, you will no longer have access to the textbook online.
Opt-out Info - Info document and sample email

Hard copies of the Textbook are available at the Coyote Bookstore if you decide to opt out.

Please note that the Deadline to Opt-Out is CENSUS DATE, which is the same as the add/drop deadline.  If you drop the course by Census date, no other steps are needed to opt-out. Contact the Coyote Bookstore if you have any questions.

IMPORTANT! Once you opt-out of a section, you cannot opt back in!
31st Cervantes Symposium
CSU Northridge, in collaboration with CSU San Bernardino, hosted the 31st Cervantes Symposium. It consisted of outstanding presentations by well regarded Cervantist, as well as junior scholars. CSUN graduate students also shared their research topics for their Don Quixote graduate class in a group panel. Six Spanish graduate students from CSUSB traveled nearly 80 miles to attend the symposium. Thanks to the presenters and students for their engaging commentary.Many thanks to Dr. Adrian Pérez-Boluda and CSUN Department of Modern and Classical Languages and Literatures for hosting such a delightful symposium. Our gratitude also to the CSUSB College of Arts and Letters, and World Languages and Literatures department for their support. 
By such innovations are languages enriched, when the words are adopted by the multitude, and naturalized by custom.- Miguel de Cervantes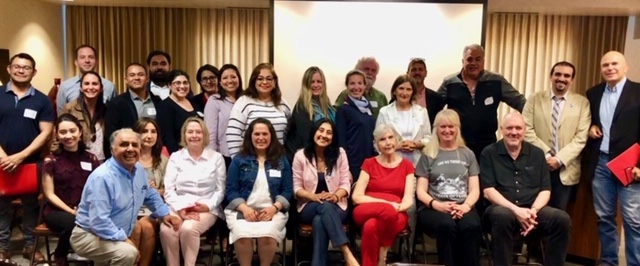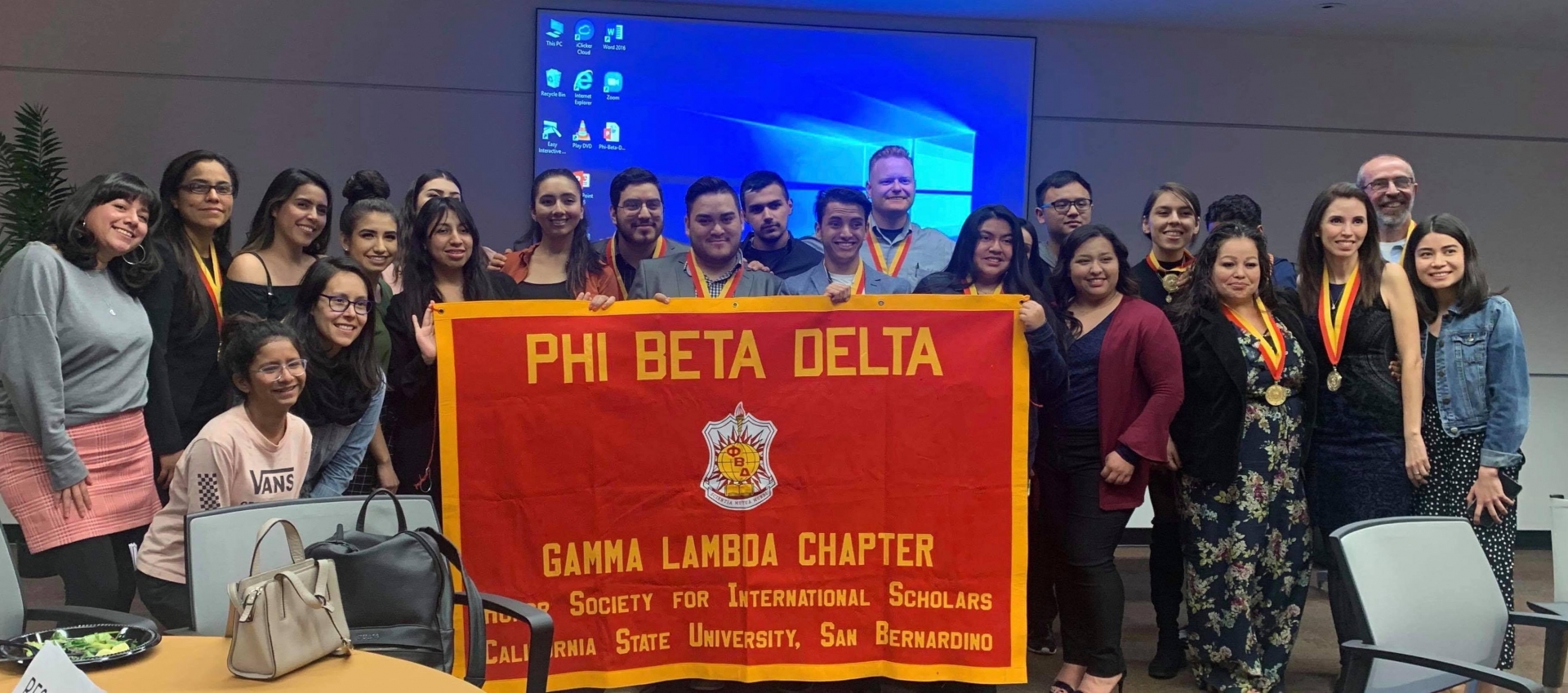 PHI BETA DELTA
Apart from being an international and renowned Honors Society, PBD offer scholarships to study abroad among its big list of benefits.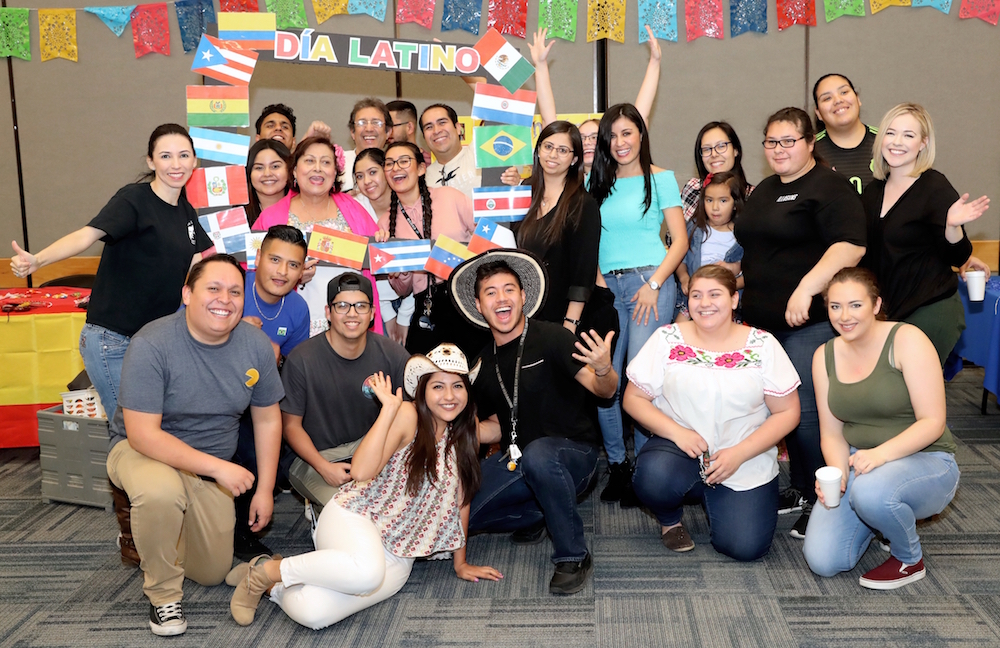 Outstanding Graduates
2020 Outstanding Undergraduate in Spanish: Nicole Roman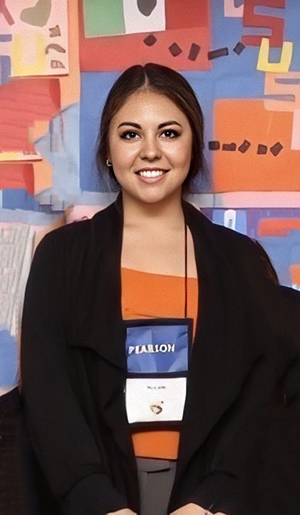 Nicole is a very passionate and hard-working student who always accomplishes the goals set for herself. She is very engaged and eager to learn and expand her knowledge and skillset. Given her academic excellence and her outstanding communication skills, she was chosen as a Peer Lab Advisor for Span 415, a difficult Spanish linguistics class. Not only did she master the challenging class content when she took the course herself, but she was also able to explain it to other students, develop her own review materials and create additional practice exercises, as well as to hold successful and well-attended Peer Lab sessions. Before that, Nicole had already been serving students as a successful bilingual and bicultural tutor at the Chaffey Community College.
Nicole strives for becoming a passionate and caring teacher to inspire others and to promote the Spanish language and Hispanic cultures in the community and beyond. Working toward that goal, she was selected last summer to attend a Summer Seminar at UC Santa Barbara organized by the California Language Teacher Association. She has also attended teaching-related workshops on our campus. Nicole's passion for helping other goes beyond her involvements with academic institutions. She is also eager to serve her community and to serve as a role model for Hispanic women. Over the past years, she has been volunteering at her church as a catechist whereby she is teaching children about faith. It is thus no surprise that Nicole is currently serving as the vice president of Sigma Delta Pi (the National Collegiate Hispanic Honor Society) and that she is also a member of Phi Kappa Phi.
Nicole will surely have a brilliant career as a successful educator and leader in the Hispanic community. She truly deserves the Outstanding Student Award for Spanish.
Dr. Carmen Jany
Professor of Spanish
2019 Department Commencement Speaker: Brenda Gillman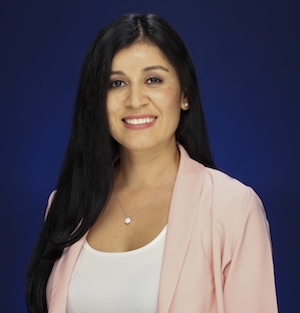 Brenda's is truly an outstanding student with a GPA of 3.992. She has been in the Dean's list continuously since coming to CSUSB. She served as a Teacher's Assistance, while at the same time volunteering to tutor two foreign students learning Spanish. She received the Inland Empire Foreign Language Association and the Center for the Advancement of Second Language Acquisition Awards. In 2018, Brenda volunteered as a translator for the LEAD Conference, sponsored by the College of Education. She was nominated and initiated into the CSUSB Chapter of Sigma Delta Pi, The National Collegiate Spanish Honor Society and became its current president for 2018-2019 academic year. In summer 2018, Brenda was invited to attend the Annual Summer Seminar for Language Teachers sponsored by the California Language Teacher Association held at the University of California, Santa Barbara.
 
A returning student and single mother, Brenda has continued to attend workshops and seminars that "assist me in my path to the foreign language classroom." To that effect, she has been a member of the Graduate Research Office's Peer Lab Facilitator Program, where student attend a particular class and then hold office hours in order to assist/tutor students. She also maintains contact with the community college she attended, RCC-Norco, to mentor and recruit students for CSUSB.  Brenda also has a personal project that involves collecting clothes and toys for children in a small village in Mexico so that she "can put a smile on the faces of so many vulnerable children." Overall, she says, her university experience at CSUSB has been very happy and rewarding. Brenda expects to remain here in order to complete an M.A. degree in Spanish in the Department of World Languages and Literatures.
Dr. Rafael Correa
Professor of Spanish
2018 Outstanding Undergraduate in Spanish: Estefani Vázquez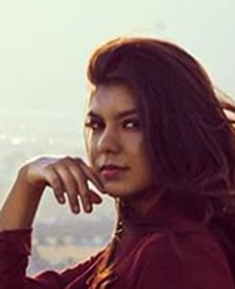 Once dreaming of becoming a professional dancer, Estefani's passion for Spanish and education has led her to major in Spanish to become a teacher. Her strong dedication, captivating enthusiasm and compassionate nature, as well as her continued and extensive involvement in campus and community events has earned her great recognition among faculty and students alike. Already a leader, Estefani is currently serving as the President for the CSUSB Chapter of Sigma Delta Pi, the National Collegiate Hispanic Honor Society, and has been instrumental in participating and supporting events sponsored by the CSUSB Dreamers Resource and Success Center. In fact, she is taking part in the planning and organizing of the Dreamers Graduation Ceremony this year. In addition to her solid contribution to the CSUSB community and beyond, Estefani is a stellar and active scholar who has participated in many workshops, completed a project collaborating with a museum in Spain, and has received several scholarships. She has already been accepted into the graduate program in UCR to earn her MA and teaching credentials and is looking forward to teaching the Spanish language, literature, and culture in the near future. (Photo courtesy of Gloria Posada)