Arabic is the native language of more than 300 million people living in Southwest Asia and North Africa. It is the liturgical language of more than 1.4 billion Muslims around the world and is also commonly used among 3.5 million American and Canadian citizens of Arab descent.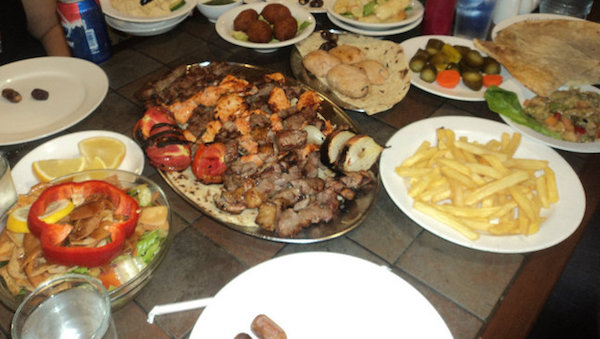 Learning Arabic is a gratifying experience because it exposes students to a rich culture and civilization and enhances their abilities to comprehend the multi-faceted aspects and complexities of the Arab and Islamic worlds. Generally speaking, Arabs tend to be welcoming and hospitable people with a great passion to engage in historic, cultural, and socio-political discussions. For this, students of Arabic should never be surprised by the fact that uttering a simple expression to an Arab like "Marhaba" (hello), "As-salaamu alaykum" (peace be upon you), or "Shukran" (thank you), could lead them to a prolonged conversation or even an invitation to the Arab's home where staple foods, like hummus, falafel, stuffed lamb, and the aromatic Turkish coffee (actually, Arabs like to call it Arabic coffee) are offered.
Learning Arabic also opens tremendous job opportunities and makes applicants competitive both in the private (for-profit/non-profit) and public sectors. Currently, students of Arabic, at all proficiency levels, are in massive demand. They can expect to be recruited and later on conduct business and interact with numerous entities, such as multinational corporations, NGOs, many branches of the public sector, the United Nations, the League of Arab States, and the Organization of Islamic Conference.
Contact 
Coordinator: Dr. George Thomas
(909) 537-5849
UH 314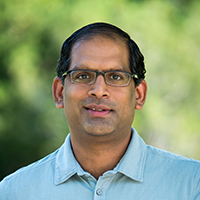 Threshold Concepts
Ability to act as global ambassadors and mediators through:
Developing linguistic competence and intercultural understanding necessary to interact in respectful and responsive ways with diverse Arabic speaking communities.
Thinking and reading critically while understanding that meaning is a social and ideological construct.
Developing awareness of how linguistically and culturally diverse communities contribute to the humanities (fine arts and performing arts, music, literature, poetry, media, film, drama) and ability to care authentically about others.
Based on the Threshold concept above, following are the Program Learning Outcomes and how they connect with Institutional and General Education learning outcomes.
Program Learning Outcomes
Students will be able to: 
Communicate effectively in three modes of communication: interpretive, interpersonal, and presentational with speakers of Arabic in order to understand the dynamics of global communities. (ILO-8, GLO-8)
Comprehend and analyze oral and written texts effectively and critically as socially and ideologically constructed and shaped by context so students can contribute to enriching their local communities and beyond. (ILOs- 3, 4, 5; GLOs- 1, 3, 6)
Think critically, pose questions and solve problems responsibly using their communication skills and knowledge/awareness of the language and culture within a social justice framework; students are able to make connections with their local and global communities. (ILOs- 4, 5, 6, 7; GLOs- 2, 5, 7, )
Practically apply their knowledge and skills in new settings and contexts.
Develop understanding of multiple perspectives and are able to respectfully interact, collaborate and solve problems across communities and cultures, respect other cultures and become aware of stereotypes in the target community as well as the local one. (ILOs- 6, 7, 8; GLOs 4, 5, 6, 7, 8)
Degree Requirements and Road Map
Road Map
Arabic Word of the Day
From: InnovativeLanguage.com
 2021 Outstanding Undergraduate in Arabic: Asrar Biabani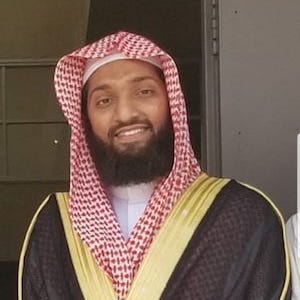 Asrar Biabani started studying Arabic language at Dar-Al-Uloom Islamic Center in San Bernardino when he was 9 years old. During his high school years, his passion to develop his language skills led him to join the Arabic Summer Intensive Program at CSUSB. By 2016, he continued his journey with Arabic language as he travelled with CSUSB's Study Abroad program in Amman, Jordan where he chose to extend his stay a few more months to immerse himself in the local culture and further study Arabic grammar, morphology and understanding classical texts.
Since graduating from CSUSB in Fall 2020, he has been spending more time on Islamic studies, while also growing his online business. His hopes are to use the education he acquired at CSUSB to help his community and society at large. When Asrar has some free time, he enjoys spending time with family and friends, playing sports and board games, learning, traveling, and sightseeing.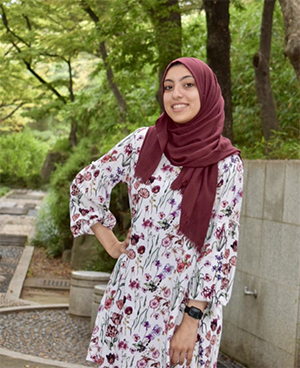 Outstanding 2020 Undergraduate in Arabic: Nadine Barakat
Nadine is an embodiment of what our campus genuinely promises its incoming students to accomplish: Come Here and Go Anywhere. She is a first generation college graduate in her family who completed not one but two bachelor degrees in four years, far exceeding our campus and the CSU-systemwide 2025 graduation initiative goals.
With much grace and gratitude toward her faculty, supervisors, and peers, Nadine took her educational goals seriously and has already crafted ambitious academic and career plans to pursue as she will soon be entering the labor force. She will be starting her fulltime nursing career right after graduation and is considering pursuing a doctorate degree in nursing practice.
Nadine completed her B.A. in Arabic Language and Literatures and B.S. in Nursing, and has been selflessly interning in the health care field for several years, a field that is of critical need to our ailing and fragile nation and the entire world. Nadine served in the Medical Surgical and Critical Care Units at Kaiser, in Behavioral Health at Patton State Hospital, in the Pediatrics ICU at Arrowhead Regional Medical Center, in Labor & Delivery at Riverside Community Hospital, and in Rehabilitative Medicine at Ballard Rehabilitation.
However, as she was busy caring for the diverse Inland Empire population that is comprised of all ethnic and socio-economic backgrounds, she was also a proud Coyote, committed to serving her own CSUSB community and alma mater. Nadine served as president of the Muslim Students Association in times of increased religious crimes, hate, bigotry and intolerance toward some religious minorities. She was a frequently invited guest speaker and highly sought-after interviewee in numerous classes. She lent a hand to multiple community events and relief efforts on and off campus, distributing food and relief items to the hungry, the poor and the disadvantaged in the IE and even around the world. She was a part-time teacher in a parochial weekend community school, and organized many outdoor activities for CSUSB students to appreciate the beautiful landscape of our mountains.
The financial and academic burden she often faced never deviated her focus away from what education is all about. She had deep conviction that being a global citizen, a compassionate leader and an individual who respects other cultures is essential to making our fragile world a kinder place to live in. In her diligent effort to communicate and understand our diverse community, she not only completed two degrees, but also, took the time to travel abroad in Korea at Dankooku University, learning Korean language, studying critical global issues, interacting with Korean citizens, and acting as an exemplary ambassador of our campus and our nation. All of these accomplishments took place despite her already very demanding, competitive and rigorous nursing program.
Finally, Nadine has set precedence for our incoming students aspiring to join the CSUSB family. Nadine had actually started her journey with CSUSB long before being officially matriculated during the 2016-2017 academic year. By Fall 2016, she had started as a freshman here with 45 AP and 60 Arabic college credits that she worked very hard to earn during her high school years. Nadine had actually given up two entire summers to join our campus Arabic Summer Language Intensive program which required her to work each time for 8 weeks, six days a week from 8 am to 10 pm. She had actually twice received the Startalk scholarship, which is a very competitive federally-funded competitive grant, aimed at making our nation prepared to the realities of an ethnically, linguistically and culturally diverse world.
Nadine's respectful, upbeat, and positive demeanor and her passion for social justice causes make her an inspiration to all of us.
 
Dr. Dany Doueiri
Associate Professor of Arabic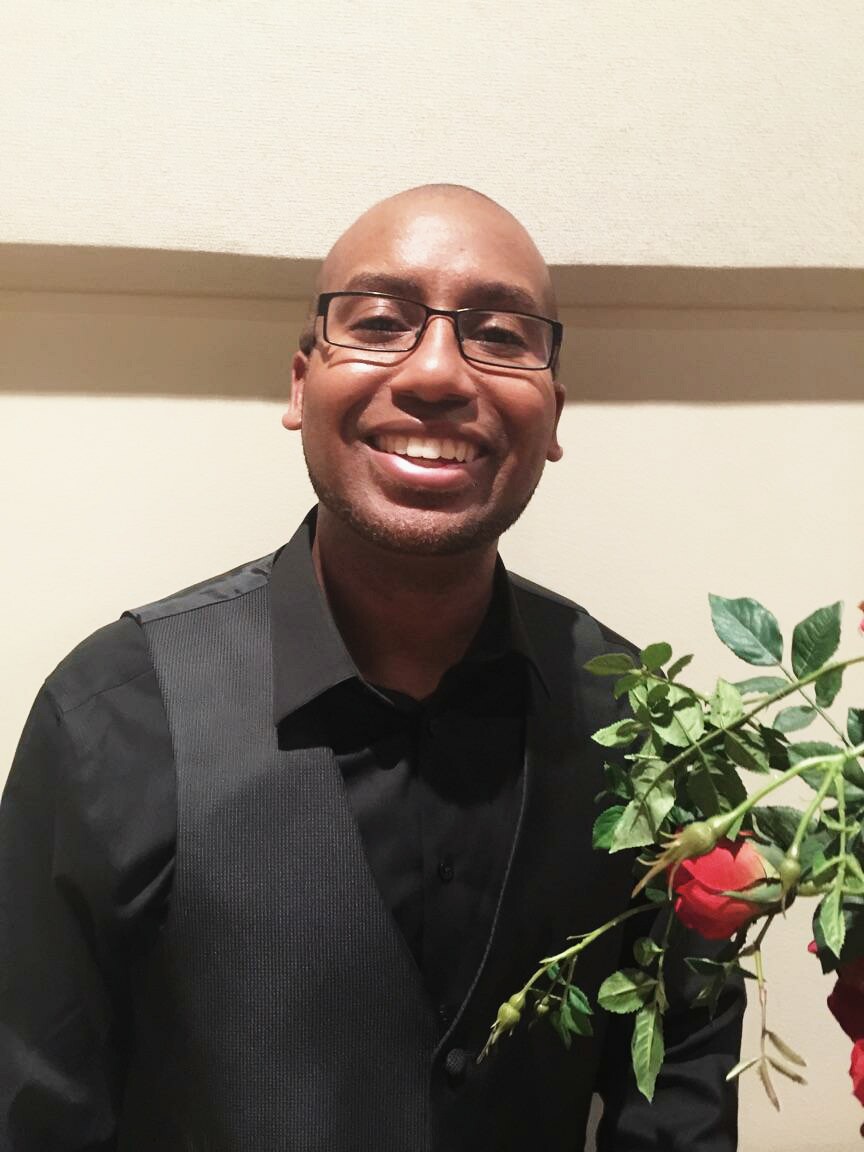 Outstanding 2018 Undergraduate in Arabic: Robert Charles Sims III
When pondering about a new language to begin studying, Robert 'Trey' Charles Sims III found himself tutoring two Iraqi boys who recently immigrated to the US and did not speak any English. Then, he decided to take his first class of Arabic at Riverside City College and he continued his Arabic studies when he transferred here to Cal-State San Bernardino in the fall of 2016. Learning about Arabic language and culture has opened many opportunities for him to impact his community and the world. He has been assisting Syrian refugee families residing in Southern California. He travels to different countries and provides humanitarian aid. Trey is also developing an Arabic creative arts program in Egypt where he is mentoring numerous youth. Trey's achievements in learning Arabic have been remarkable; he is on his way to achieve advanced proficiency in Arabic and is utilizing his studies of Arabic language, literature, and culture every day to make a difference in his life and the world around him.
CSUSB represented at Southern California Arabic Language Teachers Council's Sixth Annual Cultural Day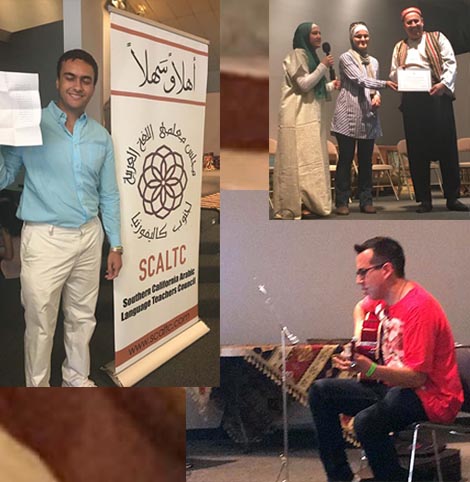 On April 21, 2018, students from Arabic classes at CSUSB performed at the Sixth Annual Cultural Day sponsored by the Southern California Arabic Language Teachers Council (SCALTC).
Read the article featured in the Coyote Chronicle about SCALTC.
CSUSB students teach Arabic language and culture to fourth graders
On May 5, 2016, a group of 4th graders from Salinas Elementary school in San Bernardino, with their teachers and parent volunteers, participated in an Arabic language workshop in the Department of World Languages and Literatures. This was part of a larger visit that also included a visit to the Art and Kinesiology departments. Dr. Oraib Mango and students from her ARAB 103 class welcomed the visitors who watched short presentations by the students as well as took part in activities that focused on the Arabic culture, music, reading, writing, iPad activities as well as a dancing lesson by Professor Nabila Land. Special thanks to everyone who made this workshop possible especially to the the Multimedia Language Center, who provided the iPads, the school teachers, Mr. William Beshears, and Mr. Brian Zubak, as well as the parent volunteers. The Department of World Languages and Literatures looks forward to hosting the wonderful students of Salinas Elementary school in the future.