Drink the coffee, but don't forget to shake the cup
It is found that in the Arabian Peninsula it is tradition to drink coffee. It is respectful to accept coffee when offered to you; unless of course you have dietary restrictions. It is usually served in small cups and only part of the cup is filled. This is a sign of hospitality, because there is usually a person in charge of refilling the cups to assume the warm welcoming of visitors. If you drink the coffee and do not shake the empty cup, it will keep being refilled until you gently but in an observable manner shake the cup.
Why Study Arabic?
  Transcript
Arabic is the native language of more than 300 million people living in Southwest Asia and North Africa. It is the liturgical language of more than 1.4 billion Muslims around the world and is also commonly used among 3.5 million American and Canadian citizens of Arab descent.
Learning Arabic is a gratifying experience because it exposes students to a rich culture and civilization and enhances their abilities to comprehend the multi-faceted aspects and complexities of the Arab and Islamic worlds. Generally speaking, Arabs tend to be welcoming and hospitable people with a great passion to engage in historic, cultural, and socio-political discussions. For this, students of Arabic should never be surprised by the fact that uttering a simple expression to an Arab like "Marhaba" (hello), "As-salaamu alaykum" (peace be upon you) or "Shukran" (thank you) , could lead them to a prolonged conversation or even an invitation to the Arab's home where staple foods, like hummus, falafel, stuffed lamb, and the aromatic Turkish coffee (actually, Arabs like to call it Arabic coffee) are offered.
Contact 
Professional Advisor: Luis Huante
909-537-5122 
UH 203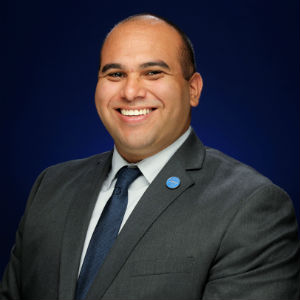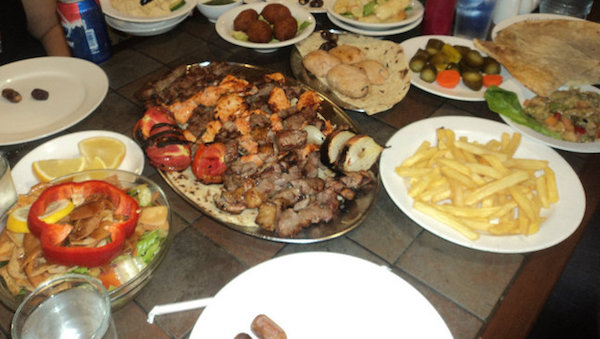 Learning Arabic also opens tremendous job opportunities and makes applicants competitive both in the private (for profit/non-profit) and public sectors. Currently, students of Arabic, at all proficiency levels, are in massive demand. They can expect to be recruited and later on conduct business and interact with numerous entities, such as multinational corporations, NGOs, many branches of the public sector, the United Nations, the League of Arab States and the Organization of Islamic Conference.
Outstanding 2018 Undergraduate in Arabic: Robert Charles Sims III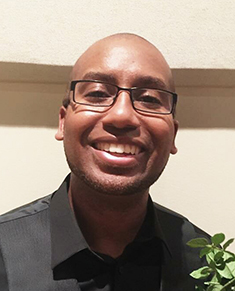 When pondering about a new language to begin studying, Robert 'Trey' Charles Sims III found himself tutoring two Iraqi boys who recently immigrated to the US and did not speak any English. Then, he decided to take his first class of Arabic at Riverside City College and he continued his Arabic studies when he transferred here to Cal-State San Bernardino in the fall of 2016. Learning about Arabic language and culture has opened many opportunities for him to impact his community and the world. He has been assisting Syrian refugee families residing in Southern California. He travels to different countries and provides humanitarian aid. Trey is also developing an Arabic creative arts program in Egypt where he is mentoring numerous youth. Trey's achievements in learning Arabic have been remarkable; he is on his way to achieve advanced proficiency in Arabic and is utilizing his studies of Arabic language, literature, and culture every day to make a difference in his life and the world around him.
CSUSB represented at Southern California Arabic Language Teachers Council's Sixth Annual Cultural Day
On April 21, 2018, students from Arabic classes at CSUSB performed at the Sixth Annual Cultural Day sponsored by the Southern California Arabic Language Teachers Council (SCALTC).
Read the article featured in the Coyote Chronicle about SCALTC.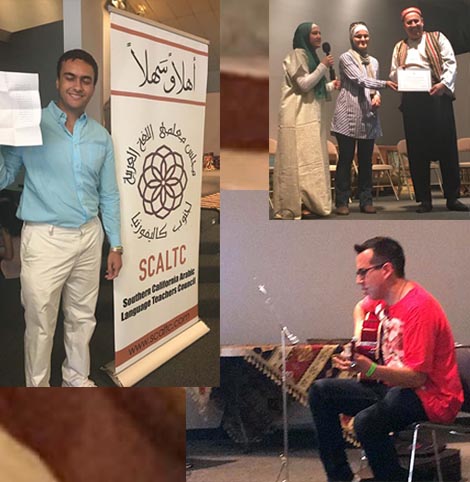 ---
---
CSUSB students teach Arabic language and culture to fourth graders
On May 5 2016, a group of 4th graders from Salinas Elementary school in San Bernardino, with their teachers and parent volunteers participated in an Arabic language workshop in the Department of World Languages and Literatures. This was part of a larger visit that also included a visit to the Art and Kinesiology departments. Dr. Oraib Mango and students from her ARAB 103 class welcomed the visitors who watched short presentations by the students as well as took part in activities that focused on the Arabic culture, music, reading, writing, iPad activities as well as a dancing lesson by Professor Nabila Land. Special thanks to everyone who made this workshop possible especially to the the Multimedia Language Center that provided the iPads, the school teachers; Mr. William Beshears, and Mr. Brian Zubak as well as the parent volunteers. The Department of World Languages and Literatures looks forward to hosting the wonderful students of Salinas Elementary school in the future.
Arabic Word of the Day
From: InnovativeLanguage.com