Welcome to the on-campus mobility services. This page includes: information on how to request cart services by phone and online, the location of cart pickup stations throughout campus, and additional useful information. Cart mobility is among the useful services we provide in the efforts to include and accommodate students.
Mobility Services for Students
The San Bernardino and Palm Desert SSD offices provide drop-off and pick-up services via electric carts that are available to qualified students with temporary or permanent disabilities. This is an on-campus service to transport students to and from designated pick-up points.
To be eligible for this service, students must have a disability-related need. Registration with the SSD office and verification of disability are required before service can begin. Contact the SSD office to coordinate
Guidelines
Requests must be submitted at least thirty (30) days prior to the start of the term. 
Students may be contacted if their requested time is not available and will be offered alternative times.
Scheduled cart rides will begin within two (2) working days after approval.
Scheduled cart rides will have priority over unscheduled (one-time) cart rides.
For a list of cart stops click on the SSD Cart Service Map Color or SSD Cart Service Map Black and White.
Please note that temporary cart services (i.e. broken leg, sprained ankle) are conducted as unscheduled runs.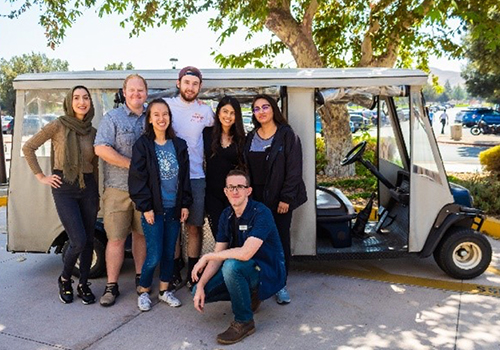 Operating times and designated pick-up locations
San Bernardino Campus: Monday - Thursday: 8 a.m. to 5:30 p.m. Friday: 8 a.m. to 5 p.m. and Saturday: By appointment only
Palm Desert Campus: Monday - Thursday: 8:30 a.m. to 5 p.m. Friday: 9 a.m. to 3 p.m.
See the campus accessibility guide for a full-size map and additional information. There is also an interactive accessible campus map.
Cart Service Request