Applying for services is simple. To begin, you must be admitted to the university.  From there, simply fill out the application listed below and submit the appropriate documentation to the SSD office (University Hall, Room 183) or to ssd@csusb.edu.  If you are enrolled in Coyote First Step/Early Start, please fill out the application for Coyote First Step. You can submit your application to ssd@csusb.edu.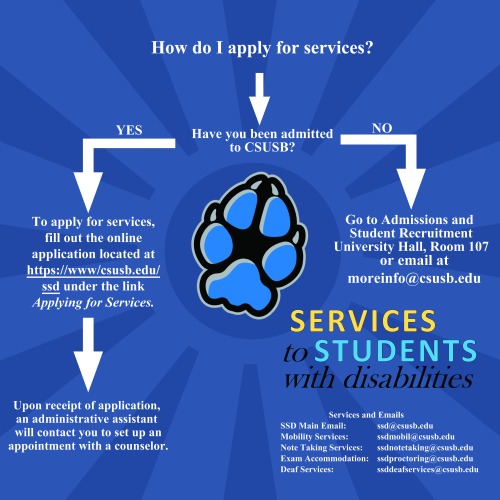 How do I apply for services?
Have you been admitted to CSUSB?
If yes:
To apply for services, fill out the online application.
Upon receipt of application, an administrative assistant will contact you to set up an appointment with a counselor.
If no:
Go to Admissions and Student Recruitment, University Hall, Room 107 or email at moreinfo@csusb.edu.
Services and Emails