Why Choose CSUSB College of Education
A degree, credential, or certificate from the CSUSB James R. Watson & Judy Rodriguez Watson College of Education is one of distinction. Among local school district administrators and program alumni, Watson College of Education programs have reputations as excellent preparation for new professionals. CSUSB faculty have earned national and international reputations as leaders in their respective areas. Through research and practice, CSUSB faculty contribute to the advancement of the broader field while staying in touch with the daily realities experienced by education professionals in contemporary schools and communities. All programs are accredited in their respective areas and the college is accredited by the California Commission on Teacher Credentialing.
Campus Tours
There is no better way to experience life at CSUSB than by taking a campus tour. All tours are conducted by current students, specifically trained to provide you with all the information you need to experience the campus first-hand.

Come to CSUSB
A college education opens the doorway to your future. Today's world needs leaders and innovators. It needs you. Discover your potential - Come to CSUSB!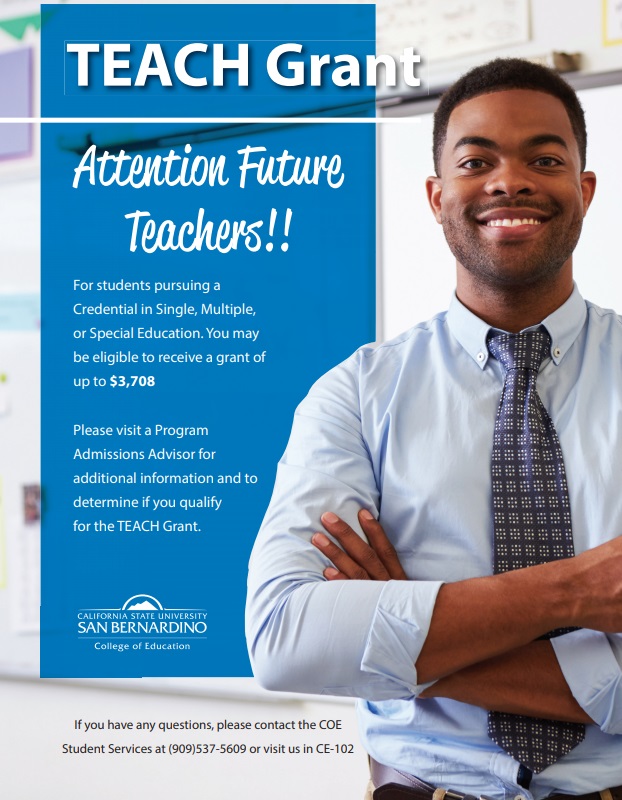 Teach Grant
A Teacher Education Assistance for College and Higher Education (TEACH) Grant is different from other federal student grants because it requires you to take certain kinds of classes in order to get the grant, and then do a certain kind of job to keep the grant from turning into a low.
A TEACH Grant can help you pay for college if you plan to become a teacher in a high-need field in a low-income area.  You'll be required to teach for a certain length of time, so make sure you understand your obligation
Check out the Teach Grant web page for more information.  Take a look at our
Need More Information About the TEACH Grant?  
Contact a Program Admissions Advisor!
Watson College of Education – Student Services
Office: CE 102
Email: coeinfo@csusb.edu
Phone: 909-537-5609

Accreditation
The Watson College of Education at California State University San Bernardino is fully accredited by the California Commission on Teacher Credentialing.