The mission of the Instructional Design and Technology (old: Instructional Technology) Program is to prepare professionals to improve their learning and performance applying a systemic and systematic instructional design process with the effective use of technology. The program values life-long, independent, and collaborative learning that fosters leadership for change.

The Instructional Design and Technology (ETEC) program at CSUSB prepares students to improve their creation and use of instructional media in their teaching practice or to take their place in any number of careers. The Instructional Technology program offers one master's degree (Master of Arts in Education; New degree Master of Arts in Instructional Design and Technology) and two certificates (Educational Technology, e-Learning). Students will have the choice of face-to-face, hybrid, or fully online courses, allowing each person to choose a course delivery format that best fits their situation.

Contact Dr. Eun-Ok Baek at ebaek@csusb.edu (909) 537-5454
Katie Godfrey (Class of 2016)
Instructional Designer at ATI in CSUSB ​
'If you are looking for a good program that gives you a lot of individual attention for a great price, CSUSB IT program is definitely, is definitely a good choice!'

For more Testimonial videos from the IT Alumni, go to the IT Community Page.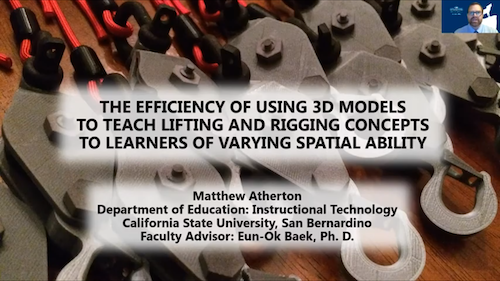 Congratulations!
Matthew Atherton has presented his research project at the CSU Student Research Competition via Zoom on April 26, 2020. 
Faculty Advisor: Eun-Ok Baek