Fall 2024 Program Application Deadlines:
Early Consideration Deadline:  February 5, 2024 

Priority Consideration Deadline:  March 4, 2024 

Late Consideration Deadline:  April 1, 2024 
What is a Single Subject Credential?
A Single Subjects Credential authorizes a person to teach a specific subject or subjects in most middle schools and high schools.
Meet Your Program Admission Advisor
Applicants
The first step to admissions is to attend an information session for an overview of the Single Subject Credential Program and admission requirements. Please sign-up for a session to start your journey of being an educator. 
Project Impact
Project Impact aims to significantly increase diversity in the teacher pool through intentional outreach and recruitment toward the K-12 teaching profession in the Inland Empire and beyond, with a special focus on underrepresented minorities and African American males. Project Impact offers:
Financial Assistance to mitigate the costs of attendance
Critical support and mentorship to assist participants to
Pre-intern Educational experience working with K-12 students
Professional Development
Learn More at the Project Impact Website
Program Mission
The Single Subject program prepares teachers to become leaders in transformative education, an evolutionary process of change by which schooling practices become increasingly effective in promoting learning in urban settings. Inquiry and reflective practice are the foundations of the transformative process, a process that allows teachers to evaluate current school practices and imagine teaching and learning in new ways.
It is our goal to educate teachers who in turn can assist their students develop to their full potential and become reflective, contributing members of local, regional and global communities.
Why Choose the James R. Watson & Judy Rodriguez Watson College of Education?
A degree, credential, or certificate from the CSUSB James R. Watson & Judy Rodriguez Watson College of Education is one of distinction. Among local school district administrators and program alumni, College of Education programs have reputations as excellent preparation for new professionals. CSUSB faculty have earned national and international reputations as leaders in their respective areas. Through research and practice, CSUSB faculty contribute to the advancement of the broader field while staying in touch with the daily realities experienced by education professionals in contemporary schools and communities. All programs are accredited in their respective areas and the college is accredited by the California Commission on Teacher Credentialing.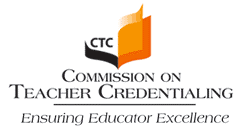 Campus Tours
There is no better way to experience life at CSUSB than by taking a campus tour. All tours are conducted by current students, specifically trained to provide you with all the information you need to experience the campus first-hand.
Schedule a CSUSB Virtual Campus Tour
Single Subject Program Core Values
As a Program, these core values are the driving force that moves us to accomplish our mission and goals:
INCLUSIVITY: We affirm and are committed to the value of all kinds of differences among students, faculty and staff. Inclusivity that is broad and deep makes us a healthier and more productive organization and builds a culture that fosters engagement and diverse perspectives.
INNOVATION: We support and believe in an innovative culture and attitude that fosters the creative and deliberate application of teaching, research, scholarship and service for effective education.
INTEGRITY: We affirm and are committed to the truth. We demonstrate our integrity by being ethical, matching what we say with what we do, and by ultimately taking responsibility for our actions.
RESPECT: We believe in and are committed to the virtue of respect and will treat everyone with courtesy and kindness.
SOCIAL JUSTICE and EQUITY: We believe in, affirm, and are committed to the equal value and dignity of all people. Fairness and equity are more than equality. We actively seek to eliminate barriers for those who are disadvantaged and disempowered so they may participate fully in university life.
Single Subject Content Areas

| | | |
| --- | --- | --- |
| Art | English | World Languages (French and Spanish) |
| History | Mathematics | Foundational-level Mathematics |
| Music | Physical Education | Sciences (Chemistry, Biology, Physics, Geo Sciences) |
| Foundational-level Science | Social Sciences |   |
Single Subject Program Options

Student Teaching Options

Intern Option
Seniors to Teaching Pathway

2 semester option
3 semester option

2 semesters after requirement are met (approval needed)

Undergraduate seniors in good academic standing may take up to three courses prior to entering the Single Subjects credential program. Please contact the coordinator for more information.
To meet Subject Matter Competency requirement, the California Commission on Teacher Credentialing (CTC) has approved CSUSB in the following subject matter waiver preparation content areas:
Additional Information
CSUSB Financial Aid offers several grants for the teacher credential program students.  Contact  Financial Aid Office for details. 
English Learner Authorization
Graduates of the CSUSB Single Subjects Program will hold an English Learner Authorizations that permits the teacher to provide integrated English Language Development (ELD) instruction, and Specially Designed Academic Instruction in English (SDAIE) within their subject content area.
A holder of a valid California Single Subjects Credential or a Multiple Subject Credential may add a credential in a different subject content area if they are able to demonstrate subject matter competency and complete a methods course. See CTC requirements (.pdf) for more information
Who do I contact for assistance?
New students - please contact the coordinators:
Robin Braithwaite, Single Subject Coordinator
Phone: (909) 587-4764
Email: Robin.Braithwaite@csusb.edu
Exciting news!!!
The recent passage of Senate Bill 1397 temporarily waives the Basic Skills Requirement by test or coursework, commencing on January 1, 2023 through July 1, 2024 for NEW applicants for a 30 Day Emergency Substitute Permit!  Please contact the districts for sub applications.
Jordan Fullam
Single Subject Credential Program Coordinators
Department of Teacher Education and Foundations
Office: CE 245
Phone: (909) 537-5607
Email: jordan.fullam@csusb.edu