?Embark on Your Journey to Excellence! 
We are thrilled you're considering joining our vibrant community of learners and innovators! By filling out this form, you take the first step toward transforming your future. Share your interests and aspirations with us, and let's explore how our programs, opportunities, and supportive environment can help you achieve your dreams. Don't hesitate—your future is just a few clicks away, and we're here to help every step of the way. Let's make it happen!
---
Why Choose CSUSB Watson College of Education?
Renowned Programs: Watson College of Education is widely recognized for its excellence in preparing new professionals, earning accolades from both local school districts and program alumni.
Distinguished Faculty: Our faculty members are nationally and internationally recognized leaders in their fields, contributing significantly to educational research and practice.
Practical and Relevant: Our programs are deeply connected to the current realities of education professionals, ensuring that our students are well-prepared for the challenges of contemporary schools and communities.
High Standards of Accreditation: All our programs meet rigorous accreditation standards, with the college accredited by the California Commission on Teacher Credentialing.
Prestigious Credentials: Earning a degree, credential, or certificate from CSUSB James R. Watson & Judy Rodriguez Watson College of Education marks distinction and excellence in the field.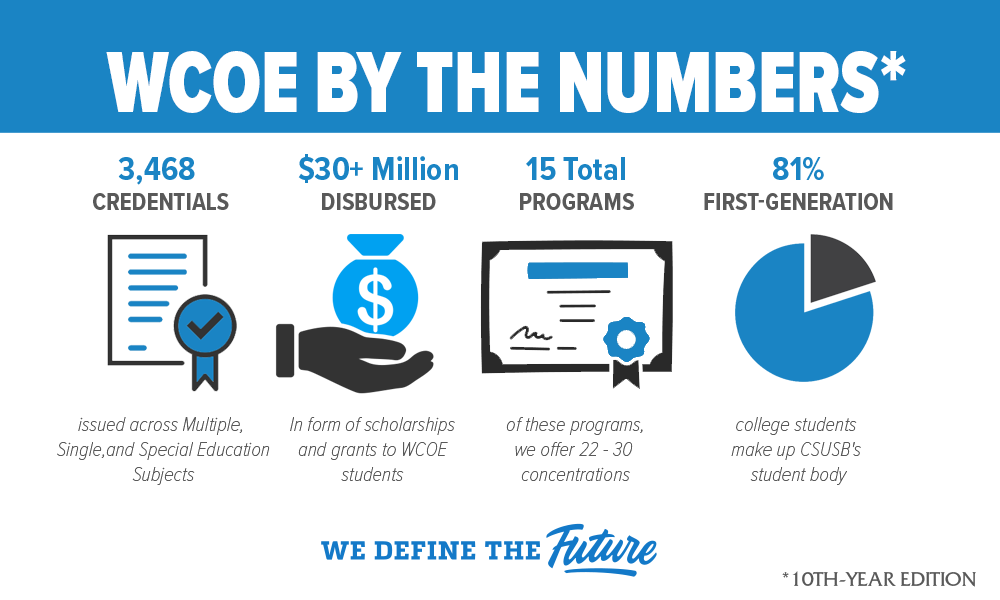 ---
Request More Information Form
To serve you best, all form fields are required. One of our admissions advisors will be in touch.
By submitting, you consent to CSUSB Watson College of Education contacting you regarding our educational programs and services using email, telephone, or text — including our automated technology for calls, pre-recorded messages, and periodic texts to any phone number you provide, including any wireless number. Message and data rates may apply.