The OSR Advisory Board consists of faculty and staff members from each college on campus. The OSR Advisory Board assists with recommendations on new programs and also serves as a liaison between their college and the department.
Current Board Members
The Advisory Board, consisting of faculty from each college, was created to assist the OSR mission.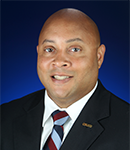 Dr. Marc Fudge
Representative for College Jack H. Brown College of Business and Public Administration
---
Past Board Members
Dr. Kelly Campbell, College of Social & Behavioral Sciences, 2011 - 2023
Dr. Marita Mahoney, College of Education, 2011 - 2021
Dr. David Marshall, 2020-2023
Dr. Jennifer Andersen, College of Arts and Letters, 2011-2018
Dr. Kristie Ogilvie, College of Business and Public Administration, 2011-2012
Dr. Jason Ryan, College of Business and Public Administration, 2012-2013
Dr. Paul Orwin, College of Natural Sciences, 2013-2014