Program Description
In recognition of our faculty, the OSR offers, annually, the Faculty Research and Creative Activities (RCA) Mentor Award. Contingent on the availability of funding, this award recognizes the contributions, within the previous two years, of up to five faculty (one per college), whose mentoring is considered exemplary. Each Faculty RCA Mentor Award recipient will receive $2,000 in professional development funds. The application review committee will evaluate faculty's contributions to student success and evidence of their mentorship to students in research and creative activities within the previous two academic years. 
Mentorship of both graduate and undergraduate students is a broad concept involving all stages of the student educational cycle and vital to the long-term success of CSUSB students. Facets of the Faculty RCA Mentor Award include contributions within the previous two years to students' recruitment, retention, graduation, development of students' research and creative activities, critical thinking, professional skills, career advice and placement, and contributions to a climate which supports a diverse student population.
---
Eligibility
The nominee- must be a full-time tenured or tenure-track faculty member who has been a faculty member at CSUSB for at least two consecutive years.
The nominee should not have won the award during the past five years. 
Nominations are due by January 22, 2024 
---
General Submission Guidelines
The following submission guidelines should be followed: 
NOMINATIONS
Submission of nominations must be online through InfoReady and must be submitted no later than 5:00pm on the deadline date.
Nominations are due by January 22, 2024 
The nomination should include a statement of 250-500 words.
The statement must be uploaded in PDF format.
All documentation should be submitted at the time of the submission.
Faculty may self-nominate.
Nominators should address the following questions in their statement:
How long have you known the nominee?
How did you meet your mentor? Is/ was there a formal mentoring program in your department? Please describe the most important features of that program in detail.
What have you accomplished that you could not have accomplished without your mentor? How was your mentor instrumental in these accomplishments? Please give specific examples of your interactions, feedback your mentor provides and specific skills, knowledge or attitudes you have developed as a result of your relationship.
Tell us why your mentor deserves this award over other candidates.
You are encouraged to ask your peers and faculty to support the nomination of your mentor by either providing letters of support or by submitting separate nominations using this form.
NOMINEE DOCUMENTATION
Once the nominations have been processed, faculty nominees will be contacted to accept the nomination and provide supplemental documentation for further consideration.

To be considered for the Faculty Research and Creative Activity Mentor Award nominees will be asked
to provide the following items:
Data sheet of mentorship history (name and date of former students).
Two letters of support from current or past CSUSB students mentored at CSUSB.
A reflective statement, no longer than 2 pages, of the nominee's mentoring philosophy.
Reflective statement should address the nominee's mentoring goals, objectives, and experiences.
       - Please use Times New Roman or Arial font at 12-point size.
       - The right and left margins must be no smaller than 0.75 inches. Top and bottom margins must be no smaller than 1 inch.
       - Please number the pages consecutively beginning with the cover sheet.
4. Statement of support from two CSUSB colleagues who have had the opportunity to observe the nominee in a mentoring role (maximum 500 words
All materials must be submitted online through InfoReady and must be submitted no later than 5:00pm
on the deadline date.
Late or incomplete nominee packets will be evaluated at the discretion of the awards committee.
---
Award Obligations
All awardee agrees to the following terms:
Faculty selected are invited to attend the OSR Recognition Gala on April 18th, 2024. Event will be attended by the Provost and President.
Awardees will be asked to encourage their students to attend and participate in the annual "Meeting of the Minds" and the OSR's events and programs.
Awardees will be asked to attend each year of the "Meeting of the Minds" opening ceremony, where they will be acknowledged for their continuous research and creative activities efforts.
---
Submit a Nomination
Nominations are due by January 22, 2024 
Research & Creative Faculty Mentor Award Guidelines
Submit Research & Creative Faculty Mentor Award Nomination (coming soon!)
---
2023 Faculty Mentor Awardees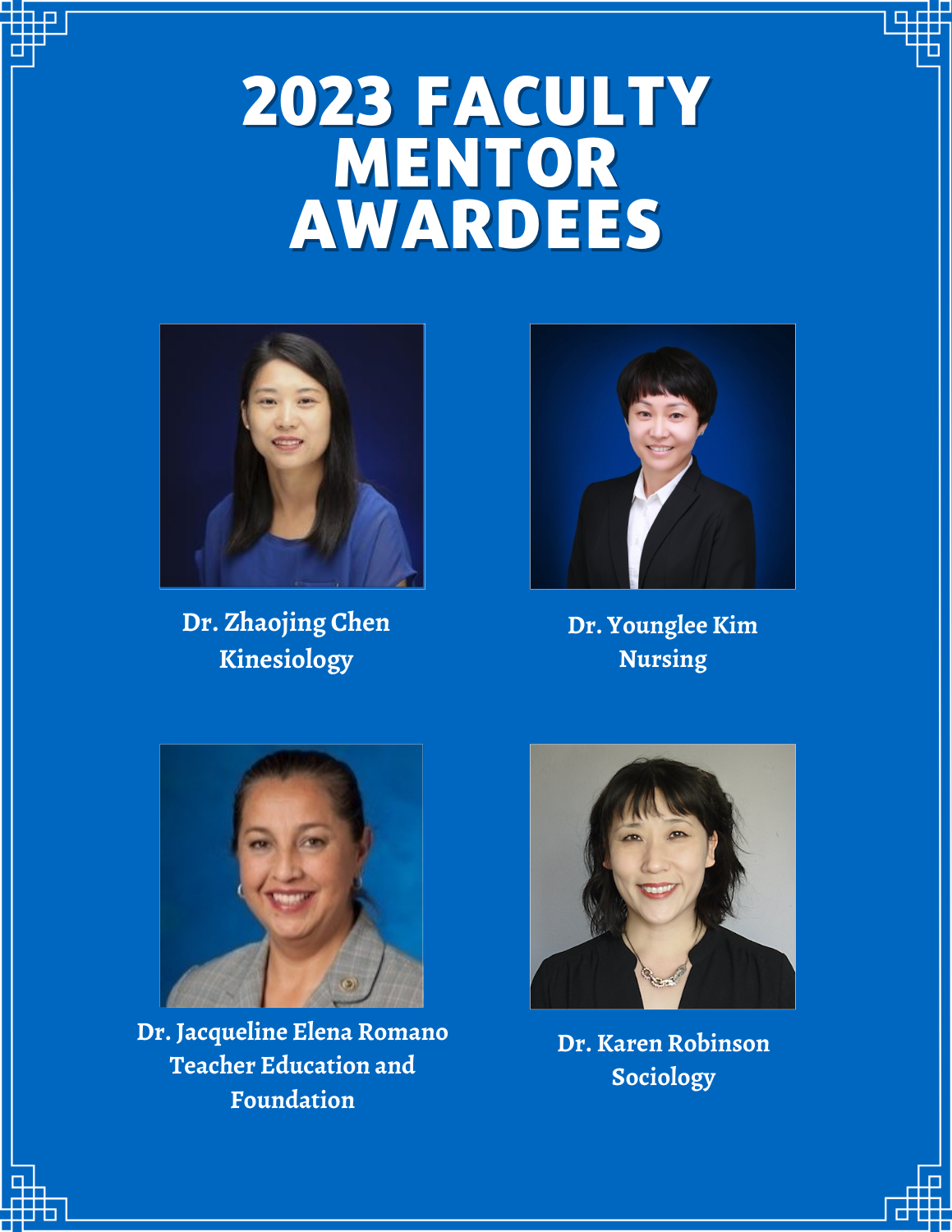 ---
Dr. Zhaojing Chen - I joined the department of Kinesiology at California State University, San Bernardino (CSUSB) in the Fall of 2017. Over the past six years, I have mentored 28 undergraduate students in the Hemodynamics Laboratory, 2 to 7 students each semester. Some students I have had the pleasure of mentoring for two years and some of them were in my lab for one semester. Regardless of the amount of time, I give comprehensive training to the students, including but not limited to developing research questions, reviewing literature, IRB application, participants recruitment, equipment operation and testing, data analysis, interpretation of results, creating abstracts, posters, and presentations. As a result, my students have presented 13 published abstract poster presentations at the regional conferences and 6 published abstract poster presentations at the national conferences at professional organizations in our field, such as American College of Sport & Medicine (ACSM) and Western Society for Kinesiology & Wellness (WSKW). Two of the students published two manuscripts as first author in the peer-reviewed journal, which was valuable to these students as they pursued graduate degrees. All the undergraduate students were first author and gain not only presenting experiences during these times but was also able to attend conferences where they were able to network with professionals in the field. In addition, I have had students present at both OSR's Student Research Competition (4 oral presentations) and Meeting of the Minds (2 oral presentations, 8 posters) to showcase their research experiences to the CSUSB campus. Two of my undergraduate students, Holly Rosas and Auguste Torres, were selected to compete at the CSU statewide competition. This was a great experience for me in Chen, Zhaojing - #3460 9 of 11 3 mentoring the students to compete and for the students to gain self-confidence in their presentation skills. Additionally, I have received Faculty/Student grants from OSR twice which has sustainably helped students continue to develop their research experiences. In Summer 2022, I participated in the OSR Summer Undergraduate Research Program (USRP) with three Kinesiology undergraduate students, which we were able to highly focus on our research project and to form a close professional relationship with my mentees. This results in a poster presentation in the upcoming National Strength and Conditioning Association (NSCA) national conference in Las Vegas, NV in July of 2023. I am honored to be awarded for the 2023 USRP again and am looking forward to mentoring another three students on the research project this summer. Many of my students have gone on and used the skills learned in the lab to further their careers in jobs and graduate school. More specifically, the students that I have mentored have been accepted to Doctor of Physical Therapy programs, master's and Ph.D. programs in Kinesiology. These students have gain experiences and skills that transfer to graduate work and other job-related skills; for instance, feeling more comfortable speaking to individuals about a topic, presenting to large groups of people, and developing critical thinking skills. I believe these are experiences the students will never forget and have shaped who they are as CSUSB alumni. Following graduation, I stay in communication as a mentor with several of these students, often on decisions they are making for graduate schools, working on manuscripts with them, and giving references for jobs and/or graduate schools.
---
Dr. Younglee Kim - I am teaching one of the nursing courses, community/public health, at Palm Desert Campus. It is important to address vulnerable populations such as homeless people and their health problems for Coachella Valley in Southern California. Homelessness in Riverside County in California has increased gradually. People experiencing homelessness struggle to access preventive and primary health services. Homeless people are marginalized in hospitals by harsh and indifferent interactions with nurses and other healthcare team members, while their dignity and rights are often ignored. Acknowledgment of homeless patients' unique needs through positive experiences of care is essential in making a difference in the health of this population. Therefore, a Foot Soak Program (FSP) for homeless people was developed. The FSP can be a critical healthcare intervention of community-based practice to support homeless people in Coachella Valley. It can be also meaningful clinical practice experience for CSUSB nursing student to improve their perspectives for homeless peoples as healthcare providers. In order to perform and manage the FSP, undergraduate nursing students were voluntarily recruited as student assistants. The FSP also included a research project to verify the effectiveness of the FSP for homeless people. Therefore, the student assistants could conduct research activities with me to collect, analyze, interpret, and disseminate FSP data. In the FSP and the research project, an active and meaningful mentoring relationship between the student assistants and me was formed. The goal of this mentoring is to build a partnership so that the student assistants can successfully participate in the nursing intervention/program and research activities for their ultimate and educational achievements. The specific objectives of the student assistants' mentoring are as follows. In the FSP and research project, the student assistants; a) participate in the FSP for homeless people and research project b) achieve skills to perform and organize the FSP intervention and research project; c) improve their communication skills with others d) expand networking for nursing interventions or research projects e) develop their leadership abilities f) collect, analysis, interpret, and disseminate data of the research project Kim, Younglee - #3455 17 of 19 3 g) experience roles of healthcare program managers and healthcare researchers The student assistants for the FSP and the research project managed the FSP and the research project. They had several meetings with me to discuss the FSP and the research project, together. The FSP and the research project were successfully completed. Through the FSP, CSUSB nursing students were able to gain both the value of direct health care for the homeless and a deeper understanding of their health and life-related struggles. The CSUSB students could also have opportunities to develop compassion and empathy for all people who are experiencing homelessness, as they have witnessed how difficult it is for them to access social and health care services. The findings of this research project from the FSP were presented at 2022 Odyssey Nursing Conference in San Diego. The student assistants and I attended this conference. The mentoring relationship with the student assistants is expanded and extended after the FSP and the research project. Thus, they will be participating in an international collaborative research project with a nursing school in South Korea during the Spring break, March 26, 2023- April 1, 2023. We believe that we will have valuable experience in South Korea during this visit. Therefore, my mentoring with these student assistants still continues.
---
---
Dr. Jacqueline Elena Romano - Mentorship is one of the most important roles of my job as a college professor at CSUSB. I take this responsibility very seriously with high regard and honor. My mentorship philosophy is based on recognizing, respecting, and celebrating my students/mentees' individual cultural, linguistic, and diverse backgrounds. In addition, respecting and recognizing differences of thought are fostered and celebrated. Focusing on fostering skills sets, we jointly work together to develop research skills, support academic growth, and engagement with a goal to problematize and find solutions to educational issues in PK-20 settings. Thus, with this intro, I will try to explain what mentorship is, my goals, and share a couple of examples of mentorship. Mentoring is a reciprocal act that allows us to grow and nurture both personally and professionally. Both invest time, knowledge, and expertise. I enjoy working with students on a one-on-one basis. It is a privilege to be a mentor. Building rapport and fostering a culture of mutual respect is the main priority for mentoring. Being involved and caring for my mentee's academic and professional development is detrimental for their success. I will be playing the role of advisor, other times, I will be the guide where mentorship may go beyond professional conversations that blend personal and professional support. My goal as a guide and mentor is to establish clear communication channels, give time to listen attentively and intentionally. My mentees are non-traditional graduate students that possess many talents, knowledge, and experiences. They enrich my life as an individual and professionally. It feels natural to me to be a guide, helper, advocate, confidant, cheerleader, a tutor, a friend, a colleague. I am someone who lends you a hand when you are in need; someone that encourages you to continue when you are ready to give up; someone that shares knowledge and skills needed to be a scholar; someone that sees talent and immense potential. Mentoring is like traveling over an unknown path where I listen to my mentee's ideas and walk along and beside them. Walking along this path, we learn and establish a close relationship, finding similarities and commonalities that allow us to get to know and learn from each other. As we walk along this path, the unknown becomes clearer, creating personal and academic paths that lead to safe spaces for growth. Growth happens to both the mentor and mentee. Mentoring means understanding that mentees will tap on my knowledge and expertise to grow and develop their own skills, to advance and co-construct knowledge, and to develop research skills that need to be researchers, critical thinkers, research consumers and critics, transformational leaders in their own field. My key role and goal are to ensure my mentees grow personally and professionally as well as helping them reach their desired goal. I believe in attending to the unique academic, linguistic, or sociocultural needs and interests of my mentees, guiding them in the pursuit of their goals and working alongside them until they achieve that goal. To carry out this task, I need to get to know my mentees' strengths and identify their needs, build positive relationships and interactions, and establish open channels of communication. Furthermore, my students/mentees know me as caring and with high expectations for each of them. Setting high expectations creates responsibility, accountability, professionalism, and work ethic. By setting high expectations, mentees' personal and professional goals are achieved. Allocating time and being available for them is important. Thus, setting a regular schedule to meet with each of them is important. Other goals are to have students be exposed to opportunities that develop their research agendas related to advocacy, social justice issues and access to educational opportunities. I try to understand each mentee's needs and develop individualized paths, work with and alongside mentees, helping them move forward at their own pace. My goals include providing support and guidance in the development of research skills, reinforcing concepts or reteaching methods of inquiry, research design and analysis. Their research question interests are refined and identify the type of method design is needed to answer their questions. Most of my mentees seek to know individual's perspectives and live experiences of phenomena. For example, one of my mentees is working on a topic related to language rights for children of Deaf Adults (CODAS). She finds that educational policies fail to provide opportunities for CODAS to develop their second language. Another mentee is finding connections and building bridges between community colleges and their role in reducing the bilingual/language teaching shortages in California. Her work advocates for strengthening the path from Community College to 4-year Teacher Preparation Programs. Another example is to redefine the role of parental involvement of emergent bilingual children and having access to services including highly qualified teachers. Another example is to find factors and how to help and retain male African American community college students. Cumulatively, their research interests expand our knowledge and I guide them to plan and refine their research inquiry based on their curiosity. I challenge mentees to think "outside the box," and they challenge me to see through their personal lens. I support professional development and encourage them to share their knowledge with a wide range of audiences. They share their research at local, regional, or national conferences. When they network, they learn and share. They are encouraged to prepare for the CSUSB, OSR "Meeting of the Minds," research event or for the "College of Education Graduate Research". Preparing research proposals in 2021 was a major milestone for two mentees. Their proposals were accepted for presentation in 2022 at a national conference. Three participated in the "Meeting of the Minds" in 2022, and College of Education Graduate Research. Also, helping them find professional networks for future professional growth and to help find financial opportunities for scholarships or encouraging people to join professional organizations. It is part of what I do to support my mentees. Last, I encourage mentees to become a longlife learner. It is contagious. One of my mentees wishes to pursue a similar path in education as I did. At the end of her Ed. D. in Educational Leadership in May 2023, she will be starting a second master's degree in Bilingual Education. She has been accepted to start in Fall 2023 at Texas Tech University in Lubbock, Texas. Our future steps include collaborating in writing, presenting, and publishing our work together. In sum, my goals as mentor are to have each of my graduate students/mentees complete their research work on time for graduation according to their desired timeline. My first mentee is presenting a yearlong research project. I am proud of her accomplishments and happy about that. To end, looking back at the paths traveled, assessing the choices and support I provided, I am satisfied. I cherish and feel proud of all my mentees' accomplishments. A mentor plays a key role in the success of a student.
---
Dr. Karen Robinson - When I took over the Sociology honors program in 2017, it was barely a program.  At most, one or two students participated each year and it was structured more like an independent study, requiring students to meet with a professor over one quarter and then submitting a 20-page paper on a sociological topic at the end.  Based on my own experience participating in the honors program as an undergrad sociology major at UCLA, my main goal as the honors coordinator was to implement a cohort style in which students would get to work alongside other high-achieving students over the course of a year, not just one quarter.  With more time, students would also be able to successfully develop and execute an empirical research project on a topic of their own choosing. Being a first-generation college student, I was clueless about how to successfully navigate college both in and outside the classroom and if I hadn't been invited to participate in the honors program at the end of my junior year, I probably wouldn't be a professor today.  With that in mind, I wanted to offer a program that would be rewarding, enriching, fun, and possibly life-changing for other first-generation sociology majors.
My first year, I had to generate excitement around the honors program and recruit students because no one knew about it.  I sent out over 150 emails addressed specifically to each student to personally invite them to participate in the honors program.  Those emails generated a lot of buzz and I heard from other faculty that students were asking others in class if they had gotten an email invitation.  I also held two information sessions to reach out to as many students as possible, providing refreshments paid with my own money.  All my efforts paid off and I successfully recruited and advised 14 honor students by myself.  It was difficult at that time to stitch together a program that somewhat resembled a cohort seminar for the honors students because the 597 honors course did not have a designated meeting time. While I met with each student once a week individually, I was also able to get all the students together for several sessions so that they could meet each other and work on a variety of assignments together. My second year using the same strategy, I was able to recruit 13 students of which I personally advised six.  After spending the previous year overwhelmed with the amount of time and work it took to advise 14 students all on different schedules, I enlisted the help of my colleagues King-to Yeung and Patty Little who advised the other seven students.  With a hiatus during the pandemic, I was able to overhaul the program and implement my plan of creating the two-course sequence for a cohort of students in the honors program.  Now in my third year as honors coordinator, we have 14 students and four other faculty mentors advising students with their honors projects. 
First and foremost, I want the honors program to be something students enjoy and look forward to, not something they dread so I avoided structuring the program in such a way that most of their experiences would be sitting in one-on-one meetings with a faculty advisor, feeling uncomfortable and pressure to impress.  Given that research is a solitary activity, my most important objective with the honors program was to give students the opportunity to work alongside each other and connect with one another.  With a large cohort of honors students, there may be a competitive environment, but I make it a point to create and foster support and collaboration by giving students the opportunities to share stories and experiences, help each other out, support and commiserate when things do get tough and difficult, but also, chances to highlight and appreciate each student's strengths. I also wanted to ensure that students would be free to pick a topic they are passionate about.  If I expect them to think about, read about, and write about a sociological topic for two semesters, I want to make sure they are really interested in the topic either through first-hand experiences or through a deep fascination or curiosity about the topic.  This personal level of familiarity allows them to be the expert on their chosen topic.  It is amazing to see them light up as they talk about their research and get excited about sharing their expertise with the rest of the cohort, rather than just trying to impress the professor or faculty mentor who is typically regarded as the expert. 
My main contribution which I think makes me stand out as a mentor is to bring fun to the whole endeavor.  At times, there is a party atmosphere in our class.  For example, I turned our end of the semester celebration into an IRB application party because I want to make sure our time together is not wasted and instead, we are always completing tasks that need to get done and moving the research projects forward.  Adding an element of fun and celebration and working on assignments together as a group, you can turn even the most tedious tasks like writing up an IRB application into a party and a memorable event.  Obviously, I help students develop research skills and hone their communication skills, but at the end of the day, I think it is unreasonable to expect graduate level research that is publishable from undergraduate students with busy lives filled with family obligations and paid employment. I think the students really appreciate my mentoring style and are sometimes surprised at how much fun research can be. 
Lastly, I really enjoy and love working with our honors students.  It requires a lot of time and energy, but I see it as an honor for me to work with them and it truly is rewarding. I was originally going to step down as the honors coordinator after this year, but without anyone else willing to take over, I decided to stay on as the co-coordinator along with another faculty member so that another cohort of students will have this wonderful opportunity available to them.
---