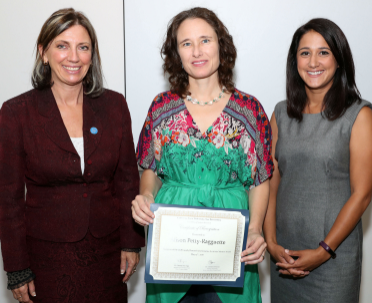 Program Description
Mentoring students is a vital component of our mission here at CSUSB; it includes offering encouragement and advice on career options and preparing students to meet the highest professional and ethical standards as scholars. In recognition of our faculty, the OSR has created the Research & Creative Activities (RCA) Faculty Mentor Award.
Contingent on the availability of funding, the award will annually recognize the contributions, within the previous two years of up to five faculty (one per college), whose mentoring is considered exemplary. Each Faculty RCA Mentor Award recipient will receive $2,000.
The application review committee will evaluate faculty's contributions to student success and evidence of their mentorship to students in research and creative activities within the previous two academic years. Mentorship of both graduate and undergraduate students is a broad concept involving all stages of the student educational cycle. Facets of the Faculty RCA Mentor Award include contributions within the previous two years to students' recruitment, retention, graduation, development of students' research and creative activities, critical thinking, professional skills, career advice and placement, and contributions to a climate which supports a diverse student population.
---
Eligibility
The nominee must be a full-time tenured or tenure-track faculty member who has been a faculty member at CSUSB for at least two consecutive years. The nominee should not have won the award during the past five years.
---
General Submission Guidelines
The following submission guidelines should be followed:
NOMINATIONS
Submission of nominations must be online through InfoReady and must be submitted no later than 5:00 pm on the deadline date.
Nominations are due by February 26th, 2023, by 5:00pm
The nomination should include a statement of 250-500 words.
The statement must be uploaded in PDF format.
All documentation should be submitted at the time of the submission.
Faculty may self-nominate.
Nominators should address the following questions in their statement:
How long have you known the nominee?
How did you meet your mentor? Is/ was there a formal mentoring program in your department? Please describe the most important features of that program in detail.
What have you accomplished that you could not have accomplished without your mentor? How was your mentor instrumental in these accomplishments? Please give specific examples of your interactions, feedback your mentor provides and specific skills, knowledge, or attitudes you have developed as a result of your relationship.
Tell us why your mentor deserves this award over other candidates.
NOMINATION DOCUMENTATION
Once the nominations have been processed, faculty nominees will be contacted to accept the nomination and provide supplemental documentation for further consideration.
To be considered for the Faculty Research and Creative Activity Mentor Award nominees will be asked to provide the following items:
Data sheet of mentorship history (name and date of former students).
Two letters of support from current or past CSUSB students mentored at CSUSB.
Statement of support from two CSUSB colleagues who have had the opportunity to observe the nominee in a mentoring role (maximum 500 words).
A reflective statement, no longer than 2 pages, of the nominee's mentoring philosophy. Reflective statement should address the nominee's mentoring goals, objectives, and experiences.
Please use Times New Roman or Arial font at 12-point size.
The right and left margins must be no smaller than 0.75 inches. Top and bottom margins must be no smaller than 1 inch.
Please number the pages consecutively beginning with the cover sheet.
All materials must be submitted online through InfoReady and must be submitted no later than 5:00pm on the deadline date.
Late or incomplete nominee packets will be evaluated at the discretion of the awards committee.
---
Application Now Open!
Research & Creative Activities (RCA) Faculty Mentor Award InfoReady Application