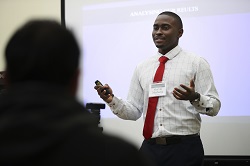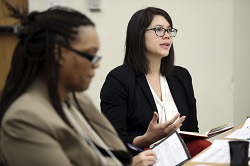 The CSUSB Student Research Competition allows students to develop their presentation and communication skills while showcasing their scholarly achievements. Students present their research before a panel of judges, and winners advance to the statewide CSU Research Competition, where they will compete against other outstanding scholars in the California State University system. 
The CSUSB Student Research Competition will be on February 10th, 2023.
Information Session held on December 1st at 12pm. Register by clicking here!
Application
Students who wish to participate in the CSUSB Student Research Competition are required to submit the following:
Online Application form
Summary (no more than 5 double-spaced pages and each page must include: student's Name, coyote ID, and title of the presentation)

The rules governing the written summary are as follows:
The summary must include the names(s) of the student(s) and the title of the presentation.
The narrative may not exceed five double-spaced pages and must use fonts and margins that ensure legibility.
Appendices (bibliography, graphs, photographs, or other supplementary materials) may not exceed three pages.
Research that has human or animal subject's involvement must have the appropriate institutional review.
It is expected that the student will not make an oral presentation by simply reading directly from this summary. 
This table shows how each entry (oral presentation and written summary) will be judged

| Component | Percentage |
| --- | --- |
| Clarity of purpose | 15% |
| Appropriateness of methodology | 15% |
| Interpretation of results | 15% |
| Value of the research or creative activity | 15% |
| The ability of the presenter to articulate the research or creative activity | 15% |
| Organization of the material presented | 15% |
| Presenter's ability to handle questions from the jury and the general audience | 10% |
Guidelines
The research presented should be appropriate to the student's discipline and career goals. Proprietary research is excluded. Presentations from all disciplines are invited. There will be separate undergraduate and graduate divisions for each of the following categories (unless a division has fewer than three entrants, in which case undergraduate and graduate divisions will be combined.) The categories are:
College of Arts and Letters
College of Business and Public Administration
College of Education
College of Natural Sciences
College of Social and Behavioral Sciences
Students will present their work before a jury. Students will compete by discipline category and class standing (undergraduate/graduate). Each student will have ten minutes to give an oral presentation and five minutes to respond to questions. All entrants may use audio-visual material as appropriate, and presenters are encouraged to use delivery techniques that promote interaction with the audience. Entrants in the Creative Arts and Design Category may present an audio and/or visual record of a performance they have given or a work they have created; their oral presentation should focus on the rationale and historical context underlying their interpretation of the material.
Application Opens: October 1st, 2022
Application Closes: December 18th, 2022
Submit Application: CSUSB Student Research Competition
Awards
Winners will advance to the CSU Student Research Competition as representatives of CSUSB. A prize award will also be provided contingent upon funding
2022 CSUSB Delegates
Congratulations to the winners of the 36th Annual CSUSB Student Research Competition! These students will represent CSUSB at San Francisco State University. 
College of Arts & Letters
Alexia B. Martinez
Faculty Mentor: Dr. Mariam Betlemidze
Department: Communication Studies
Title: Unapologetically Her: A Nomadic-Intersectional Analysis on Lizzo and Jillian Michaels
College of Behavioral & Social Sciences
Alyx Duckering
Faculty Mentor: Dr. Michael Lewin
Department: Clinical Psychology
Title: The Relationship Between COVID-19 Stress, Psychological Inflexibility, and Psychological Well-Being
Anabell Ramos
Faculty Mentor: Dr. Dr. Roderick O'Handley
Department: Psychology & Human Development
Title: Variables Linked with School Psychologists' Use of Empirically Supported Social Skills Training Practices with Students with Autism
Brittany Mondragon
Faculty Mentor: Dr. Tiffany Jones & Dr. Jeremy Murray
Department: History
Title: Flora's Forth Child: Race, Gender, and Nature in the Colonial British Caribbean
I Gusti Ngurah Raka Bhaskara & Rey Zavala
Faculty Mentor: Dr. Jeremy Mallari
Department: Biochemistry
Title: Development and Optimization of Selective Click Chemistry Probes to Investigate the Function of Falcilysin
Rosemary Rojas
Faculty Mentor: Dr. Brittany Bloodhart
Department: Psychology
Title: One of Us: Monoracial Latinx Perspectives of Multiracial Latinx-White Individuals
Viviana Alvarez Rodriguez
Faculty Mentor: Dr. Pedro Santoni
Department: History
Title: Preservation of Afro-Mexican History in Contemporary Veracruz
College of Natural Sciences
Isabela Vigil-Montano
Faculty Mentor: Dr. Amanda Rymal & Dr. Nicole Dabbs
Department: Kinesiology
Title:  Imagery and Observation
Kailyn Alari
Faculty Mentor: Dr. Amanda Rymal
Department: Kinesiology
Title: How to Recruit Female Sports Officials: A Qualitative Exploration
Yelissa Fuentes
Faculty Mentor: Dr. Mahmood Nikbakhtzadeh
Department: Environmental Health Sciences
Title: The Effect of Glyphosate on the Larval Development of Culex quinquefasciatus (Diptera: Culicidae)